Bob Hope Presents the Chrysler Theatre
Season 4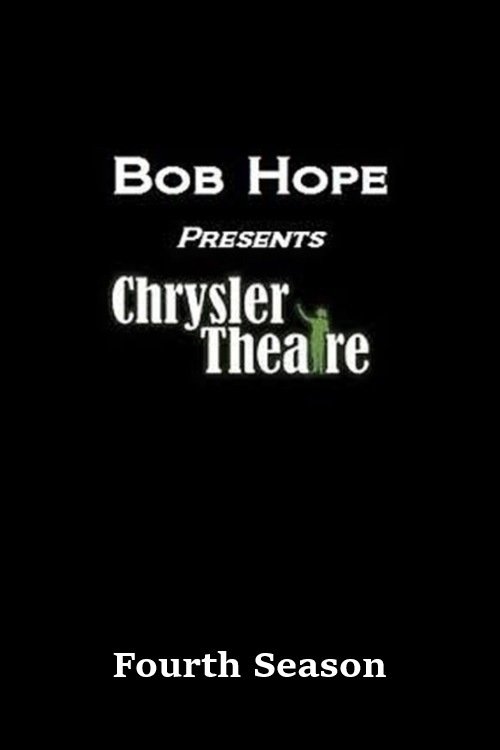 Bob Hope Presents the Chrysler Theatre
Season 4
First Air Date: September 14, 1966

| | | |
| --- | --- | --- |
| First Aired on | : | 1966 |
| Episodes | : | 26 episodes |
Episodes
4x26 Deadlock (May 17, 1967)
---
Virginia Cloyd is the widow of a notorious criminal. Early one morning, Virginia calmly walks into a police precinct office--armed with a pistol and vial of nitroglycerine. In a measured voice, she announces that she intends to wait for detective James Lassiter, the man responsible for the death of her husband. She also declares that she intends to kill Lassiter, in full view of the other cops.
---
4x25 To Sleep, Perchance to Scream (May 10, 1967)
---
In Hollywood, private eye Adam Steele investigates the murder of a colleague who was working for a ruthless business tycoon. Steele?s search for motive and murder leads up several blind alleys-but all are somehow connected with his friend's employer.
---
4x24 Wipeout (April 26, 1967)
---
Surfer Greg Travis tries to cash in on his friendship with an aging film star-by stealing her multimillion-dollar jewel collection.
---
4x23 Don't Wait For Tomorrow (April 19, 1967)
---
Newspaperman Matt Braid's search for an international criminal leads him to a lavish villa on a Greek island -- where a vicious beating convinces Braid that he's on the right track.
---
4x22 Dead Wrong (April 05, 1967)
---
A tense drama about a hermit monk, whose isolated mountain cabin is invaded by a gun-wielding ex-convict, his younger brother and the girl they both love.
---
4x21 Verdict For Terror (March 22, 1967)
---
Law student Darryl Cooper invites an ambitious D.A. to meet his fraternity brothers in 'the griddle,' a political question and answer session. The D.A. accepts, but soon wishes he hadn't, five years ago, he sent Darryl's brother to the gas chamber. Now, Darryl intends to use the griddle to prove his brother's innocence, and to destroy the D.A.'s career.
---
4x20 The Reason Nobody Hardly Ever Seen A Fat Outlaw in the Old West is as Follows (March 08, 1967)
---
Comical Sheriff Tinsley is up against the Swine Gang and mighty frightened of Curly the Kid.
---
4x19 A Song Called Revenge (March 01, 1967)
---
A singer gets caught up in a romantic triangle.
---
4x18 Blind Man's Bluff (February 08, 1967)
---
While investigating a murder, involvements become an entangled mess when love happens.
---
4x17 The Lady is My Wife (February 01, 1967)
---
Set in the post-Civil War Old West. A wealthy horse breeder hires the Bannisters, a genteel--and broke--Southern couple. The cowboy has more in mind than horses when he sets his sights on Mrs. Bannister.
---
4x16 Code Name: Heraclitus (2) (January 25, 1967)
---
A man who dies on an operating table is brought back to life, but he has no memory of anything that happened before he wakes up. A government agent decides that he would make a perfect undercover operative.
---
4x15 Code Name: Heraclitus (1) (January 18, 1967)
---
Frank G. Wheatley is a British spy who is investigating the past of Lydia Constantine, the widow of a secret agent. Constantine is suspected of selling Cold War secrets to the Communists. To ascertain the truth, it is necessary to ""rebuild"" Constantine and send his living counterpart behind the Iron Curtain.
---
4x14 A Time to Love (January 11, 1967)
---
A tired doctor is renewed by a young protege while his wife finds her own distraction.
---
4x13 Free of Charge (December 28, 1966)
---
This free-wheeling story about a composer named Harrybell, who swings around Los Angles seeking inspiration for a musical tribute to the city. Harrybell is also running from the police, who think he?s some kind of nut.
---
4x12 The Eighth Day (December 21, 1966)
---
An embittered ex-athelete finds himself very much alone after stealing priceless jewels from a church on Christmas Eve.
---
4x11 Storm Crossing (December 07, 1966)
---
Trapped by a severe storm, do they risk getting out.
---
4x10 The Fatal Mistake (November 30, 1966)
---
Set in England, a respectable accountant and family man every month on the dot, he is visited by his ""friend"", who graciously bestows gifts upon his wife and children, then retires with his host into the den. Here he collects his monthly blackmail check--just as he does with all his other ""clients"". Tired of paying out extortion, he plans a neat little mishap for him.
---
4x09 The Blue-Eyed Horse (November 23, 1966)
---
A beleaguered husband stands before the judge, trying to explain why his wife has disappeared. The police suspect foul play, offering as evidence the strained relationship of the couple and the debts incurred by her gambling. Only he knows (or thinks he knows) the incredible truth: his wife has been magically transformed into a horse!
---
4x08 Bing and Me (November 16, 1966)
---
Where there's Hope, there's often Bing. And when Bing and Bob get together you'll invariably find pretty scenery - almost all of it female! Bob introduces Bach Yen (White Swallow), a 23-year old Vietnamese singer, and his own selection of promising Hollywood starlets. Bach Yen sings ""What Now My Love?"" (in French & English) and ""Dem Dong"", a Vietnamese folk song. Bing offers ""In the Cool, Cool of the Evening"" and ""Pennies From Heaven"". Sketches include, a wealthy Texan (Bob) and a snooty Englishman (Bing) enter their prize ponies in the Grand National. And ""Fantastic Stomach"" a parody of the movie ""Fantastic Voyage"" which finds a miniaturized Bob and Bing penetrating the Vast Waistline to find out what's ailing Jackie Gleason. Les Brown conducts the orchestra.
---
4x07 Dear Deductible (November 09, 1966)
---
A popular but improvident songwriter, after spending all of his royalties, agrees to marry an heiress, not because of her money, but because of her lack of money. You see, both plan to file a joint income tax return, thereby enjoying the bounty of the IRS' ""deductible"" system. This will keep them both solvent until they can recoup their fortunes.
---
4x06 Massacre at Fort Phil Kearny (October 26, 1966)
---
On December 21, 1866 eighty men rode out of Fort Phil Kearny to support a wood-cutting expedition that had come under attack. The wood was necessary to build the fort. They were led out onto the Bozeman Trail and ambused in the pass by the Sioux and wiped out. The leader of the Sioux tribe was Chief Red Cloud.
---
4x05 Murder at N.B.C. (October 19, 1966)
---
Fifteen fellow comedians join Bob in ""Murder at NBC"", a spy spoof. Bob plays a mad scientist with a nuclear chemical capable of shrinking the U.S.A. Spies are Don Adams, Milton Berle, Red Buttons, Johnny Carson, Jack Carter, Bill Cosby, Wally Cox, Bill Dana, Jimmy Durante, Don Rickles, Dan Rowan and Dick Martin, Soupy Sales, Dick Shawn and Jonathan Winters.
---
4x04 Crazier than Cotton (October 12, 1966)
---
Matt, a 34-year-old sculptor who is spectacularly unsuccessful, knows he's hit rock bottom when he has to borrow money from his girlfriend in order to attend his father's funeral. As he stands at graveside, Matt vows to do something ""worthwhile"" with his life. Problem is, sculpting is all he knows.
---
4x03 And Baby Makes Five (October 05, 1966)
---
A New York author fed up with the pressures of urban living, quits his job and moves with his pregnant wife to a small California town. Here he accepts an editor's position at a tiny weekly newspaper, inspiring both praise and wrath by using the publication as a pulpit for his crusading.
---
4x02 Time of Flight (September 21, 1966)
---
Private detective Al Packer had his legs broken by two hoods after he put their friend behind bars. Now, barely able to hobble around his apartment, Packer receives an attractive offer for a routine job: $300 a week to protect a small-time thief named Markos. But the new case is anything but routine: At a seedy hotel hideout, Packer sees Markos gunned down -- or does he? The ""corpse"" comes alive, fires Packer and leaves the hotel.
---
4x01 Nightmare (September 14, 1966)
---
In her secluded mansion, crippled Isobel Cain receives loving care from her husband Morgan and her twin sister Vicky. But the two have more than Isobel's welfare at heart: they're planning to poison dear Isobel and live happily ever after on her money.
---