Bob Hope Presents the Chrysler Theatre
Season 1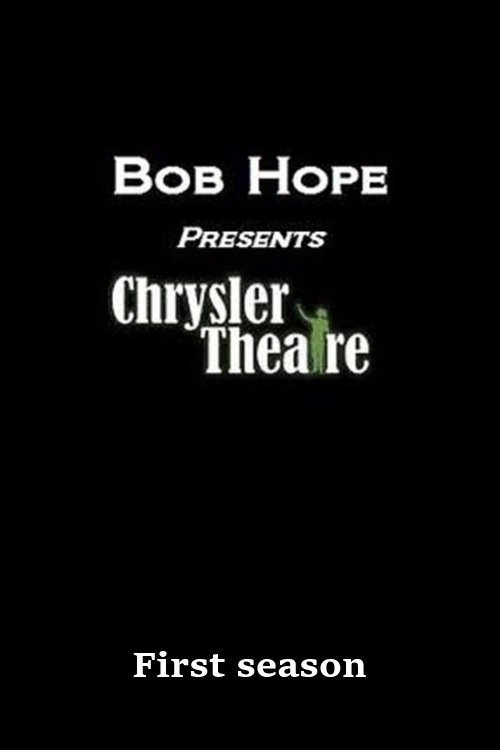 Bob Hope Presents the Chrysler Theatre
Season 1
First Air Date: October 04, 1963

| | | |
| --- | --- | --- |
| First Aired on | : | 1963 |
| Episodes | : | 29 episodes |
Episodes
1x29 Echo of Evil (June 05, 1964)
---
Ex-crime boss Oscar Teckla, now out of the rackets and involved with respectable enterprise, Teckla would like nothing more than to bury the past. But the district attorney is anxious to break up Teckla's old mob. To do this, he must get Teckla on the stand--any way he can.
---
1x28 The Sojourner (May 29, 1964)
---
Called home because of his father's failing health, foreign correspondent John Ferris recalls the events that led to the collapse of his marriage.
---
1x27 The Command (May 22, 1964)
---
Major Morgan holds his Commander as coward and attempts to overtake his command.
---
1x26 The Game with Glass Pieces (May 01, 1964)
---
A deadly game of cat and mouse, where everything isn't what it seems to be.
---
1x25 Time For Elizabeth (April 24, 1964)
---
After enduring a pompous and tyrannical boss for 28 years, Ed Davis has a brief argument with him, gets fired, and decides to retire to Florida with his wife.
---
1x24 Bob Hope Comedy Special (April 17, 1964)
---
The first 45 minutes is all entertainment, opening with a Hope monolog. Martha and Bob team up for a spoof of the movie Tom Jones, and Tony and Jack join in to present a new act--The Japanese Beatles. In the awards portion, TV Guide publisher James T. Quirk and Bob make the presentations in Hollywood.
---
1x23 A Case of Armed Robbery (April 03, 1964)
---
Montrose is an angry young man whose bitterness alienates him from his father, Alfred, his girlfriend, Jean, and his work foreman. He blames his ex-wife, Carol, for their marriage failure and clumsily attempts to show love for his son Danny. In his resentment he plans to rob a gas station, ends up getting involved with unsavory characters and doing worse.
---
1x22 A Slow Fade to Black (March 27, 1964)
---
Mike Kirsch built his studio from nothing in the 1920s; now, four decades later, he is on the way out, the victim of a corporate takeover. We follow Kirsch as he exercises his waning authority on a temperamental movie star, browbeats his alcoholic wife, rebellious daughter and longtime yes-man associate Landers, and vainly attempts to push through an outdated pet movie project. Finally he is wrenched off his throne by a former assistant, who is now in cahoots with the conglomerate buying the studio. Kirsch is left alone to weep in his projection room as one of his past hits plays upon the screen.
---
1x21 Her School For Bachelors (March 20, 1964)
---
Miss Westcott runs her agency with the finese of the best businessmen and runs several clients ragged with her demands.
---
1x20 White Snow, Red Ice (March 13, 1964)
---
Secret agent Piper finds beauty and brains intriguing and disruptive to his assignment.
---
1x19 The Square Peg (March 06, 1964)
---
Comedy about a gangster who hires a ""personnel psychologist"" to evaluate the aptitudes of his gang.
---
1x18 The Meal Ticket (February 28, 1964)
---
Eddie a fly by night kind of guy, finds romance with a wealthy woman.
---
1x17 Wake Up Darling (February 21, 1964)
---
Polly Emerson, has aspirations to be an actress. Her husband, Don, is a successful advertising man, who yearns to be a playwright, and has a shelf of unproduced plays to his credit. Don, understandably, isn't too happy when Polly comes home with Deerfield Prescott, a very young man who has written Broadway's next musical hit - or so he tells Polly and Don.
---
1x16 A Wind of Hurricane Force (February 07, 1964)
---
During a terrible storm in Mexico two men come to heads for the treasure they both seek.
---
1x15 Two is the Number (January 31, 1964)
---
Hoodlum Joey Rome is electrocuted in his home, and police suspect that middle-aged spinster Jenny Dworak is responsible. The murder investigation brings together two lonely people: Jenny Dworak, who runs a pawnshop, and a police investigator who is a widower.
---
1x14 The Seven Little Foys (January 24, 1964)
---
The story of vaudeville performer Eddie Foy, widowed father of a brood of good-natured but exasperating children who are trying to get an education while at the same time continuing to perform with him on stage.
---
1x13 Runaway (January 10, 1964)
---
When folksinger Richie Darden fails to show up for a performance, his girlfriend Cress thinks club owner Mig Semple should put Richie's expensive guitar in his safe. And Cress has the right idea--two customers are planning to steal the instrument.
---
1x12 War of Nerves (January 03, 1964)
---
Two suitors drive a beautiful woman crazy with their pursuit of her.
---
1x11 Corridor 400 (December 27, 1963)
---
Anita King, an undercover FBI agent. Posing as a nightclub singer, Anita gets a job in a nightclub owned by Ralph Traven. He takes quite a fancy to her; she wants to prove that he's a kingpin in a narcotics ring.
---
1x10 It's Mental Work (December 20, 1963)
---
Ernie Wigman is tired of the bar he owns and wants to get rid of it. Rich, his bartender, might be a good customer for it, only Rich doesn't seem to have the cash.
---
1x09 The Candidate (December 06, 1963)
---
Things seem to be closing in on campaign manager Parker Hite: he can't get any supporters for his candidate, and his marriage is beginning to collapse.
---
1x08 The Fifth Passenger (November 29, 1963)
---
A British Intelligence Officer suspects a Naval War Hero of giving secret information to the Soviets.
---
1x07 The House Next Door (November 15, 1963)
---
Easterner George Warren thinks he has made quite a steal when he purchases a home in fashionable Waverly Hills, Cal. George is unaware that his next-door neighbor is mobster Ernie Santee.
---
1x06 One Day in the Life of Ivan Denisovich (November 08, 1963)
---
Under Stalin, it was inconceivable that anyone could publish a book attacking Soviet injustice. But under Khrushchev, a limited but distinct thaw has taken place. Prime evidence of this change was open publication of One day in the life of Ivan Denisovich, an exposé of Stalin's labor camps where the author, Alexander Solzhenitsyn, himself did time. Tonight's adaptation of the novel is set in 1951 in Siberia. A group of prisoners persuade the authorities to transfer them to warmer work by promising to top the previous work record on the first day. But if they fail, it's back to laying barbed wire in the snow. One officer, Lieutenant Volkovoi, would like nothing better.
---
1x05 Four Kings (November 01, 1963)
---
Four Kings is a World War II drama where four prisoners are serving life sentences. They are pulled out of jail by the US military and given an opportunity for a pardon. The ""brass"" isn't asking for much: all the four lifers are expected to do is sneak into Germany and steal the secret plans for the V2 missile.
---
1x04 Bob Hope Variety Special (October 25, 1963)
---
Also appearing in this variety special are Beryl Davis and and Los Angeles Dodger stars Sandy Koufax, Don Drysdale and Tommy Davis.
---
1x03 Seven Miles of Bad Road (October 18, 1963)
---
In a small southern town, the sheriff's wife is attracted to handsome Gabe Flanders, who is hitchhiking to California. Trouble ensues.
---
1x02 Something About Lee Wiley (October 11, 1963)
---
The story of jazz singer Lee Wiley, her failed marriage to bandleader Jess Stacy.
---
1x01 A Killing At Sundial (October 04, 1963)
---
A young interloper comes between a disgruntled wife and her older husband.
---