The Gene Autry Show
Season 3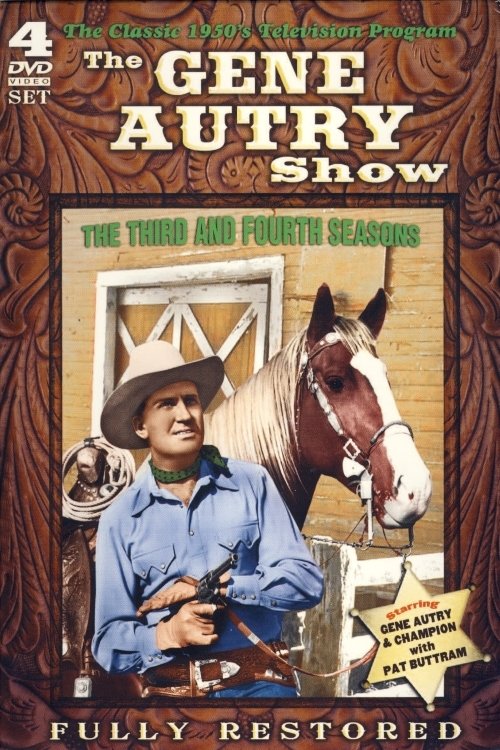 The Gene Autry Show
Season 3
First Air Date: July 14, 1953

| | | |
| --- | --- | --- |
| First Aired on | : | 1953 |
| Episodes | : | 13 episodes |
Episodes
3x13 Ransom Cross (October 06, 1953)
---
Gene and Pat are riding to Blue Mesa when they save Tom Jackson from a lynching. Tom escapes, and Gene and Pat continue riding to Blue Mesa, where they're greeted by Ed Hardley and his wife, Marie. Gene and Pat are called in to investigate losses from the local bank because of a series of stage robbers. Ed tells them that Tom is involved with the robberies, so Pat goes undercover as a cook for the Jackson's cafe, when he learns that Ed killed their father, who was once Ed's partner, and stole his estate. After overhearing a stage driver talking to Pat about a stage full of money, Tom decides to ride after it, but Gene catches him by surprise, only to find that the real outlaw is ""The Black Rider"", who escapes in the mixup. Gene suspects Ed, and he is taken in, and the Jacksons receive their stolen estate.
---
3x12 Rio Renegades (September 29, 1953)
---
Gene and his friends Pat and John Morgan transport a wagonload of freight to San Dimas. On the way, John is killed by attacking outlaws. Gene finds empty 49-90 bullet shells, and goes into investigation. Afterwards, John's son Tim sells the freight line to Paul Nash, the local banker. He was talked into it by Laura Bryan, who works for Tim, but also secretly works for Paul. To stop the sale, Gene puts to line into bankruptcy, and continures to investigate, only to find himself taken prisoner by the outlaws. Gene escapes, and returns to town, where he is accused of robbing a safe. Laura confesses she gave the combination to Paul to keep Tim from getting hurt. Gene is released, and goes after Paul, who is taken in.
---
3x11 The Steel Ribbon (September 22, 1953)
---
Pat entertains Gene and Pat's boss, Lynne Moore's nephew, Johnny, by make believing a stage robbery. This cathces the attention of a gang of robbers, who then dress like Gene and Pat, fooling the town's citizens, and Johnny. Gene and Pat find themselves sandwiched between trying to elude the sheriff's posse, and trying to bring in the outlaws. With Johnny's help, Gene and Pat track down the outlaws, and Johnny learns a lesson in life that there's more to life than what meets the human eye.
---
3x10 Cold Decked (September 15, 1953)
---
While Pat and a neighboring ranch hands race wagons, Gene rides to the rescues and stops them fron being ambused by T Bar C men. Reb Stearns starts a fight with elderly telegraph operator, Pop Wallace, for replacing a fake telegram for one Gene sent in about T Bar C's new owner, Jim Eastman. Jim has his daughter have Gene sign a blank piece of paper to uphold the telegram. Being suspicious, Pop gives her the fake one. The telegram Gene sent in explains that Jim is really a swindling oil promoter. Jim then escapes in a chuck wagon, but Gene and Pat are hot on his trail, and bring him in.
---
3x09 Dry Gulch At Devil's Elbow (September 08, 1953)
---
Deadly explosives have been smuggled into U.S.A., from Mexico, via pastries. Mexican authorities seek help from Gene and Pat, who try to run down the smuggling outlaws. While Pat is busy trying to carry a birthday cake for Gene without tripping and falling into it, and a French baker, Mimi, Gene discovers evidence at a death sight of a Mexican official that point to the pastries. Pat carries a box with a cake in it that secretly holds explosives, Gene saves his friends, and brings Mimi and her gang in.
---
3x08 The Bandidos (September 01, 1953)
---
An outlaw gang uses an old ""ghost legend"" to steer people clear of a mountain, where they're hiding stolen armor. Gene and Pat help archeologist Donald Markham, who had been ambushed by ""ghost"" uncover this legend. Markham's little sister Wilma decides to take matters into her own hands (to impress Gene), only to find herself kidnapped, tied up, and gagged. Donald wonders where she is, and Pat explains she wanted help Gene out. The three ride to the rescue, and the stolen armor is recovered.
---
3x07 Gypsy Wagon (August 25, 1953)
---
Hard Luck Finney is getting beat up when Pat and Gene come to visit him. Gene gets Finney an honest job as a watchman at the mine owned by John Grimshaw. Grimshaw later finds Gene and tells him both Finney and a couple of bags of gold dust have disappeared. Gene sees that there was a struggle and realizes that Finney has been kidnapped. Gene follows a trail of pieces of an old map and catches up with the kipnappers. The kidnappers escape and later kidnap Finney again. They want Finney to show where his gold mine is located. But there isn't any mine! Gene and Pat catch up the kidnappers again and rescue Finney.
---
3x06 Border Justice (August 18, 1953)
---
Lassiter's gang has been on a robbing spree. Gene chases them to Pablo's Cantina and is almost ambushed by one of the gang except Sombrero warns him. In town Lassiter is dressed so nice that Pat thinks he is Senator Murphy. Lassiter convinces the Mayor to give him $45,000 to help build a dam. Gene is suspicious and when the real Senator arrives he is postive that he is, in fact, Lassiter. Lassiter escapes by using Verna as a shield and he returns to Pablo's Cantina. Sombrero helps again by showing Gene a secret entrance. Songs: ""Back in the Saddle, Again"" and ""Dixie Cannonball.""
---
3x05 Narrow Escape (August 11, 1953)
---
Banker of Snake River, Ben Tansey, suddenly disappears, leaving the townspeople to believe he embezzeled the bank's funds. When the sheriff goes out in search, he is attacked by two outlaws, one of them is riding Ben's horse. Gene rides to the rescue, and takes over the investigation. After detective work, Gene and Pat are able to round up the real embezzelers, and Ben is saved. from a lynching.
---
3x04 The Old Prospector (August 04, 1953)
---
Gypsies Gerelda, and her grandfather, Alonzo are held up by outlaes, who try to kidnap Gerelda, but Gene and Pat ride to the rescue. Judge Thaddeus Fawcett believes the gypsies can identify his nephew as one of the outlaws, but he is the outlaws leader. Gene captures one of the outlaws when they try to rustle some horses. Thaddeus then orders his men to pose as gypsies to rob stages, and plant the stolen goods at the gypsy camp. Gene sets the gypsies free when he learned that Alonzo was sent on a wild goose chase. Gene later stops a runaway wagon, and track the outlaws to Thaddeus's desk.
---
3x03 Ghost Mountain (July 28, 1953)
---
Pat has ordered a mail order bride but when she arrives, she is a widow with a young son (Jimmy). Meanwhile the the stage keeps getting robbed of gold shipments but big Jim Brady isn't really concerned as his shipments are all insured. The Jimmy finds a strongbox in a cabin but it is only filled with rocks. Brady grabs Jimmy but Gene and Pat arrive in time to save him and discover the plot. Pat doesn't get the girl! Song: ""I'm Beginning to Care""
---
3x02 Outlaw Stage (July 21, 1953)
---
A wagon is held up by three masked outlaws, the guard is killed, and they rob a salesman of his jewelry. Suspicion immedieatly falls on Johnny Peters, the drive, but Gene thinks he's innocent. Pat is the next suspect due to his obssesion of pills, when people believe his pills hid the jewels. Pat overhars a converstation that he might soon die. Gene and Pat then save Johnny from a lynching. Pat single handedly takes down all the outlaws and brings them in, after Gene says that the conversation was a misunderstanding, and then PAt realizes in the fight, he could've been killed.
---
3x01 Thunder Out West (July 14, 1953)
---
Gene discovers dynamiting at a safe robbery. His number one clue is the fuse the outlaw used. Gene is confused when the fuse is times at 4 1/2 minutes to blow open a safe. Pat believes the fuse was that long so the robber would've had time to escape. Gene believes then that the dynamite was a cover up. Gene arrests his suspect, George Evans, who admits to lighting the dynamite, but to cover up the earlier disappearance of the money. Pat uses his new telescope to watch someone's hand at poker, Gene then believes the telescope could be used to find the combination to the safe. Gene sets a trap for the robber who he suspects to be Jim Lear, one of George's co-workers, by replacing the door of the safe and the combination. Gene is surprised to find the real outlaw is the hotel manager, John Turner. He and Jim are taken in.
---