Traders
Season 2
Traders
Season 2
First Air Date: January 01, 0001

| | | |
| --- | --- | --- |
| First Aired on | : | 1 |
| Episodes | : | 13 episodes |
Episodes
2x13 Us And Them (January 01, 0001)
---
Adam is offered the position of President of Canada's largest bank if he will orchestrate a merger between it and Gardner/Ross; unforeseen events put Jack on the verge of bankruptcy; Sally tries to help Ryke get a more respectable job.
---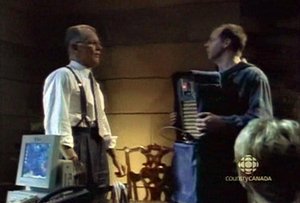 2x12 Middle Ground (January 01, 0001)
---
Someone mails a bomb to Gardner/Ross causing a mid day evacuation. All fingers seem to point to an environmental extremist group known as ""Planet Alert"". Benny discovers the stock of a small fishery in the Maritimes that is suddenly increasing in value, suggesting raiders are trying to buy up the company and break it up, selling it. This action of course would end up closing the company, and putting all the employees there out of work. Darby announces he is a member of Planet Alert, and shares a degree of their concern over the new gas refinery. Adam sends Jack and Darby to Honduras to investigate the Planet Alert claims that a retrofit gas refinery is polluting the environment. While looking into the matter Darby begins suspecting that something is not right. Cathy embarks on a quest to throw Benny the perfect birthday party. Marty however has been becoming increasingly hostile towards her due to her relationship with Benny. Meanwhile, back on the farm as it were, an environmental
---
2x11 The Hands Off Approach (January 01, 0001)
---
A Charismatic client (Klassen) who's running an artist's specialty store is beginning to worry Sally and Adam as his ambitious dreams are getting in the way of his loan repayments to the firm. At the same time a gossip columnist runs a story on Sally and Ryke which upsets her. Her and Ryke have an argument over the importance of the article that ends with him leaving to investigate her client's checkered past. It turns out that Klassen was an old boyfriend of Ayn. During a private meeting with Ayn, Sally asks her about the direct nature of her former relationship. Ayn finally concedes that she once had a drug problem. Seoul Pacific (bank) sends their latest set of recommendations to Gardner/Ross. This time, they want GR to fire Marty. A management consultant comes in and makes a series of recommendations including consolidating the floor, and moving Jansky out of his office and onto the floor. This couldn't come at a worse time, Marty is in a slump. Jansky comes with a top secr
---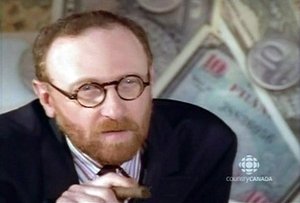 2x10 Emeritus No More (January 01, 0001)
---
While appearing on the financial talkshow ""Money File"" Sally, Adam, and Jack are ambushed by the host as he reveals several key bits of highly classified information. The leak causes GR to scramble in order to make a series of payments on the Jakarta Harbour Project. Marty is forced to raise 65 million in one day, a nearly impossible task, and he fails miserably at it. During a game of Racquet ball a friend of Adam's tells him he wants to sell his sports management business and retire. He asks Adam to broker the deal, and make sure that its as good as it can be. Kathy asks Grant to hide some boxes for her, when he asks what they're for she concedes that Benny is moving in with her. In order to save the deal Jack must sell a 65 million dollar stake in the Jakarta Harbour deal to the Seoul Pacific Bank, a move that forces GR to sell them a seat on the board, and they loose their autonomy.
---
2x09 Family Legacy (January 01, 0001)
---
D'Arby's mother shows up at Gardner/Ross with the desire to leave her dominating husband. He arranges her to speak with Ayn in order to find out if she can afford to do so. Ayn suggests she leave the office, for if her husband finds out, he could have her cut off from everything. Jacks's Jakarta Harbour project is in serious jeopardy, with investors bailing for unknown reasons, the problem is traced back to meddling from CanCorp. Adam is offered a seat on the board of Beale Manufacturing, a company that has been family run since its inception, (by Clifford) However, Clifford's sister is furious with the decision and promises to sue Adam should he take the seat. The final bank pulls out of Jakarta Harbour putting Jack on the hook for over $100 million, he flies into a rage and attacks Adam in the bathroom. Adam and Jack find a compromise by having Beale invest in the Jakarta harbour project. The deal ends up turning around all of their problems and Jack and Adam end up back on top.
---
2x08 Top of the Tombstone (January 01, 0001)
---
While Marty is hell-bent on defeating his new arch-enemy McGrath over at CanCorp Jack is hell-bent on defeating them in his own way, by usurping a new deal for the Jakarta Harbour project. He makes several failing attempts before Jansky comes up with a model that would allow them to make the deal. Marty challenges CanCorp to a Charity trading contest, but the loose by a narrow margin. He then challenges McGrath to a winner take all marathon run, not realizing McGrath is actually a Marathon runner. In order to finish in the top 20 Marty must cheat and take the Subway. He defeats McGrath, but not due to his sly nature. McGrath gets hit by a bicycle courier before the race, knocking him unconscious. Marty then places a side bet of fifty dollars betting he won't be awake before the end of the weekend. CanCorp discovers GR's attempting to ""steal"" their deal, and promises that GR will have NOTHING to do with the new consortium on Jakarta Harbour, but after GR manages to woo him to thei
---
2x07 Home Office (January 01, 0001)
---
Sally goes to see Ryke at his boxing class and sees him helping another woman to spare with a young boy, which makes her more than a little jealous. When Ryke leaves the room, Sally asks her if she's a friend of his to which the woman (named Connie) says that she is just helping the young boy to fight because she works with troubled kids. Sally then informs her that she is a client of his and an investment banker. She then asks Connie if she is a social worker, but instead finds out that she is a nun. Connie then figures out that Sally thought she was moving in on Ryke, but Sally denies it saying ""She's just a client"". Back at the office, Sally, Jack and Adam are talking about how to get a mutli-millionaire named Noah Dexter to invest $3 hundred million into Gardner Ross. Adam says the best way is to meet and convince him, but says he can't do it with the excuse that he saw Noah shoot a duck once(which upset him). He says that once Dexter hears the name Gardner Ross he'll decline. Jac
---
2x06 Spin (January 01, 0001)
---
The head of the Equ-worth fund is seen leaving Gardner/Ross. She was there to collect a two million dollar interest payment on a bond issue. As the agent in charge of this bond Sally undertakes an investigation to find the source of the bond. It turns out, her father was in charge of a 30 million dollar Cartegean bond, registered to a shell company ""Sally Ross Securities"" leaving her on the hook for all of it. Marty is in a slump, down just over 1.2 million when Kathy tries to help. She tells him of a way of reading his own subconscious using a pendant. The technique proves right the first two times, and Marty makes his money back. However, when he tries to take a long position in Kenderson Cable, a huge selloff leaves him on the hook for over 1.26 million putting him back where he started. A Canadian Senator (Warren Bishop) comes to Sally with a cheque for two million dollars, that will meet the interest payment. He tells her that the bond was setup as a slush fund for CSIS, an
---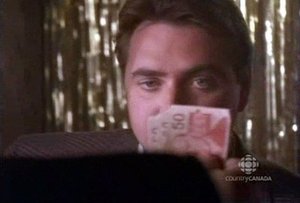 2x05 Separation Anxiety (January 01, 0001)
---
The Heron Lake nation, angry that the Quebec Government has refused to issue them a gambling license has come to Gardner/Ross for help. Jack comes up with an idea to float the Heron Lake - BOND. A bond, is typically only available to countries, but with some fancy maneuvering Jack manages to get the nation a Triple B rating. The Quebec government is furious with GR, and they decide to re-issue the license in order to halt the bond issue. -- This episode is one of the poorest to date in the area of depth. It is highly two dimensional, with very little back story to keep it interesting. Fortunately, this was the exception, NOT the rule.
---
2x04 Trudy Kelly (January 01, 0001)
---
Trudy Kelly, Canada's (fictional) answer to Martha Stewart arrives at Gardner/Ross with the desire to buyout her 'owners' Kathy asks Jack to help her get the new job on the floor, he refuses, but she gets the job anyway. Benny makes an error in trading, that costs him half a million. Kathy tells him she'll enter the chit as a sell by 'accident' and correct it later. It appears however that the Trudy Kelly / Kelly Styles image is owned entirely by the parent company (BullCom) and they have no interest in selling it. Adam rushes home after his wife's nurse injures her back lifting her out of the bed. This upsets his wife greatly. She asks Adam again to let her die, but Adam cannot let her do it. Trudy Kelly drops a bomb on her show when she announces to everyone that she will be wrestling control of her image from BullCom without telling anyone ahead of time. The deal finally goes through with loads of conditions. A deal that leaves her virtually broke, but satisfied that she owns h
---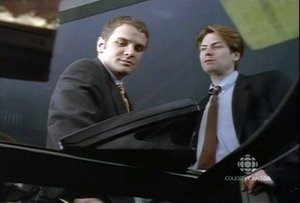 2x03 High Flyer Down (January 01, 0001)
---
A shifty acquaintance of Jack's returns to call in a favor. He asks Jack to have Gardner/Ross front a hemp growing operation, but Jack is more concerned with finding out the downside on the deal. It takes him the whole episode to find it, but he finally does. Jack manages to maneuver his way around the pitfall, and is able to send his acquaintance to a farm in BC for 10 years to oversee the project. Meanwhile, Kathy's son is having problems in school, fighting, cutting class, being in a gang... Jack tries to put him on the right path by training him to box. Things seem to be going alright until Kathy forbids him from continuing.
---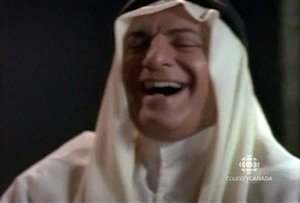 2x02 The Natari Affair (January 01, 0001)
---
After Jack unknowingly offends a Gulf State Prince, Adam tries to take control and fix the problem. Sally intervenes, and tells the pair to solve their own problems. Adam then takes a few days off and leaves Jack to find a way to apologize to the prince. Marty finds a discrepancy in an annual report of a sleepy little stock that puts him in a position to make millions, but when no one else notices the problem he begins to worry. He phones in an anonymous tip to the OSC reporting the problem in order to cash in on his short positions. Jack makes nice. Ayn and him attend a traditional dinner party at the Prince's house, Ayn with the Women, and Jack with the men, while D'Arby takes out the Prince's aid to a night at the ballet. Jack is worried that his bid for the deal was outdone by another British banker. Meanwhile, back at Gardner/Ross D'Arby and the young aid get it on in his office. Donald makes another mistake that almost costs the firm the deal, but instead it puts them in a n
---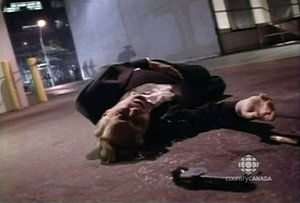 2x01 Chaos Theory (January 01, 0001)
---
The same night he fires her, Cedric phones Sally and asks her and Jack to meet him and Adam in the middle of the street. Cedric tells Sally her place is back at the University, but she'll hear none of it. He warns her, telling her there are things she doesn't want to know about. She walks away to find Adam trying to woo Jack back to Gardner/Ross, he also turns him down. A car zips past Sally, Adam and Jack who are talking by Jack's limo, she notices the car is her fathers. They rush to Cedric who is lying on the ground, dead. Back at the firm D'Arby finds Grant lying unconscious in a bathroom stall, he is taken to a psychiatric hospital. Adam is furious that Cedric left his entire estate, including his newly acquired shares to Sally. He begins saying he'll contest the will. Sally decides to form a new executive committee, and leaves Adam as head of the bank in order to prevent a fight. One of Jack's clients rushes in telling him The Canadian Corporate Bank (CanCorp) has told hi
---