Hazel
Season 1
Hazel
Season 1
First Air Date: September 28, 1961

| | | |
| --- | --- | --- |
| First Aired on | : | 1961 |
| Episodes | : | 35 episodes |
Episodes
1x35 Hazel's Day (June 07, 1962)
---
---
1x34 George's Assistant (May 31, 1962)
---
---
1x33 Heat Wave (May 24, 1962)
---
---
1x32 The Burglar in Mr. B's P.J.'s (May 17, 1962)
---
---
1x31 Rock-a-Bye Baby (May 10, 1962)
---
---
1x30 Hazel the Matchmaker (May 03, 1962)
---
---
1x29 Hazel Quits (April 26, 1962)
---
---
1x28 Bringing Out the Johnsons (April 19, 1962)
---
---
1x27 Three Little Cubs (April 12, 1962)
---
---
1x26 Hazel's Pajama Party (April 05, 1962)
---
---
1x25 Them New Neighbors is Nice (March 29, 1962)
---
---
1x24 Number, Please? (March 22, 1962)
---
---
1x23 Dorothy's Birthday (March 15, 1962)
---
---
1x22 Hazel and the Gardener (March 08, 1962)
---
---
1x21 Hazel's Mona Lisa Grin (March 01, 1962)
---
---
1x20 The Investment Club (February 15, 1962)
---
---
1x19 Hazel, the Tryst Buster (February 08, 1962)
---
---
1x18 Hazel's Secret Wish (February 01, 1962)
---
---
1x17 Hazel's Tough Customer (January 25, 1962)
---
---
1x16 Hazel's Famous Recipes (January 18, 1962)
---
---
1x15 Replacement for Phoebe (January 11, 1962)
---
---
1x14 Hazel's Dog Days (January 04, 1962)
---
---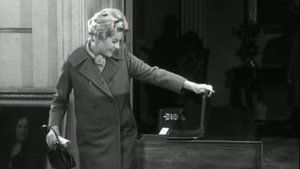 1x13 Dorothy's Obsession (December 28, 1961)
---
Dorothy must have a piano she sees at an antique auction.
---
1x12 Hazel's Christmas Shopping (December 21, 1961)
---
Hazel has one gift to buy before Christmas and it's for Dorothy. However, when she discovers she doesn't have enough money for it, she gets a job at a department store and encounters a shoplifter.
---
1x11 Hazel's Winning Personality (December 14, 1961)
---
Hazel's friend Laura wants to get the attentions of a new gardner in the neighborhood but has some trouble doing so. This leads her and Hazel to take a class in changing your personality. Soon, Hazel begins doing so to hers and begins doing just what the instructor tells the class, shower everyone with compliments. However, Hazel's constant complimenting gets her into hot water with George and Dorothy.
---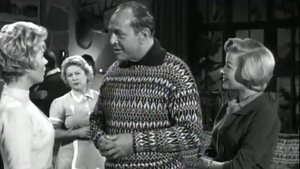 1x10 Winter Wonderland (December 07, 1961)
---
The Baxters are planning a weekend ski trip to a lodge and Hazel is planning on going along to be in a snow contest with a man she has a crush on. However, Hazel may have to sit out of the race when George has to work unexpectedly and insists that Hazel stay with him while Harold go along ahead.
---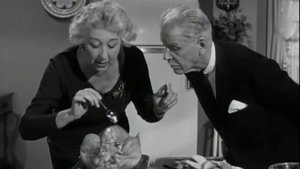 1x09 Everybody's Thankful But Us Turkeys (November 23, 1961)
---
---
1x08 George's Niece (November 16, 1961)
---
---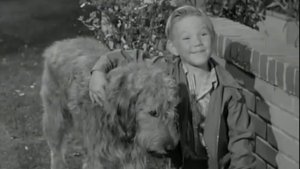 1x07 A Dog for Harold (November 09, 1961)
---
Harold is out playing and finds an abandoned dog and brings him home. Hazel and Dorothy are overjoyed but the joy becomes fear when they remember that George forbids a dog in the house. This leads them to plot together to convince George to let Harold keep the dog.
---
1x06 What'll We Watch Tonight? (November 02, 1961)
---
George and Dorothy's nightly television viewing has been getting interupted by Hazel who's excuse is that her television set in her room is broken. This leads to George taking her down to the store to by her one, which is where she decides to get a color TV and quickly becomes the talk of the town.
---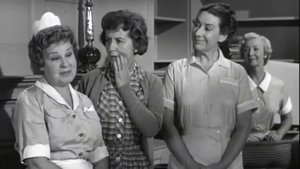 1x05 Dorothy's New Client (October 26, 1961)
---
A competitor of Dorothy's is trying to get her to join her interior decorating business but Dorothy is content with her own small business despite few customers. This prompts Hazel to try to influence the new neighbors into hiring Dorothy to furnish their home.
---
1x04 A Matter of Principle (October 19, 1961)
---
Hazel is in no mood to be the perfect maid to an important client of George's after she gets a parking ticket that she is sure she didn't deserve. Although, the fine is only a couple of dollars, Hazel wants George to represent her and help her prove that she wan't at fault.
---
1x03 Hazel Plays Nurse (October 12, 1961)
---
Hazel plays Nurse for Mr. B & Missy as she taking care of the ill Baxters around the house after getting caught the flu. It's up to Hazel to get them better with a dose of medicine until Harold is the last Baxter to get caught by the flu.
---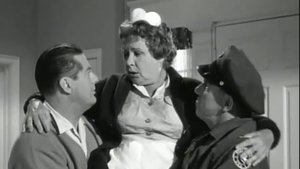 1x02 Hazel Makes a Will (October 05, 1961)
---
It's that time of the year when Hazel begins warming George up to the idea of a raise but this year, he absolutely refuses, leaving Hazel furious. Later, when Hazel falls and hurts herself, she decides to draw up a will, but George thinks she's planning a lawsuit against him.
---
1x01 Hazel and the Playground (September 28, 1961)
---
While trying to teach Harold how to kick a football, Hazel realizes that what is needed in town is a playground for the children. This leads her to go all out to try to get one despite George and his clients' opinion.
---