Mother of the Goddess' Dormitory
Season 1
Mother of the Goddess' Dormitory
Season 1
First Air Date: July 14, 2021

| | | |
| --- | --- | --- |
| First Aired on | : | 2021 |
| Episodes | : | 10 episodes |
Episodes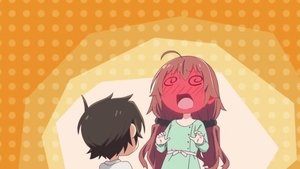 1x10 The Goddesses of the Goddess Dormitory (September 15, 2021)
---
When Koushi falls ill just before New Year's, the dorm residents must rally to nurse him back to health… but their efforts may do more harm than good.
---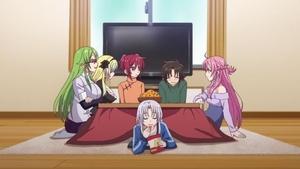 1x09 Sutea Reflects on the Kotatsu / Koushi Tackles Spring Cleaning (September 08, 2021)
---
A kotatsu brings warmth into the household… warmth and shenanigans, that is. Will Kouichi be able to break free of the kotatsu's cozy clutches?
---
1x08 Kiriya Wishes Upon a Christmas (September 01, 2021)
---
Kiriya's family always throws a Christmas party for their dojo, but this year she'll have to run it all by herself! Can Koushi and Atena help her spread some holiday cheer?
---
1x07 The School Festival at Seikan Women's University (August 25, 2021)
---
Koushi doesn't have to wear a disguise for Seikan's school festival, so that means he and Sutea can experience something normal for once. Right…?
---
1x06 Sutea Ponders About the Sea / Koushi Makes His Cosplay Debut (August 18, 2021)
---
Koushi plays lifeguard on duty as the dorm's beach vacation continues. Back at home, he takes a trip into the cosplay closet with Frey.
---
1x05 Serene the Shut-in / The Goddess Dormitory Goes on Vacation (August 11, 2021)
---
It's time for some fun in the sun during summer break, only Serene doesn't seem too keen on the idea. Time to help out the dorm's most mysterious member!
---
1x04 A Childhood Friend Visits the Dorm / Koushi Goes Undercover at a Women's College (August 04, 2021)
---
Sutea meets the residents of the Goddess' Dorm, with mixed results. Later, Koushi goes undercover at the college and lands in hot water.
---
1x03 Koushi, at a Loss / Koushi Goes Back to School (July 28, 2021)
---
Now that he's settled into his new life, Koushi returns to school! Everyone wants to know where he's been, but will Koushi's childhood friend, Sutea, appreciate the truth?
---
1x02 The Problem with Kiriya and Serene / Atena Awakens (July 21, 2021)
---
How has Koushi managed to befriend the dorm residents so quickly? Atena think he's super sus! But when a shopping trip goes awry, will she be able to accept his help?
---
1x01 Koushi Becomes a Dorm Mother / The Problem with Mineru and Frey (July 14, 2021)
---
The homeless and desperate Koushi has been offered a job! But after a bad first impression, Atena will need time to adjust to the idea of Koushi living at the Goddess' Dorm.
---