Peter Gunn
Season 2
Peter Gunn
Season 2
First Air Date: September 21, 1959

| | | |
| --- | --- | --- |
| First Aired on | : | 1959 |
| Episodes | : | 38 episodes |
Episodes
2x38 Baby Shoes (June 27, 1960)
---
A baby is dumped outside of Pete's apartment with a note attached asking Pete to take care of the baby. When a woman is gunned down Pete believes that she is somehow connected.
---
2x37 The Heiress (June 13, 1960)
---
Walter C. Gerard is prisoner in his own house, his daughter has paroled criminal Frank Loomis who now lives in the mansion and runs the show.
---
2x36 The Crossbow (June 06, 1960)
---
Gunn is hired by Mr. Copeland to find out who stole his antique crossbow and is using it to murder people.
---
2x35 Letter of the Law (May 30, 1960)
---
Nightclub Singer Julie Kent is murdered and the DA's son is the suspect, she also happens to be the ex-girlfriend of syndicate boss DeSantis.
---
2x34 The Semi-Private Eye (May 23, 1960)
---
Eric gets himself a trench coat and a pretty secretary. Now he's ready to start his career as he bumbles his way around town and interferes with the police department he is called in by Janos Thorwald to bring in his easy mark of a son.
---
2x33 Send a Thief (May 16, 1960)
---
A secretary has important papers that incriminate her boss and becomes frightened when attempts are made on her life, at least that's the story she gives Pete. The real story is that Lyles a bank robber offs two of his cohorts after looking for the key to the safe deposit book where the loot is.
---
2x32 The Best Laid Plans (May 09, 1960)
---
There is an assassination plot against the Governor, and Pete tries to find out who is behind it to stop the scheduled assassination. The plot is a ruse for something even bigger as Jacoby and Gunn find out.
---
2x31 Witness in the Window (May 02, 1960)
---
Pete is hired by Anthony Scott to locate Marion Venner who is blackmailing him after their affair ended. What he finds leads him to believe that the neighbor may have seen something and met with an unhappy demise.
---
2x30 Death Watch (April 25, 1960)
---
Paul Conlon, a school teacher, is grading papers at school when he hears a scream he goes to investigate and finds a dead girl. He hires Gunn to prove his innocence.
---
2x29 Wings of an Angel (April 18, 1960)
---
Charlie Barnes is arrested for bank robbery and is cut a break to attend his daughter's wedding with Gunn as his watchman and then disappears.
---
2x28 Slight Touch of Homicide (April 11, 1960)
---
A little man with homemade bombs has been blowing up four or five gangsters at a clip. Now the mob boss' have hired Gunn to find the culprit.
---
2x27 The Dummy (April 04, 1960)
---
Ventriloquist Marvelous Marvon is found murdered after his act. Gunn is hired by Marcel Benoit to the find killer. Rinaldo his Dummy, turns out to be no dummy.
---
2x26 The Murder Clause (March 28, 1960)
---
Pete is hired by trumpet player Bud Bailey's wife, she is accusing him of wanting to kill her for the insurance money.
---
2x25 The Deadly Proposition (March 21, 1960)
---
Employee Arthur Cole accuses his boss of killing his wife and hires Gunn to prove it. There is a twist and it leads to the suspect being Cole instead.
---
2x24 The Long, Long Ride (March 14, 1960)
---
Someone is out to kill a former underworld boss, Joe Webber, back home after serving a lengthy prison term. Out of touch with the underworld, Webber hires Peter Gunn to find the identity of his would-be killer.
---
2x23 Sing a Song of Murder (March 07, 1960)
---
Arnie Kelton musician and ex-convict, asks Gunn to investigate his wife's death.
---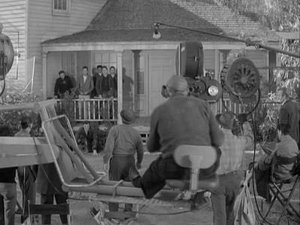 2x22 Hollywood Calling (February 29, 1960)
---
Actor Frankie Burns is murdered on the set of a new movie. Gunn finds out that the crime was committed to cover up an old crime.
---
2x21 The Hunt (February 15, 1960)
---
Two-thirds of this episode consists of a chase sequence without any dialog. Pete hears that he's marked for murder, but he refuses police protection. The killer finds Gunn alone in his apartment and forces him to take a nighttime ride into the desert.
---
2x20 Sentenced (February 08, 1960)
---
Gunn is "Sentenced" to death for the murder of a clerk, but he escapes jail.
---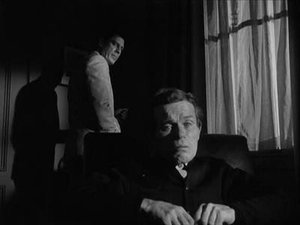 2x19 See No Evil (February 01, 1960)
---
Cliffy, the blind newspaper vendor is afraid of Brenners who was convicted and escaped after his sentence has been given. He hires Pete to protect Cliffy from Al Brenners and his sidekick Springer.
---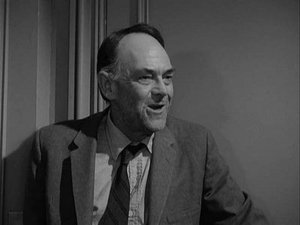 2x18 Fill the Cup (January 25, 1960)
---
Getty hires Gunn to help him to stop drinking, his daughter that he hasn't seen in fifteen years is coming to see him tomorrow and he wants to be sober for her. He begs Pete, tells him he's his last hope.
---
2x17 The Grudge (January 18, 1960)
---
An escapee from a mental hospital gives the Mayor an ultimatum, either commit suicide or a bomb will be detonated at the Civic Centre.
---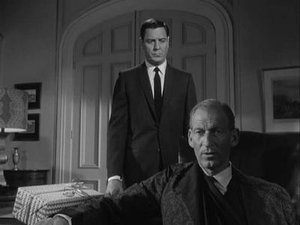 2x16 Spell of Murder (January 11, 1960)
---
An attempt is made on Arnold Simpsons' life when he hires Gunn to find out who is blackmailing him. He tells Pete about a dig he was on with Frank Victor and how he abandoned him when the cave collapsed. Gunn is sent to the Blue Pheasant to pick up a parcel for Simpson and delivers it to him and is stunned when it goes off.
---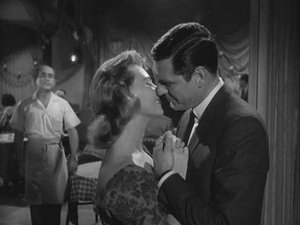 2x15 Hot Money (January 04, 1960)
---
Willie Coronado is found dead in the dryer of a laundry mat. He was one of the men involved in a daring bank robbery involving one million dollars. Louis hires Pete to find out who killed his partner and to cut a deal with the DA's office for his involvement.
---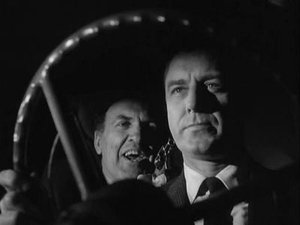 2x14 The Wolfe Case (December 28, 1959)
---
Nancy Fowler is murdered and Pete is hired to find out why. He finds that it's a setup for a bitter wife married to a wealthy older man to get his money.
---
2x13 Terror on the Campus (December 21, 1959)
---
Dean Norse hires Pete to find out what is happening on the campus, the girls are terrified with lights flickering off every night and the ringing of the bell tower which hasn't rung in over twenty years as well as a mysterious presence.
---
2x12 The Briefcase (December 14, 1959)
---
Matthew Dunaway is killed on a train and his briefcase is stolen. Gunn is hired by Lavinia to find a man she claims is her husband and to find what is in the briefcase.
---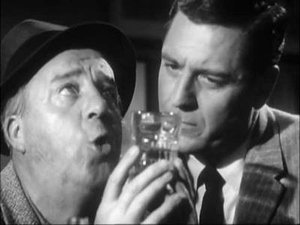 2x11 The Price Is Murder (December 07, 1959)
---
Two escaped convicts go after Peter Gunn, and the best way to do that is get his girl first.
---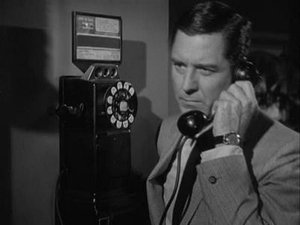 2x10 The Game (November 30, 1959)
---
Some jewels have been stolen, and an insurance man named Nickerman wants to pay the thieves to return them. So he hires Gunn to contact the crooks.
---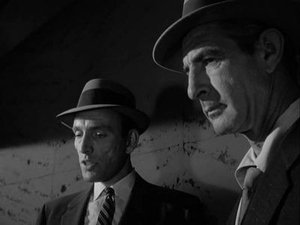 2x09 The Rifle (November 23, 1959)
---
Janos Kolanski, an inventor goes to Pete for help. Apparently there is a faction after his plans, his invention a deadly rifle.
---
2x08 Kidnap (November 16, 1959)
---
Lt. Jacoby is kidnapped, Pete goes looking for him and finds suspects at every turn.
---
2x07 The Feathered Doll (November 02, 1959)
---
Plainsclothes policeman Jay Madigan is found knifed on the docks near the carnival. Pete undercovers that the Shooting Gallery at the carnival is smuggling something in the dolls, heroin.
---
2x06 The Young Assassins (October 26, 1959)
---
Charlie Mays is on Death Row and his seventeen year old son is heading down the same old road as his dad. Charlie asks Pete for help in saving his son from himself.
---
2x05 Death Is a Red Rose (October 19, 1959)
---
John Alastair is a desperate man and has a problem, he has hired Burnett to kill him but changes his mind. Unfortunately Burnett doesn't see it that way.
---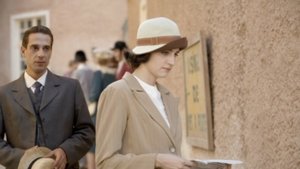 2x04 The Comic (October 12, 1959)
---
Convinced that his wife is trying to kill him, comedian Danny Holland comes to Peter Gunn for help.
---
2x03 Edge of the Knife (October 05, 1959)
---
A distraught father is worried about his daughter, Ellen Majeski, who did time for four years as an accomplice in a robbery. Now after her release she has disappeared and her father hires Gunn to find her. The twist is that her father died when she was 4.
---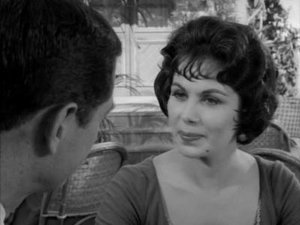 2x02 Crisscross (September 28, 1959)
---
Bank Manager Poole places smoke bombs throughout the bank and then cleans out the bank.
---
2x01 Protection (September 21, 1959)
---
Two thugs selling protection, if you don't pay for protection, you're blown up and permanently out of business. Gunn is hired by Mother when she runs into problems with The Owl.
---