Peter Gunn
Season 1
Peter Gunn
Season 1
First Air Date: September 22, 1958

| | | |
| --- | --- | --- |
| First Aired on | : | 1958 |
| Episodes | : | 38 episodes |
Episodes
1x38 The Portrait (June 15, 1959)
---
An unfaithful wife is dismayed that after her lovers death a portrait of her goes missing, she hires Gunn to retrieve the painting.
---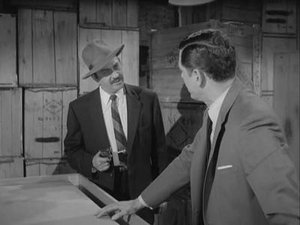 1x37 The Coffin (June 08, 1959)
---
Gunn is hired to accompany a coffin to Mexico City, the hitch is that there is no body in the coffin only money stolen during a robbery.
---
1x36 Vendetta (June 01, 1959)
---
Somebody shoots Edie in an attempt to get to Gunn. Jacoby still in the hospital gives Pete a clue as to who is seeking revenge.
---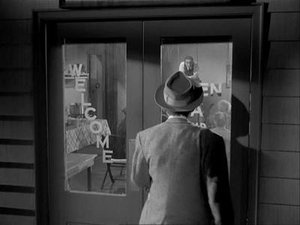 1x35 Kill from Nowhere (May 25, 1959)
---
Wealthy invalid Louise Reardon has an attempt made on her life and Gunn is hired to find her Aide, Scully.
---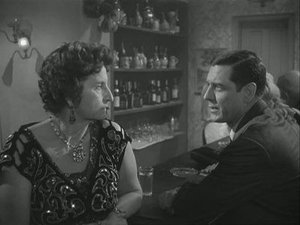 1x34 Bullet for a Badge (May 18, 1959)
---
An attempt on Lt. Jacoby is made when he receives a mysterious phone call and set up for a bullet.
---
1x33 Lady Wind, Bells Fan (May 11, 1959)
---
Fan Dancer, Darling Lillian of The Green Dragon is given a special fan one that holds the key to the past.
---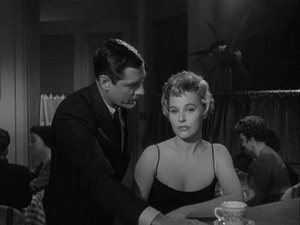 1x32 The Family Affair (May 04, 1959)
---
B.E. Raleigh's only relative, a nephew named Martin, was imprisoned for stealing from his uncle's company. Now that the Uncle is dying there are many attempts on the rich uncle's life to make his demise quicker.
---
1x31 Love Me to Death (April 27, 1959)
---
Three lonely rich sisters and one of them finds a boyfriend, but is he really interested in her or her money. Five dead wives tell a different story.
---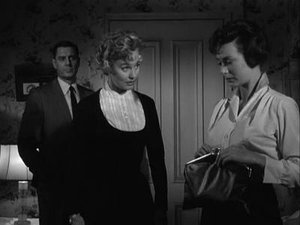 1x30 February Girl (April 20, 1959)
---
Model June Holton witnesses the murder of a photographer, only problem is she wasn't wearing her glasses and can't identify him.
---
1x29 Skin Deep (April 13, 1959)
---
Wealthy Helena Mears hires Peter Gunn to investigate the disappearance of her young sister Katie. Pete learns that Helena, lonely and jealous of Katie's popularity, has met an amorous but unscrupulous Latin who has been secretly seeing Katie.
---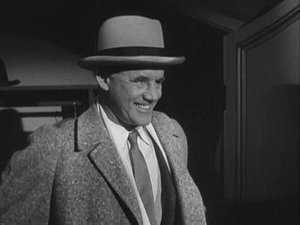 1x28 Pay Now, Kill Later (April 06, 1959)
---
After serving 14 years for a crime he did not commit, Spain decides to commit the crime he was sentenced and already served time for.
---
1x27 Breakout (March 30, 1959)
---
An escaped gangster lives in a rundown apartment undetected, wearing bandages. He hires Gunn to locate his brother and finds out that the man was involved in a payroll robbery.
---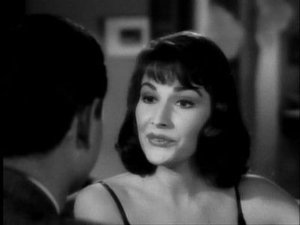 1x26 Keep Smiling (March 23, 1959)
---
Peter Gunn poses as a professional bowler to investigate a case of blackmail and murder.
---
1x25 The Lederer Story (March 16, 1959)
---
Mr. Lederer falls overboard on his yacht at night, and soon after his wife is poisoned, Gunn investigates.
---
1x24 The Ugly Frame (March 09, 1959)
---
Lt. Jacoby tries to nail Quoit on a murder charge but is foiled by misinformation.
---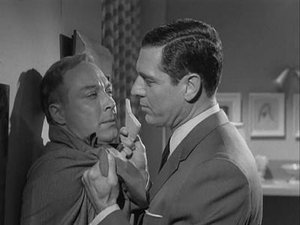 1x23 The Dirty Word (March 02, 1959)
---
After her husband is murdered, Louise Sinclair hits the bottle and her husbands lawyer consoles her.
---
1x22 Edie Finds a Corpse (February 23, 1959)
---
Edie is having her apartment renovated and during the renovations she uncovers a body.
---
1x21 Scuba (February 16, 1959)
---
A series of unsolved robberies have an insurance company looking to Pete to find the culprits. The investigation begins where a partner in a diving company was found murdered, and Pete hooks up with a Don Ho fan who is into water sports.
---
1x20 Pecos Pete (February 09, 1959)
---
There's trouble in Texas when a cowboy gets clobbered, and his brother, a cattle baron, hires Pete to find his killer. The welcome is none too warm, even when Pete goes native and dons the local attire. Mancini's score takes on a western swang. Marks the introduction of the new series logo design.
---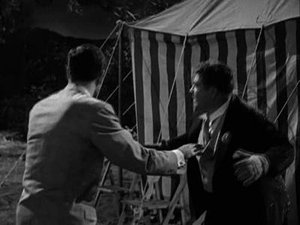 1x19 Murder On The Midway (February 02, 1959)
---
Peter Gunn is hired by a man known as the Baron to protect Rowena, the roommate of a murdered carnival dancer. Rowena is the Baron's girlfriend, and when she becomes infatuated with Gunn, the Baron threatens the private investgator.
---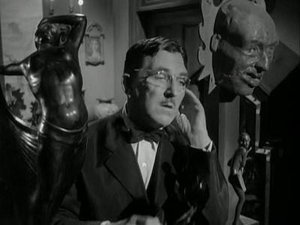 1x18 The Missing Night Watchman (January 26, 1959)
---
A body gets dumped off the pier, and Peter is hired by the proprietor of an antiquities shop to locate a stash of diamonds owned by an eccentric collector. Be prepared for some great dialogue.
---
1x17 Let's Kill Timothy (January 19, 1959)
---
---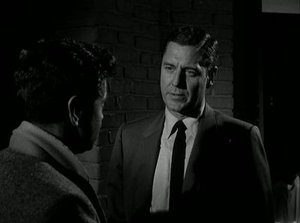 1x16 The Fuse (January 05, 1959)
---
A union boss's birthday starts off with a bang, and the crime boss who is the chief suspect wants Pete to clear his name before the situation gets even more explosive.
---
1x15 The Leaper (December 29, 1958)
---
An elderly circus performer is shot by a man using a high-powered rifle while standing on the ledge of an apartment building. The man's wife asks Peter Gunn to investigate the death of her husband.
---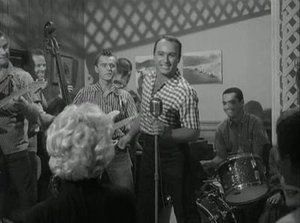 1x14 Sisters Of The Friendless (December 22, 1958)
---
A young man is accused of murder, and the only witnesses for the defense are two nuns who are unable to leave their convent.
---
1x13 The Jockey (December 15, 1958)
---
Billy Arnet's girlfriend falls through a skylight, to her death. Peter Gunn is hired prove it was not an accident but murder.
---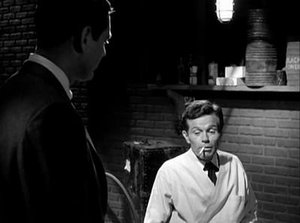 1x12 The Torch (December 08, 1958)
---
A man is burnt to death. His widow hires Peter Gunn to find out who killed him.
---
1x11 Death House Testament (December 01, 1958)
---
Ten minutes before his execution a convicted murder hires Peter Gunn to find the $700,000 he stole, hand it over to the bond company, collect the 10% reward and give it to his daughter.
---
1x10 The Man with the Scar (November 24, 1958)
---
Roy Davidson the D.A.'s son is being framed for a crime he did not commit, Gunn investigates and is surprised by what he undercovers.
---
1x09 Image of Sally (November 17, 1958)
---
Nightclub singer Sally Hall is caught between two crime bosses who intend to have her at all costs.
---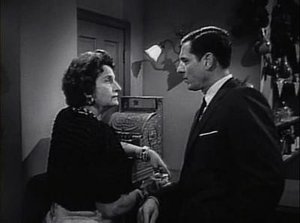 1x08 Rough Buck (November 10, 1958)
---
A famous boxer is murdered. Pete is hired by the dead fighter's brother to find the killer. Peter Gunn's investigation leads him to a shady fight manager and a nightclub stripper.
---
1x07 Lynn's Blues (November 03, 1958)
---
Singer Lynn Martel has lost all hope after her boyfriend has been killed. The killing was arranged by Nat Kreuger, Martel's obsessed boss. When Peter Gunn tries to help her, his life also becomes endangered.
---
1x06 The Chinese Hangman (October 27, 1958)
---
Pete is asked by a religious cult leader to find a missing girl and the money she had access to.
---
1x05 The Frog (October 20, 1958)
---
Pete is called by a gangster's leg man who is then murdered. Pete becomes involved in a search for incriminating evidence.
---
1x04 The Blind Pianist (October 13, 1958)
---
A "blind" pianist witnesses a murder and, to protect his secret, hires Pete to find the killer.
---
1x03 The Vicious Dog (October 06, 1958)
---
A newspaper reporter writing an expose of a crime boss is attacked by a dog. Pete is called in to investigate.
---
1x02 Streetcar Jones (September 29, 1958)
---
A jazz musician is killed and another musician is accused. Pete is called in to the case. This episode features the jazz music of Henry Mancini.
---
1x01 The Kill (September 22, 1958)
---
When Mother is approached by gangsters to pay protection money, she asks Peter Gunn to intervene. When she refuses to pay, a bomb is set off in her night club.
---