Blackpool
Season 1
Blackpool
Season 1
First Air Date: November 11, 2004

| | | |
| --- | --- | --- |
| First Aired on | : | 2004 |
| Episodes | : | 6 episodes |
Episodes
1x06 Episode 6 (December 16, 2004)
---
Against the backdrop of a Blackpool society wedding, the final strands of Ripley's life completely unravel. On the morning of Shyanne and Steve's wedding, Ripley finally tells Natalie that he knows about her affair with Carlisle. But is their marriage over for good? Carlisle turns up at the ceremony to arrest Ripley for murder - but Ripley confronts him over the small matter of his compromising affair with the suspect's wife! Besides, Ripley is not prepared to go down for a murder he did not commit. Ripley sets out to do right by his family, while clinging on to his lifelong dream of joining the big players. On a day of revelations Ripley discovers first that his son Danny is gay, then that the teenager was responsible for the murder, albeit in self defence. Knowing that it's Carlisle who Natalie really loves, Ripley allows his wife and the detective to get together. In return no charges are made against Ripley for the murder. Ripley hands over the casino to Danny, who's also in the cl
---
1x05 Episode 5 (December 09, 2004)
---
Natalie provides Ripley with a watertight alibi for the night of the murder. Carlisle knows she's lying, but there's nothing he can do about it. Meanwhile, Ripley's business is falling down around his ears. Marr, Ripley's friend and trusted financial advisor, reveals his true colours with a mean trick he's had up his sleeves. Ripley isn't prepared to go down easily, but events spiral even further out of control as he struggles to hang on to what little he has left. Ripley's friend Terry also confesses that he's been informing the police about Ripley's activities on the night of the murder. Carlisle temporarily succeeds in winning back Natalie, but she gets cold feet once again and goes to his hotel to end the affair. Carlisle claims that he never loved her, he just wanted to get to Ripley. Meanwhile, Ripley susses that Carlisle and Natalie have been having an affair...
---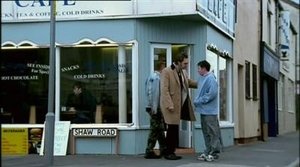 1x04 Episode 4 (December 02, 2004)
---
Carlisle doesn't believe Danny's confession to the murder. He's convinced that Danny is covering up for his father, Ripley. Natalie confronts Carlisle and warns him to stay away from her, and her family. Heartbroken, Carlisle sets out with a renewed determination to nail Ripley, his love rival. Ripley visits Steve in hospital and offers him a large sum of money to leave Shyanne alone. Steve takes the money but uses his windfall to stretch Ripley's patience by spending it on Shyanne. With his showpiece arcade sinking deeper into trouble, Ripley is forced to drop everything and take drastic measures when Danny, traumatised by recent events, reaches breaking-point. He finds Danny lying on a train track, in a suicide bid similar to the one Ripley himself tried as a teenager. Danny admits that he moved the murdered body from Ripley's flats into the casino. Ripley goes to Carlisle and claims he was the one who moved the body...
---
1x03 Episode 3 (November 25, 2004)
---
Forensic evidence links Ripley ever more closely to the murder, and his application for planning permission is rejected. It seems Lady Luck has turned against him and his world is falling apart. Natalie discovers that Carlisle is a police officer, and that he has been investigating her family. She is devastated; the little time they've spent together has made her feel more alive than she has felt in years. Shyanne's boyfriend, Steve, is badly beaten up. She's convinced that her father is behind the attack, but he denies any involvement. Danny starts to crack under pressure, and ends up getting himself into even more trouble. He's set up in a drugs bust, but Carlisle just gives him a ticking off. What Carlisle really wants is evidence that Ripley committed the murder. Danny, though, shocks him by turning up to the police station and confessing to the murder himself.
---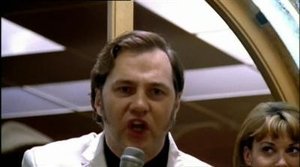 1x02 Episode 2 (November 18, 2004)
---
The murder investigation begins to make Ripley's life very difficult. The murder victim is identified as a young man who'd been out on his stag night. The investigation starts to threaten Ripley's business when Carlisle temporarily closes down the arcade for forensics. DI Carlisle calls Ripley's son, Danny, in for questioning; he's convinced that Danny knows more about the inquiry than he is letting on. Carlisle suspects he might be covering for his father. When a huge tax bill surfaces and puts pressure on Ripley's finances, his friends Terry, Jim and Adrian, who have invested in the arcade, start to get twitchy. Meanwhile, Natalie agrees to go on a date with Carlisle – unaware that he is investigating the murder. And Shyanne's love life takes a turn for the better when she's reunited with Steve, who'd earlier been warned to stay away from her by Ripley.
---
1x01 Episode 1 (November 11, 2004)
---
Local entrepreneur Ripley Holden, a brash, charismatic family man, holds a lavish opening for his new showpiece arcade in his beloved home town of Blackpool. However, his fortunes take a turn for the worse when he discovers the dead body of a young man on the premises. Keen to get the case cleared up, Ripley co-operates with the investigating police officer, DI Peter Carlisle. But Carlisle takes a dislike to Ripley, which makes him all the more determined to prove the businessman is the culprit. Family problems add to Ripley's headache; his young son, Danny, is seemingly hiding something and his 20-year-old daughter, Shyanne, brings home an unsuitable new boyfriend - a man Ripley was at school with. Ripley instructs Shyanne's partner to end the relationship. Shyanne is left heartbroken. Meanwhile, Carlisle takes a shine to Natalie, Ripley's wife.
---