Mr. & Mrs. Smith
Season 1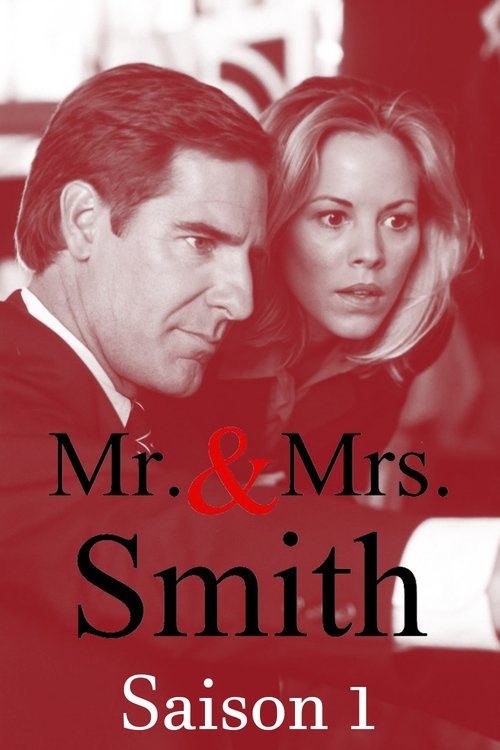 Mr. & Mrs. Smith
Season 1
First Air Date: September 20, 1996

| | | |
| --- | --- | --- |
| First Aired on | : | 1996 |
| Episodes | : | 13 episodes |
Episodes
1x13 The Sins of the Father Episode (January 01, 1997)
---
Mr. Smith disappears during a mission and leaves Mrs. Smith hanging. She escapes and begins to search for the missing Mr. Smith. Meanwhile, he finds out that his son has been kidnapped and to get him back he must kill a man.
---
1x12 The Bob Episode (December 08, 1996)
---
The Smiths and a CIA-agent lose a ball of Plutonium-239 due to the interference of Bob Myers, an old friend of Jerry Rawlins (Mr. Smith). Now they must retrieve the Plutonium and protect Bob from the terrorist.
---
1x11 The Impossible Mission (December 01, 1996)
---
Mr. & Mrs. Jones are sent in to retrieve stolen currency plates from the treasury department. When Mrs. Jones gets shot Mr. & Mrs. Smith gets called in to finish the job.
---
1x10 The Big Easy Episode (November 28, 1996)
---
The Smiths poses as ""Spin Doctors"" for a New Orleans senator who's involved in a scandal where his girlfriend is accused of selling defense secrets to Iraq. Together with Rox they are trying to expose the real culprit.
---
1x09 The Space Flight Episode (November 08, 1996)
---
Mr. and Mrs. Smith go after the scientist son of a former astronaut, who has sold his novel flying platform to crooked military contractor who wants to turn it into a weapon.
---
1x08 The Kidnapping Episode (November 01, 1996)
---
Mr. and Mrs. Smith go after a kidnapper, who always seems to be one step ahead of them.
---
1x07 The Coma Episode (October 28, 1996)
---
Mr. and Mrs. Smith enter a hospital, posing as a doctor and his comatose patient, to protect an unconscious woman who can identify a saboteur when she wakes up.
---
1x06 The Publishing Episode (October 25, 1996)
---
Mr. and Mrs. Smith pose as author and literary agent to track down a former agent's book which could compromise the identity of American spies all over the world.
---
1x05 The Grape Escape (October 18, 1996)
---
Mr. and Mrs. Smith go to Italy's Napa Valley to find out who is trying to use genetically engineered insects to destroy the grape crop, and Mr. Smith learns more about his mysterious partner's past.
---
1x04 The Poor Pitiful Put-Upon Singer Episode (October 11, 1996)
---
With the assistance of an annoying computer expert, Mr. and Mrs. Smith try to find out who is behind an assassination attempt on a record producer.
---
1x03 The Second Episode (October 04, 1996)
---
With the assistance of a nerdy bookkeeper, Mr. and Mrs. Smith go to sea to spy on a shipper who is suspected of stealing 200 Stinger missiles.
---
1x02 The Suburban Episode (September 27, 1996)
---
Now forced to work together and masquerading as a suburban couple, ""Mr. and Mrs. Smith"" spy on their neighbor who is suspected of stealing top-secret information from his employer.
---
1x01 Pilot (September 20, 1996)
---
While searching for two missing physicists who've made a breakthrough in cold fusion, a secret agent encounters an equally secret and capable blonde who is in competition with him.
---