About the film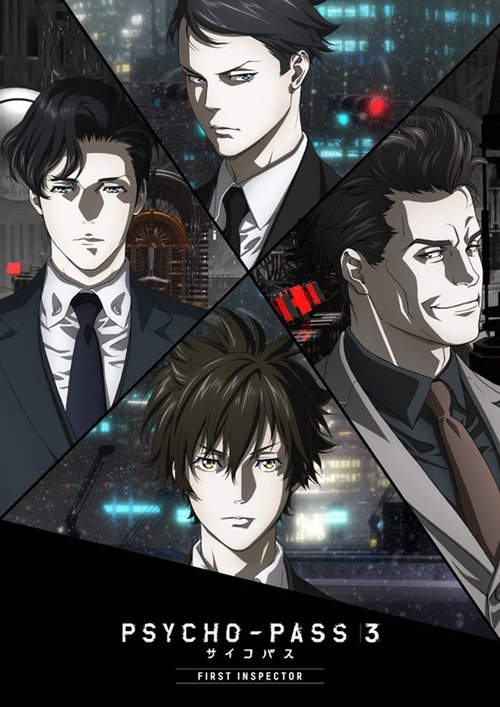 detective dystopia police conspiracy cyberpunk criminal seinen anime
Psycho-Pass 3
: First Inspector
Release Date: March 27, 2020

| | | |
| --- | --- | --- |
| Year | : | 2020 |
| Slogan | : | «» |
| Genres | : | Science Fiction, Action, Crime, Animation |
| Production Companies | : | Production I.G |
| Director | : | Naoyoshi Shiotani |
| Producers | : | Yoko Matsuzaki |
| Writers | : | Tow Ubukata, Tow Ubukata, Makoto Fukami |
| RunTime | : | 137 mins. |
| Revenue | : | 757096 |
Inspector Kei Mikhail Ignatov finds himself involved with an organization named Bifrost with the possibility of freeing his wife if he betrays Unit One. Koichi Azusawa coordinates an assault on the Public Safety Bureau tower using his hacker Obata, locking down the building and kidnapping Inspector Arata Shindo. Azusawa demands that governor Karina Komiya resign from her position.
Want to see ?
Clip: Psycho Pass First inspector Kogami VS Kei | English Sub
Clip: [EngSub] Psycho-Pass 3 First Inspector - Akane & Kougami scene
Clip: 『PSYCHO-PASS 3 FIRST INSPECTOR』OP (ENG SUB) | Opening Theme & Credits. "Synthetic Sympathy" performed by Who-ya Extended.
Trailer: Psycho-Pass 3: First Inspector | Trailer (Eng Sub)
Reviews
There are no reviews yet
If you like
Psycho-Pass 3: First Inspector

, you may like:
Lists that contains
Psycho-Pass 3: First Inspector

: