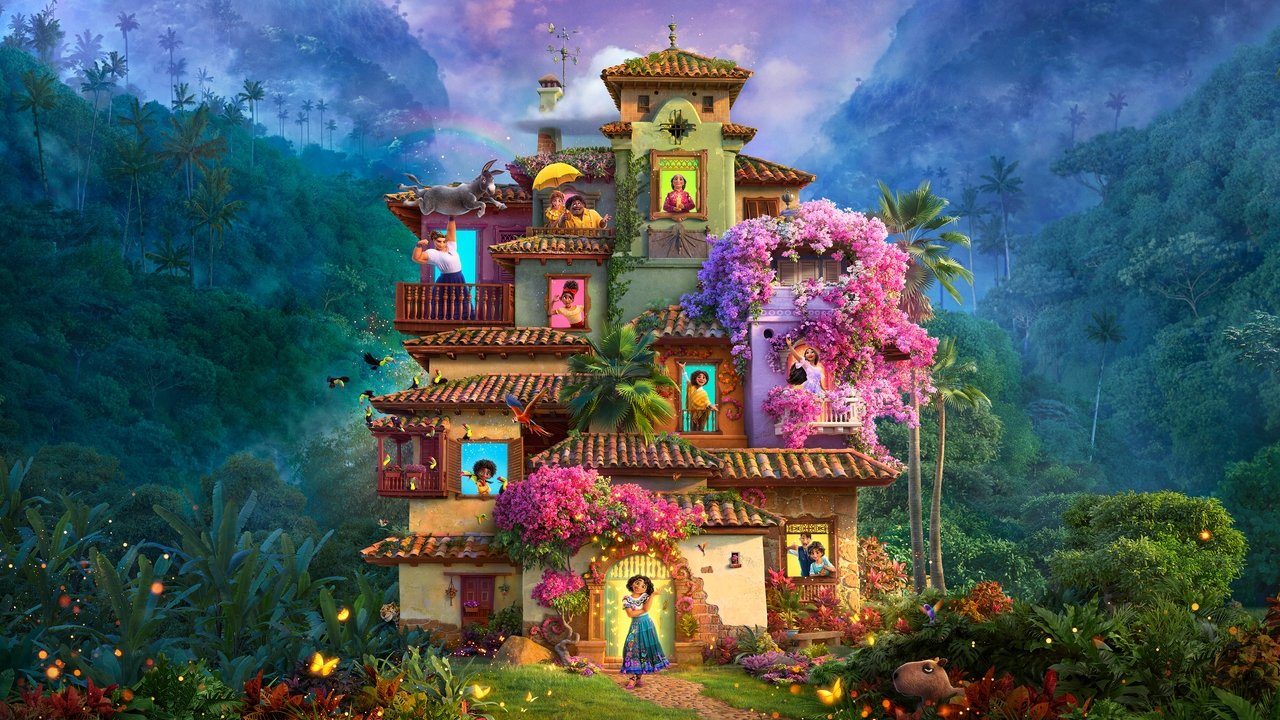 About the film
sadness immigration magic strong woman beauty musical big family forest supernatural family secrets flamenco family relationships teenage girl female protagonist joy of life family conflict helping children matriarch colombia
Encanto
Release Date: October 13, 2021

| | | |
| --- | --- | --- |
| Year | : | 2021 |
| Slogan | : | «There's a little magic in all of us ...almost all of us.» |
| Genres | : | Animation, Comedy, Family, Fantasy |
| Production Companies | : | Walt Disney Animation Studios, Walt Disney Pictures |
| Director | : | Byron Howard, Jared Bush |
| Producers | : | Clark Spencer, Jamie Sparer Roberts, Jennifer Lee, Nathan Curtis, Yvett Merino Flores |
| Writers | : | Byron Howard, Lin-Manuel Miranda, Nancy Kruse, Nancy Kruse, Jared Bush, Jared Bush, Jason Hand, Jason Hand, Charise Castro Smith, Charise Castro Smith |
| RunTime | : | 102 mins. |
| Budget | : | 50000000 |
| Revenue | : | 253000000 |
The tale of an extraordinary family, the Madrigals, who live hidden in the mountains of Colombia, in a magical house, in a vibrant town, in a wondrous, charmed place called an Encanto. The magic of the Encanto has blessed every child in the family—every child except one, Mirabel. But when she discovers that the magic surrounding the Encanto is in danger, Mirabel decides that she, the only ordinary Madrigal, might just be her exceptional family's last hope.
Want to see ?
Featurette: 'Encanto' Wins Best Animated Feature Film
Featurette: 'Encanto' Writer/Directors Jared Bush and Byron Howard Break Down a Scene
Featurette: Story of a Scene | Rebecca Perez
Trailer: Sing-Along Announcement
Featurette: Scene At The Academy
Behind the Scenes: "Behind the Lyrics" Featurette | Disney's Encanto | Disney+
Clip: What Else Can I Do?
Clip: "This is Called Helping" Clip | Disney's Encanto
Clip: "Dos Oruguitas" Clip | Disney's Encanto
Clip: "We Don't Talk About Bruno" Clip | Disney's Encanto
Featurette: Co-writers/Dir.s Jared Bush & Charise Castro Smith Interview
Featurette: Family Traditions
Featurette: The Music of Encanto
Featurette: Disney Trivia with Lin-Manuel Miranda and Stephanie Beatriz
Featurette: Latin Grammy Foundation
Featurette: Meet the Madrigals
Featurette: What is an Encanto?
Behind the Scenes: Inspiring Disney's Encanto
Clip: "Welcome to the Family Madrigal" Clip | Disney's Encanto
Featurette: World Premiere
Trailer: Official Trailer
Reviews
There are no reviews yet
If you like
Encanto

, you may like:
Lists that contains
Encanto

: