About the film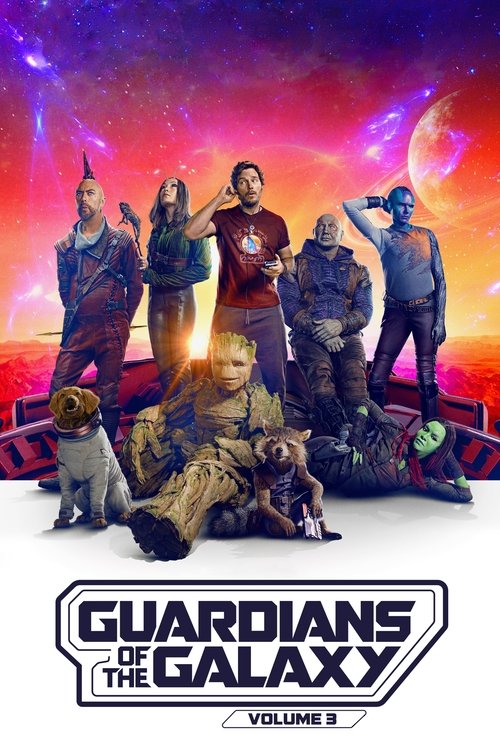 hero superhero mad scientist based on comic sequel superhero team space opera raccoon aftercreditsstinger duringcreditsstinger marvel cinematic universe (mcu) cosmic outer space chosen family
Guardians of the Galaxy Vol. 3
Release Date: May 03, 2023

| | | |
| --- | --- | --- |
| Year | : | 2023 |
| Slogan | : | «Once more with feeling.» |
| Genres | : | Science Fiction, Adventure, Action |
| Production Companies | : | Marvel Studios, Kevin Feige Productions |
| Director | : | James Gunn |
| Producers | : | Sarah Halley Finn, Kevin Feige, Louis D'Esposito, Victoria Alonso, Jackson Giles, Lars P. Winther, David J. Grant, Tom Carson, Nik Korda, Simon Hatt, Annie Davis, Sonia Y. Dawson, Lisa Joelle Curtis, Ian Easterbrook, Joel Wells, Yul Brynner, Sara Smith, Alli Sheahan, Caitlin MacGregor, Erin Morrell, Molly Scott, Madeline O'Hara, Rohan Cornwall, Kelly Shannon, Brandon Karcewski, Evan Vaughn |
| Writers | : | Stan Lee, James Gunn, Jack Kirby, Larry Lieber, Don Heck, John Buscema, Keith Giffen, Sal Buscema, Steve Englehart, Jim Starlin, Bill Mantlo, Roger Stern, Steve Gan |
| RunTime | : | 150 mins. |
| Budget | : | 250000000 |
| Revenue | : | 845600000 |
Peter Quill, still reeling from the loss of Gamora, must rally his team around him to defend the universe along with protecting one of their own. A mission that, if not completed successfully, could quite possibly lead to the end of the Guardians as we know them.
Want to see ?
Teaser: Now Streaming on Disney+
Teaser: Streaming August 2 on Disney+
Clip: Vudu Extended Preview
Featurette: IGN Exclusive Deleted Scene
Behind the Scenes: Bringing Adam Warlock & The High Evolutionary to the MCU
Behind the Scenes: Animating Rocket & Groot
Featurette: Bradley Cooper on Rocket: "I love him so much"
Featurette: James Gunn | IMAX® Interview
Teaser: #1 Movie in the Galaxy
Featurette: Marvel Studios' Louis D'Esposito At The Premiere
Featurette: Unforgettable | The Cast and Creators of Marvel Studios' Guardians of the Galaxy Vol. 3
Featurette: Finding the Perfect Guardians of the Galaxy with Sarah Halley Finn
Featurette: Nathan Fillion Makes His MCU Debut In Guardians of the Galaxy Vol. 3
Featurette: Elizabeth Debicki On Embodying Ayesha
Featurette: Cast Unboxing
Featurette: Don't Let the Music Stop
Featurette: Maria Bakalova Explains Why Cosmo is a Good Dog
Featurette: Sean Gunn On Kraglin's Transformation
Featurette: Linda Cardellini Is Lylla The Otter
Featurette: Introducing The High Evolutionary Live from the Red Carpet
Featurette: Pom Klementieff On The Incredible Action In Guardians of the Galaxy Vol. 3
Featurette: Red Carpet Highlights!
Featurette: Vin Diesel Reveals Groot's Secrets
Featurette: Karen Gillan On Playing Nebula
Featurette: Will Poulter On Bringing Adam Warlock To Life
Featurette: Kevin Feige On Guardians of the Galaxy Vol. 3 As An Epic Finale
Featurette: Bradley Cooper On Exploring Rocket's Origins
Featurette: Chris Pratt On Star-Lord's Journey
Featurette: Director James Gunn On The End of the Trilogy
Clip: Good to Have Friends Clip
Teaser: Biggest Event of the Summer
Clip: "Push Down On It" Clip (Vertical Version)
Clip: "Push Down On It" Clip
Featurette: One Last Ride
Featurette: Once More With Feeling
Featurette: Get Your Tickets
Teaser: Tickets on Sale Now
Teaser: Tickets On Sale Now
Trailer: New Trailer [Audio Described]
Trailer: Official Trailer [Audio Described]
Trailer: Official Trailer
Reviews
There are no reviews yet
If you like
Guardians of the Galaxy Vol. 3

, you may like:
Lists that contains
Guardians of the Galaxy Vol. 3

: