About the film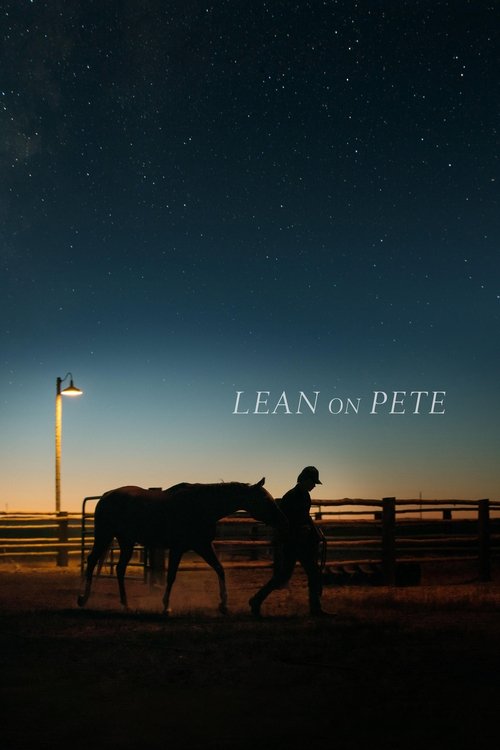 horse race runaway portland, oregon horse racehorse drunk trophy road movie bildungsroman
Lean on Pete
Release Date: April 06, 2018

| | | |
| --- | --- | --- |
| Year | : | 2018 |
| Slogan | : | «You can't get anywhere on your own» |
| Genres | : | Drama, Adventure |
| Production Companies | : | The Bureau, Film4 Productions, BFI Film Fund |
| Director | : | Andrew Haigh |
| Producers | : | Carmen Cuba, Lizzie Francke, Sam Lavender, Darren M. Demetre, Darren M. Demetre, David Kosse, Tristan Goligher, Dawnn Pavlonnis, Rachel Mossey, Vincent Gadelle, Daniel Battsek, Jennifer Bertram, Ben Roberts, Don Baldwin, Aimee Lynn Barneburg, Jen Tam |
| Writers | : | Andrew Haigh, Willy Vlautin |
| RunTime | : | 121 mins. |
| Budget | : | 8000000 |
| Revenue | : | 2455027 |
Charley Thompson, a teenager living with his single father, gets a summer job working for horse trainer Del Montgomery. Bonding with an aging racehorse named Lean on Pete, Charley is horrified to learn he is bound for slaughter, and so he steals the horse, and the duo embark on an odyssey across the new American frontier.
Want to see ?
Clip: Charley learning the ropes
Trailer: Official Trailer
Behind the Scenes: Andrew Haigh and Charlie Plummer Interview (Build Series)
Behind the Scenes: Travis Fimmel Interview (KTLA 5)
Behind the Scenes: Andrew Haigh Interview [Audio] (Flickering Myth)
Featurette: "Travis Fimmel on Ray Thompson"
Behind the Scenes: BFI London Film Festival 2017 Q&A
Behind the Scenes: Andrew Haigh Interview (Groucho Reviews)
Behind the Scenes: Andrew Haigh Interview (Kermode and Mayo)
Behind the Scenes: "Andrew Haigh on exploring loneliness in Lean on Pete" (HeyUGuys)
Reviews
There are no reviews yet
If you like
Lean on Pete

, you may like:
Lists that contains
Lean on Pete

: