About the film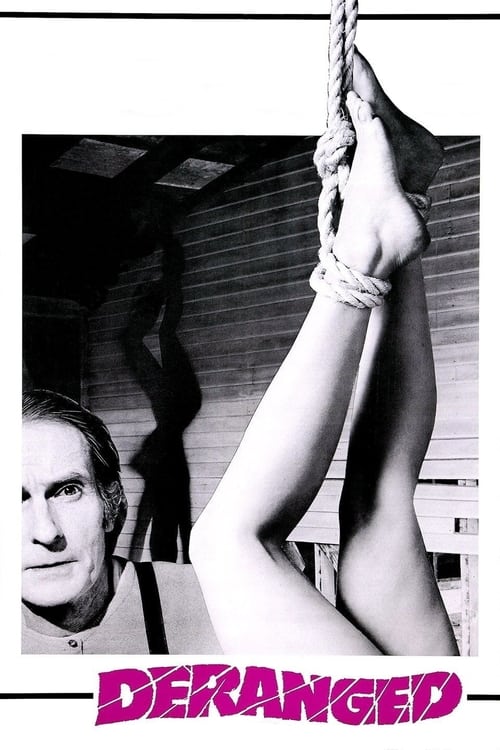 wisconsin necrophilia murder dark comedy serial killer reporter slasher dead mother cannibal incest farmer psychotic
Deranged
Release Date: February 02, 1974

| | | |
| --- | --- | --- |
| Year | : | 1974 |
| Slogan | : | «Pretty Sally Mae died a very unnatural death! ... But the worst hasn't happened to her yet!» |
| Genres | : | Crime, Horror, Thriller |
| Production Companies | : | American International Pictures, Karr International Pictures |
| Director | : | Jeff Gillen, Alan Ormsby |
| Producers | : | Tom Karr, Peter James |
| Writers | : | Alan Ormsby |
| RunTime | : | 83 mins. |
| Budget | : | 200000 |
A man living in rural Wisconsin takes care of his bed-ridden mother, who is very domineering and teaches him that all women are evil. After she dies he misses her, so a year later he digs her up and takes her home. He learns about taxidermy and begins robbing graves to get materials to patch her up, and inevitably begins looking for fresher sources of materials. Based closely on the true story of Ed Gein.
Want to see ?
Behind the Scenes: Making DERANGED - The Deranged Chronicles | Ed Gein 1974 Movie Behind The Scenes Documentary
Behind the Scenes: Ed Gein Documentary - The Ed Gein Story | Rare 1993 Butcher Of Plainfield Documentary
Clip: DRIVE-IN MOVIE RADIO SPOT - DERANGED (1974)
Trailer: Deranged (1974) - TV Spot HD 1080p
Trailer: Deranged (1974) ORIGINAL TRAILER [HD 1080p]
Featurette: Adam Rifkin on DERANGED
Featurette: Deranged (Trastornado) 1974 --THE BEST ED GEIN MOVIE-- in English con Subtitulos en Español ..!!
Behind the Scenes: The Making of Deranged 1974
Clip: Deranged brain scenes never before seen by the public.
Behind the Scenes: DERANGED The Making Of never seen before behind the scenes. from producer Tom Karr - YouTube
Reviews
There are no reviews yet
If you like
Deranged

, you may like:
Lists that contains
Deranged

: