About the film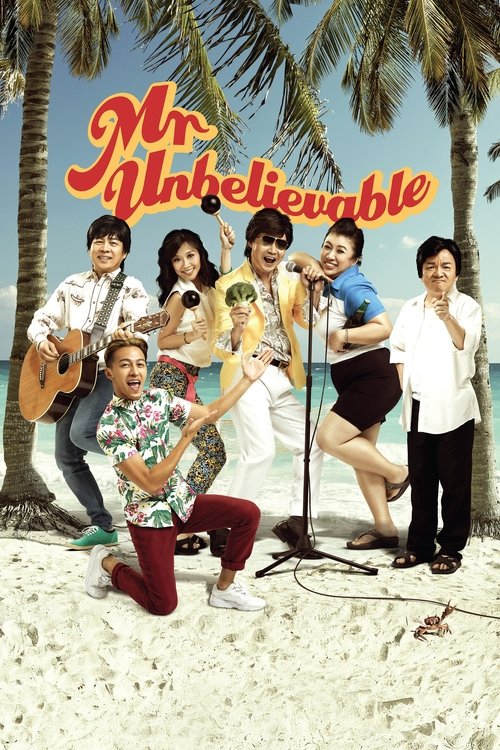 aspiring singer stage show performer
Mr. Unbelievable
Release Date: December 03, 2015

| | | |
| --- | --- | --- |
| Year | : | 2015 |
| Slogan | : | «Be Stunned Like Vegetable.» |
| Genres | : | Comedy, Music |
| Production Companies | : | NB Productions, MM2 Entertainment, Clover Films, Byleft Productions |
| Director | : | Wang Guoshen |
| Producers | : | Lim Teck, Wang Guoshen, Melvin Ang, Toong Soo Wei, Sock Ling |
| Writers | : | Wang Guoshen |
| RunTime | : | 94 mins. |
| Budget | : | 711035 |
| Revenue | : | 398179 |
Mr Unbelievable tells the story of Eric Kwek Hock Seng, who takes it upon himself to the symbol of national pride. As his Shifu's Getai business declines in popularity, Eric wants to spark new ideas by adding English lyrics into Chinese songs albeit to strong objection from his Shifu & friends. Undeterred, Eric Kwek sets on an unbelievable musical journey that sees him through mostly lows and finally hits a high when he is at the ripe old age of 50. The film aims to highlight that one must believe and persist in his aspirations regardless of age!
Want to see ?
Trailer: Mr Unbelievable Malaysia Official Trailer
Clip: MR UNBELIEVABLE OST : "老子今年五十岁" I'm 50 years old
Trailer: MR UNBELIEVABLE Final Trailer | 终极预告|IN CINEMAS 3 DECEMBER 爆笑上映!
Clip: MR UNBELIEVABLE: The UNBELIEVABLE Hokkien Vocab You Didn't Know!
Reviews
There are no reviews yet
If you like
Mr. Unbelievable

, you may like: