About the film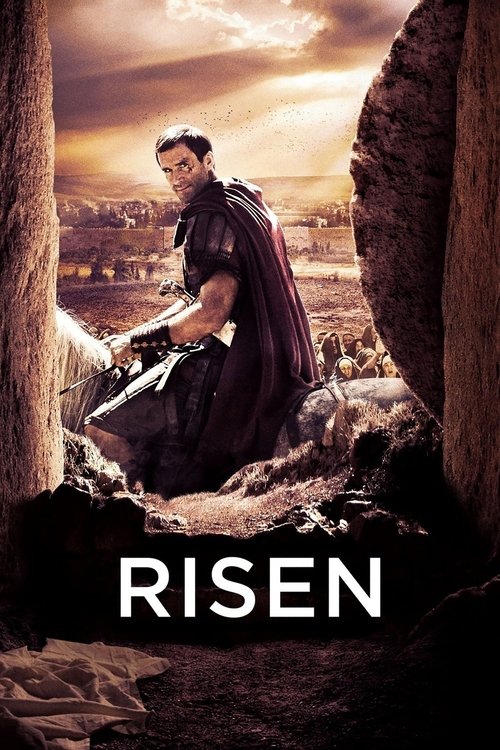 christianity based on novel or book apostle bible crucifixion jerusalem, israel faith resurrection religion judaism
Risen
Release Date: February 18, 2016

| | | |
| --- | --- | --- |
| Year | : | 2016 |
| Slogan | : | «Witness the manhunt that changed the course of human history» |
| Genres | : | Drama, History |
| Production Companies | : | Columbia Pictures, LD Entertainment, Affirm Films, Patrick Aiello Productions |
| Director | : | Kevin Reynolds |
| Producers | : | John Hubbard, Mickey Liddell, Patrick Aiello, Camilla-Valentine Isola, Pete Shilaimon, Scott Holroyd, Edward Said, Robert Huberman |
| Writers | : | Kevin Reynolds, Paul Aiello, Paul Aiello |
| RunTime | : | 107 mins. |
| Budget | : | 20000000 |
| Revenue | : | 46069568 |
Clavius, a powerful Roman military tribune, and his aide, Lucius, are tasked with solving the mystery of what happened to Jesus in the weeks following the crucifixion, in order to disprove the rumors of a risen Messiah and prevent an uprising in Jerusalem.
Want to see ?
Trailer: RISEN: Now on Blu-ray, DVD & Digital!
Clip: Risen - Mary Magdalene Clip- Starring Joseph Fiennes & Tom Felton - At Cinemas March 18.
Trailer: RISEN Featurette - Key Leaders
Featurette: Pastor Craig Groeschel On Why RISEN Makes An Impact
Featurette: On Set & Behind The Scenes of RISEN
Featurette: RISEN - Joseph Fiennes & Maria Botto Visit the Vatican
Trailer: RISEN: In Theatres February 19 - Trailer #2
Featurette: RISEN Featurette: Clavius' Journey (ft Joseph Fiennes) - In Theaters Now!
Trailer: RISEN - Official Trailer #2 - Now Playing!
Trailer: RISEN Official Trailer - In Theaters Now!
Reviews
There are no reviews yet
If you like
Risen

, you may like:
Lists that contains
Risen

: