About the film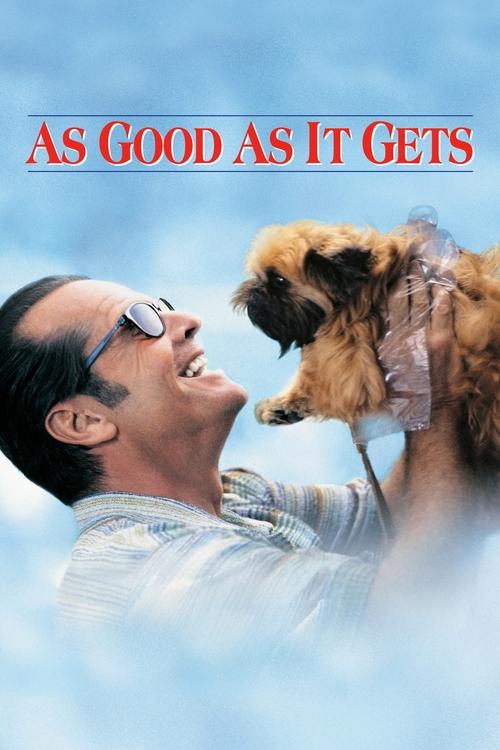 painter single parent waitress restaurant lone wolf friendship road trip neighbor author obsessive compulsive disorder cowardliness writer dog rude obnoxious unlikely friendship hospitalization pets mother son relationship gay artist lgbt interest daily routine romance novelist child with illness
As Good as It Gets
Release Date: December 19, 1997

| | | |
| --- | --- | --- |
| Year | : | 1997 |
| Slogan | : | «A comedy from the heart that goes for the throat. Brace yourself for Melvin.» |
| Genres | : | Drama, Comedy, Romance |
| Production Companies | : | Gracie Films, TriStar Pictures, Sony Pictures |
| Director | : | James L. Brooks |
| Producers | : | James L. Brooks, Francine Maisler, Owen Wilson, Richard Marks, Aldric La'Auli Porter, Laura Ziskin, Kristi Zea, Laurence Mark, John D. Schofield, John D. Schofield, Bridget Johnson, Richard Sakai, Karen E. Etcoff, S. Todd Christensen, Barbara Harris, Yvonne Yaconelli, Maria Kavanaugh, Jake Jacobson, Ralph Coleman |
| Writers | : | James L. Brooks, Mark Andrus, Mark Andrus |
| RunTime | : | 139 mins. |
| Budget | : | 50000000 |
| Revenue | : | 314178011 |
Melvin Udall, a cranky, bigoted, obsessive-compulsive writer of romantic fiction, is rude to everyone he meets, including his gay neighbor, Simon. After Simon is hospitalized, Melvin finds his life turned upside down when he has to look after Simon's dog. In addition, Carol, the only waitress at the local diner who will tolerate him, must leave work to care for her sick son, making it impossible for Melvin to eat breakfast.
Want to see ?
Trailer: Official Trailer
Featurette: Chris Wilkinson on As Good As It Gets
Featurette: Jack Nicholson winning an Oscar® for "As Good as it Gets"
Reviews
There are no reviews yet
If you like
As Good as It Gets

, you may like:
Lists that contains
As Good as It Gets

: