About the film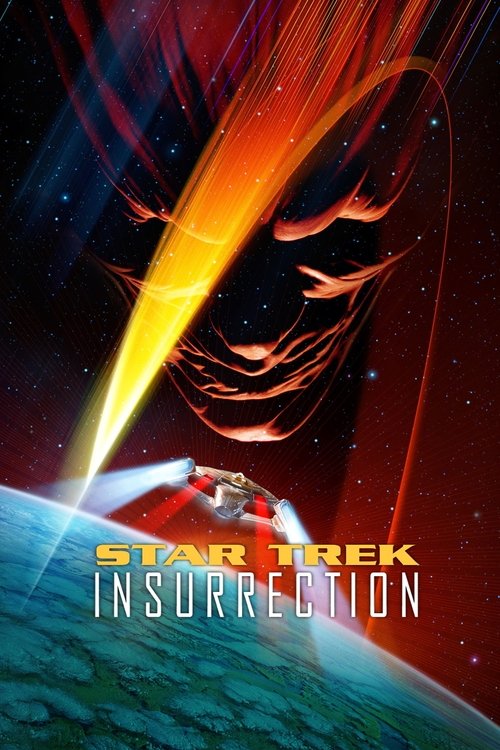 fountain of youth starship spacecraft utopia teleportation insurrection alien space opera retribution spacecraft officer exploding ship cosmos technophobia synthetic android outer space
Star Trek
: Insurrection
Release Date: December 11, 1998

| | | |
| --- | --- | --- |
| Year | : | 1998 |
| Slogan | : | «The battle for paradise has begun.» |
| Genres | : | Science Fiction, Action, Adventure, Thriller |
| Production Companies | : | Paramount, Digital Image Associates |
| Director | : | Jonathan Frakes |
| Producers | : | Peter Lauritson, Patrick Stewart, Junie Lowry-Johnson, Ron Surma, Marty Hornstein, Michael Piller, Rick Berman, Jennifer Bender, Bobbie Schwarcz |
| Writers | : | Michael Piller |
| RunTime | : | 103 mins. |
| Budget | : | 70000000 |
| Revenue | : | 118000000 |
When an alien race and factions within Starfleet attempt to take over a planet that has "regenerative" properties, it falls upon Captain Picard and the crew of the Enterprise to defend the planet's people as well as the very ideals upon which the Federation itself was founded.
Want to see ?
Trailer: Star Trek: Insurrection (1998) Trailer #1 | Movieclips Classic Trailers. Available worldwide.
Trailer: Star Trek IX: Insurrection - Trailer. Available in United States only.
Reviews
There are no reviews yet
If you like
Star Trek: Insurrection

, you may like:
Lists that contains
Star Trek: Insurrection

: