About the film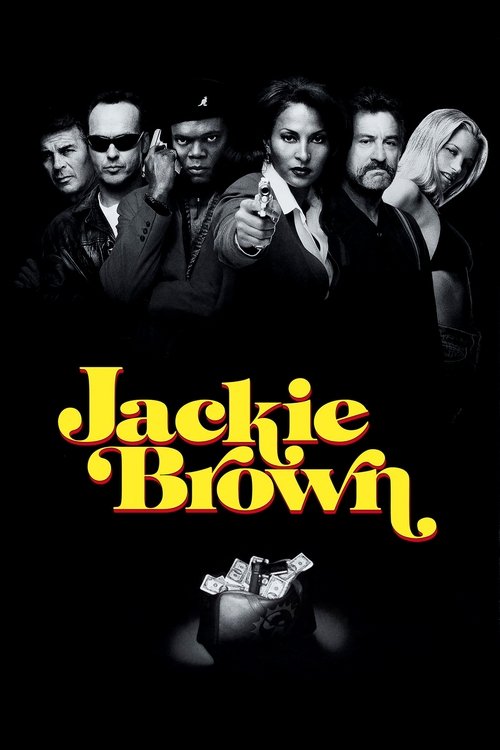 based on novel or book airport arms deal stewardess police heist money los angeles, california drugs ex-con neo-noir
Jackie Brown
Release Date: December 25, 1997

| | | |
| --- | --- | --- |
| Year | : | 1997 |
| Slogan | : | «Six players on the trail of a half million in cash. There's only one question... Who's playing who?» |
| Genres | : | Crime, Thriller, Drama |
| Production Companies | : | Miramax, A Band Apart, Lawrence Bender Productions, Mighty Mighty Afrodite Productions |
| Director | : | Quentin Tarantino |
| Producers | : | Lawrence Bender, Paul Hellerman, Bob Weinstein, Harvey Weinstein, Elmore Leonard, Jaki Brown, Robyn M. Mitchell, Richard N. Gladstein, Jeff Olan, Debbie Hayn-Cass, Barbara Harris, Terry Zarchi, Brian Pope, Douglas Dresser, Robert Earl Craft, Dawn Todd Curfman, Cathy Agcayab, Gwen Everman, Brian Glazen, Kristen M. D'Angelo, Kimberly Edwards, Kenneth Pratt, Cathy Ragona, Cathy Ragona, Mike Bertolina, Susan D. Fowler, Matthew Arnold, Carolyn Sara Fine, Robert Gonzalez, Scott A. Hale, Bret Robins, Peter Christian White |
| Writers | : | Quentin Tarantino, Elmore Leonard |
| RunTime | : | 154 mins. |
| Budget | : | 12000000 |
| Revenue | : | 39673162 |
Jackie Brown is a flight attendant who gets caught in the middle of smuggling cash into the country for her gunrunner boss. When the cops try to use Jackie to get to her boss, she hatches a plan — with help from a bail bondsman — to keep the money for herself.
Want to see ?
Featurette: JACKIE BROWN director Quentin Tarantino on writing dialogue - AFI Movie Club
Featurette: "Jackie Brown: How It Went Down"
Clip: Jackie Brown | 'It Could Work' (HD) - Pam Grier, Robert Forster | MIRAMAX
Clip: Jackie Brown | 'Disco Guy' (HD) - Robert De Niro, Bridget Fonda | MIRAMAX
Clip: Jackie Brown | 'Max Cherry' (HD) - Pam Grier, Robert Forster | MIRAMAX
Clip: Jackie Brown | 'Little Surfer Gal' (HD) - Robert De Niro, Samuel L. Jackson | MIRAMAX
Clip: Jackie Brown | 'Fifteen Percent' (HD) - Samuel L. Jackson, Pam Grier | MIRAMAX
Clip: Jackie Brown | 'Across 110th Street' (HD) - Pam Grier | MIRAMAX
Clip: Jackie Brown | 'Your Ass Used to be Beautiful' (HD) - Robert De Niro, Samuel L. Jackson | MIRAMAX
Clip: Jackie Brown | 'I'm Impressed' (HD) - Robert De Niro, Samuel L. Jackson | MIRAMAX
Trailer: Official Trailer
Clip: Jackie Brown | 'The Surprise Element' (HD) - Samuel L. Jackson, Chris Tucker | MIRAMAX
Clip: Jackie Brown | 'The Usual Stuff' (HD) - Michael Keaton, Pam Grier | MIRAMAX
Clip: Jackie Brown | 'Wash the Jail Out of My Hair' (HD) - Pam Grier, Robert Forster | MIRAMAX
Clip: Jackie Brown | 'The Parking Lot' (HD) - Robert De Niro, Bridget Fonda | MIRAMAX
Trailer: Jackie Brown Official Trailer #1 - (1997) HD
Reviews
There are no reviews yet
If you like
Jackie Brown

, you may like:
Lists that contains
Jackie Brown

: