What is Watchrs Club?
A site to find all the info you need
A site where you can find all the info about your favourite Films and TV Shows: trailers, details, reviews, ratings, similar Films or TV Shows to watch.
A club to share your love for Films and TV Shows
A club where all members can rate and share their love ♥ for Films and TV Shows with their friends or others.
A social place to find what to watch next
A social place where you can find new Films and TV Shows to watch based on recommendations, or simply help you decide which Film or Tv Show to watch based on Genres, categories, themes and other features
A place to plan Cinema or TV events
A place where you can organise events with your friends or other club memers to watch a Film or TV Show.
Find any Film or TV Show
Find any Film or TV Show. Check all the details about it like: ratings, trailers, reviews and similar movies. Watch films via iTunes or Amazon.
Create & share lists
Create and share lists of films: films you loved, films you have seen, or a watchlist of films you want to see.
Follow your friends
Follow your friends or others to see what they watched or planning to watch. Recommend Films or TV Shows to friends, or let us recommend you one based on yours and your friends history or similarities
Plan Cinema or TV events
Plan and organise events with your friends or other club memers to watch a Film or TV Show.
Not Sure what to watch? Check our
random picks of the day

:
Release Date: April 08, 1998
In Marseilles (France), skilled pizza delivery boy Daniel who drives a scooter finally has his dreams come true. He gets a taxi license. Caught by the police for a huge speed infraction, he will help Emilien, a loser inspector who can't drive, on the track of German bank robbers, so he doesn't lose his license and his dream job.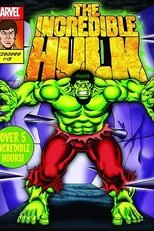 First Air Date: September 18, 1982
The Incredible Hulk is an animated television series based on the Marvel Comics character of the same name. The series ran for 13 episodes on NBC in 1982, part of a combined hour with Spider-Man and His Amazing Friends. Unlike the previous live-action The Incredible Hulk television series from Universal in the 1970s, this series was based upon the Hulk comic-books and was able to portray the more fantastical elements of the comics as sticking to his true name and origin as well as featuring the return of the original characters in his life all of which the live-action series refused to show. It featured stories faithful to the source material from Marvel, In addition, new recurring characters were created for the series including the Hispanic family of father Rio and his youthful daughter Rita.