Murphy Brown
Season 1
Murphy Brown
Season 1
First Air Date: September 27, 2018

| | | |
| --- | --- | --- |
| First Aired on | : | 2018 |
| Episodes | : | 13 episodes |
Episodes
1x13 Happy New Year (December 20, 2018)
---
The gang tries to distract Murphy from worrying about Avery's assignment in Kabul by getting her to attend the special 100th anniversary New Year's Eve celebration at Phil's Bar.
---
1x12 AWOL (December 13, 2018)
---
A disillusioned Avery seeks career inspiration from his extended family at "Murphy in the Morning," as the team tries to salvage a major story that hinges on a source in the Middle East who has gone silent.
---
1x11 The Wheels on the Dog Go Round and Round (December 06, 2018)
---
During Corky's live "National Adopt a Pet Day" segment, she guilts Murphy into adopting a dog. Also, Avery's show is moved to the Wolf Network's plum 10:00 PM timeslot, and Phyllis and Miguel get a surprise visit from Fred Noonan, an intimidating health inspector,
---
1x10 Beat the Press (November 29, 2018)
---
When Frank is physically attacked while covering a political rally, Murphy becomes afraid to dispute the opposing viewpoint of a guest on her show.
---
1x09 Thanksgiving and Taking (November 22, 2018)
---
---
1x08 The Coma and the Oxford Comma (November 15, 2018)
---
The team strives to land the first interview with Corky's beauty pageant friend who just awoke from a 10-year coma.
---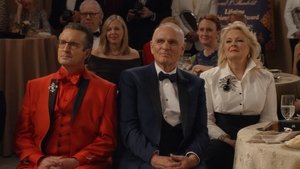 1x07 A Lifetime of Achievement (November 08, 2018)
---
The team joins Jim Dial at an eventful lifetime achievement award gala in his honor, hosted by Katie Couric and attended by Murphy's worst-ever secretary, who has a surprising new connection to Murphy; Murphy discovers a kindred spirit.
---
1x06 Results May Vary (November 01, 2018)
---
The team gears up for its live all-day coverage of the midterm elections, competing against Avery, who is reporting with John Haggerty, the Wolf Network's conservative superstar; Pat is horrified when Miles forces him to wear a conservative suit.
---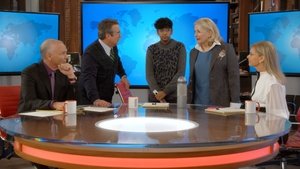 1x05 The Girl Who Cried About Wolf (October 25, 2018)
---
Fearful of being scooped while legal vets her weighty investigative story, Murphy is exasperated when she learns Frank is dating an anchor, Christy Shepherd, from the competing Wolf Network.
---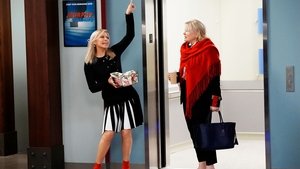 1x04 Three Shirts to the Wind (October 18, 2018)
---
Murphy and the team weigh the pros and cons of accepting the offer to have the first interview with a headline-grabbing former White House senior advisor who wants to promote his divisive book and agenda on "Murphy in the Morning." Also, Avery moderates a lively political discussion on his show with locals in Buffalo.
---
1x03 #MurphyToo (October 11, 2018)
---
After Murphy attends a sexual harassment seminar for the "Murphy in the Morning" staff, she is surprised to find herself reeling from the long-repressed memory of her own #MeToo moment.
---
1x02 I (Don't) Heart Huckabee (October 04, 2018)
---
After decades of being banned, Murphy and the team devise an elaborate ruse to sneak her into a White House press briefing. Also, Phyllis hires an enthusiastic college "Dreamer," Miguel, to help out at the bar.
---
1x01 Fake News (September 27, 2018)
---
Back in the game after a brief retirement, and faced with a world of 24-hour cable, social media, "fake news" and a vastly different political climate, Murphy is determined to draw the line between good television and honest reporting, proving that the world needs Murphy Brown now more than ever.
---