Magnum, P.I.
Season 7
Magnum, P.I.
Season 7
First Air Date: October 01, 1986

| | | |
| --- | --- | --- |
| First Aired on | : | 1986 |
| Episodes | : | 22 episodes |
Episodes
7x22 Limbo (April 15, 1987)
---
Thomas is delivering key evidence in his latest case to the court house, when he is shot in the parking lot by a hit man. Thomas, in a coma, discovers he is not dead, but not alive, and needs to help Michelle, who is in danger, and being chased by killers. He meets up with the ghost of his former Naval buddy Mac. He also spends time with each member of the cast individually, and, in one way or another, says good-bye and how important they are all to him, in case he does not survive.
---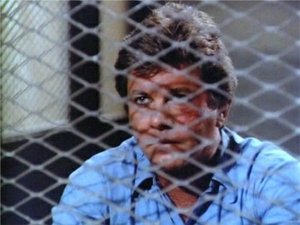 7x21 The People vs. Orville Wright (April 01, 1987)
---
Rick insists that Thomas searches for Ice Pick when he suddenly vanishes, seemingly pulling a disappearing act to avoid some information that could land him in very hot water. But when Rick is arrested for allegedly killing a hit-man that was contracted to murder Ice Pick, Thomas finds himself in the midst of an even more tangled investigation, especially when Rick doesn't deny any of the charges and gives a full confession...
---
7x20 The Aunt Who Came to Dinner (March 18, 1987)
---
Magnum's Private Investigator license has expired, and he is in the awkward, red-tape laden task of trying to renew it. But he has a welcome surprise when his Aunt, best-selling, Pulitzer prize-winning playwright Phoebe Sullivan, pays an unexpected visit to Hawaii from New York. The rather eccentric authoress has just finished writing a new play, but now is convinced that someone is trying to kill her for it, and that they have trailed her to the Islands. Is someone really after Phoebe, or is her mind getting the better of her?...
---
7x19 Out of Sync (March 11, 1987)
---
Cynthia Farrell comes to Hawaii to see Magnum, and to see if the two can recapture the magic of their relationship in L.A., but when Magnum is hired by an adult film star, he spends more time looking after his case than he does Cynthia.
---
7x18 Laura (February 25, 1987)
---
Rick persuades Thomas to take a high-reward, supposedly simple missing person case, but the person paying for the case is actually New York City cop Michael Doheny, who has his own reasons for wanting to find the man in question. Doheny has come to Hawaii to track down those responsible for the rape and murder of his young grand-daughter on the night of his retirement dinner, a hunt in which he asks Magnum's help...
---
7x17 Forty (February 11, 1987)
---
Thomas is in Chinatown with Rick and T.C. celebrating his upcoming fortieth birthday, but he has little to celebrate when he looses his lucky $2 bill that his Grandpa gave him as a boy. While looking for it, he by chance briefly meets a beautiful woman. He also winds up helping an old friend who is one of a number of shopkeepers being terrorised by an organised gang... But the case takes a back-seat as he becomes pre-occupied with the woman, a news reporter, only for it to seem that she is tied up with the gang he is supposed to be investigating, in a situation that sees him loosing more than just his lucky bill – almost loosing his heart, and his life...
---
7x16 Solo Flight (February 04, 1987)
---
After a run of bad luck, including being fired from a case investigating embezzlement, owing Rick money, and letting T.C.'s junior baseball team down, Magnum decides to get away from it all by going on a solo mountain-climbing hike, without telling anyone where he is headed. But on the climb, already suffering from a centipede bite, he discovers the wreckage of an old World War II fighter plane, only for an accident to case him to become trapped under it. With his legs caught under the wreckage, and no-one knowing he is even there in the first place, Thomas is forced to review his mortality, his values, and the case which he was fired from...
---
7x15 On the Fly (January 21, 1987)
---
T.C. is giving Thomas helicopter flying lessons when he is shot. With T.C. hospitalised, Mac appears on the scene, ""volunteering"" his services to stand in running Island Hoppers. But it seems that the assailants were actually gunning for Magnum, after a week previously, somebody impersonated him when trying to blackmail a Mexican Mafia King. With Magnum marked as a dead man as a result of the mistaken identity, confusion and chaos reigns, and as per usual, Mac 'just happens' to be in the middle of it all...
---
7x14 Murder by Night (January 14, 1987)
---
1940s San Francisco: Private Investigator Thomas S. Magnum investigates the murder of newspaper tycoon William Maxfield. The case involves characters that strangely bear a strong resemblance to (modern day) Magnum, T.C., Higgins and Rick...
---
7x13 Autumn Warrior (December 17, 1986)
---
Survival expert Higgins goes on a survivalist trip on an island with a small group of young offenders as part of a programme aimed at improving their self-esteem. But he has to call upon his survival skills much more than expected when a planned escape by the boys doesn't go as intended and sees the leader of the trip shot dead, leaving Higgins being hunted down on the island by the three young convicts... Back on the Estate, Magnum, with Rick and T.C., plans to take advantage of Higgins' absence by holding a big party, but the get-together seems ill-fated from the start...
---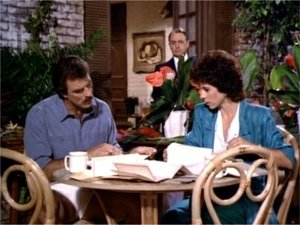 7x12 Death of the Flowers (December 10, 1986)
---
While Rick is planning a surprise birthday bash at the Club for Ice Pick, Carol asks Thomas to observe a court case she is presenting before Judge Kearns, who drops the case on a simple technicality. She considers the Judge to be her mentor, but is concerned that of late he has been acting uncharacteristically, and suspects him of taking bribes to dismiss cases. She asks Thomas to help her hopefully disprove her worries. But the investigation sees turns up evidence that implicates Ice Pick, who in turn faces having to implicate the woman he was in love with decades earlier, who is now involved with a crime ring. Carol, Rick and Ice Pick must all face up to the weaknesses and mortality of their mentors and idolised ones...
---
7x11 Missing Melody (December 03, 1986)
---
T.C.'s children, Melody and Bryant, come to visit him in Hawaii, but at the airport Melody goes missing. It transpires that the young girl has been kidnapped, and is held for $300,000 ransom. Magnum, Rick and Higgins help in the rush to either raise the ransom money in time, or deduct and find whoever snatched Melody. The kidnapping puts a strain on T.C.'s relationship with his son Bryant, as well as his ex-wife Tina, who quickly comes to Hawaii with her new boyfriend as soon as she hears of the kidnapping of her daughter...
---
7x10 Kapu (November 26, 1986)
---
Magnum is working on a case before a date with Rick's visiting cousin, when he sees a young native Hawaiian girl become an accidental witness to a murder. With the gun-man after her, Magnum saves the young woman as they escape by diving into the sea, and is injured with a gun-shot wound in the process. He regains consciousness several days later on the remote, secluded island of Kapu, after being rescued by a native fisherman from the island, and suffering from a hazy memory of the incident. There is no sign of the girl, and the island natives insist that he was the only one found. Thomas tries to remember the events that lead to him being on the island, and what has happened to the girl, but as he tries to uncover the secrets of the island and its people, it begins to seem more and more as if they don't want him to find any answers or to leave... Meanwhile, the killer is still looking for the girl, to eliminate her as the only witness to the killing...
---
7x09 Novel Connection (I) (November 19, 1986)
---
Higgins is driving visiting Pamela Bates - an old editor friend of Robin Master's - along with her friend, and her secretary, to the Estate, when someone tries to run them off the road and over a cliff. But Pamela insists on waiting for her own mainland investigator friend famous crime mystery writer Jessica Fletcher. The crossover continues on Murder, She Wrote S03E08 Magnum on Ice (II).
---
7x08 Paper War (November 12, 1986)
---
When Higgins unwittingly causes Magnum to wipe an expensive computer game loaned from T.C., and Thomas accidentally erases a chunk of Higgins' memoirs stored on the computer, a feud breaks out between the pair. Magnum is trying to break a major, crooked gambling ring that is operating on the islands, but it is none too easy while in the middle of the falling out with Higgins, which starts out with each trying to out-do the other with ""eye-for-an-eye"" practical jokes, and quickly develops into a particularly bitter battle of one-upmanship...
---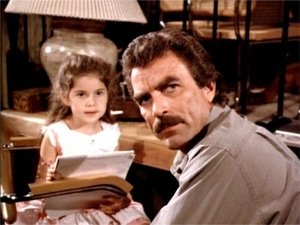 7x07 Little Girl Who (November 05, 1986)
---
Magnum's ex-wife Michelle leaves her five-year-old daughter Lily to be safeguarded by Thomas, as she escapes Vietnamese assassins out to kill her and her husband, General Hue. As Thomas watches over the child, he begins to wonder why Michelle has suddenly left Lily with him and if Lily is his own daughter, and once again sets about trying to track down his elusive former wife.
---
7x06 Death and Taxes (October 29, 1986)
---
It is almost the 4th of July, and Higgins heads to Maui for an annual writers conference, and Rick and T.C. take a trip away, leaving Thomas on the Estate to face the horror of his tax audit. But that's nothing compared to the terror yet to come when Magnum becomes the focus of a crazed, obsessed killer, who repeatedly phones him with cryptic nursery rhyme riddles of upcoming killings. At first he thinks it is a crank caller, but the full reality of the sitution hits home when a prostitute is murdered in circumstances reflecting the clues given, and the menacing calls continue, with the deranged killer boasting about his crimes and giving clues of the next one...
---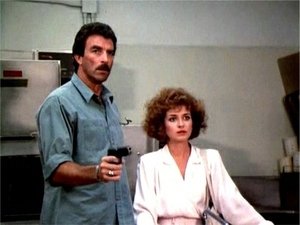 7x05 A.A.P.I. (October 22, 1986)
---
At the 14th Annual Convention of Private Investigators, Magnum is to receive the 'Local P.I. of the Year' award, but the event is brought to a halt when Jean Claude Fornier, the famous French Detective, suddenly drops dead while giving a speech, after being poisoned. Magnum is helped - or rather, hindered - by several fellow crime-busting acquaintances as he seeks the murderer, and becomes entangled with a gang of drug smugglers, that the Inspector was hunting before he was killed...
---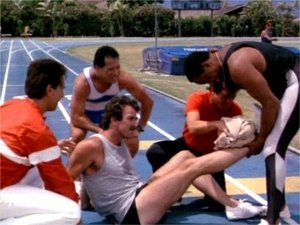 7x04 Straight and Narrow (October 15, 1986)
---
Thomas' luck takes a tumble when he injures his ankle while training for an upcoming charity sports event, and if his foot doesn't heal in time, his place will be taken for the race. But his luck looks set to fall even more when he finds that prostitute Leslie Emery, who he met when he was working as a hotel detective, has now given up working as a call-girl and has recently taken a job as a waitress at the King Kamehameha Club, and wants to hire him to help her find her missing sister, who is also a hooker. Although she is well-meaning, Leslie's 'act now, think later' ways have proven to cause nothing but problems for Thomas, and sure enough, in next to no time they are up to their necks in chaos, as they uncover that Leslie's missing sister is involved with well-known, powerful political figures...
---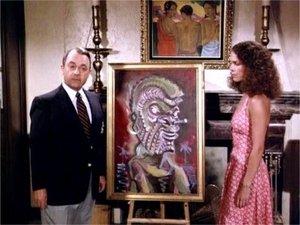 7x03 One Picture is Worth (October 08, 1986)
---
A gifted deaf painter is the only eye-witness to a bank robbery in which four people were slaughtered. Carol persuades Magnum to secure the young woman on the Masters Estate and act as her body-guard when her life is endangered after identifying one of the perpetrators in a Police line-up...
---
7x02 L.A. (2) (October 01, 1986)
---
Conclusion of this feature-length / two-part story. Magnum and Cynthia became ever closer to each other as they investigate Marti's murder. Their search leads them to a drug trafficker, but their snooping around sees them almost killed. Back in Hawaii, T.C., with help from Rick and Higgins, continues to search for the missing Kenny, and get him out of the trouble he is in...
---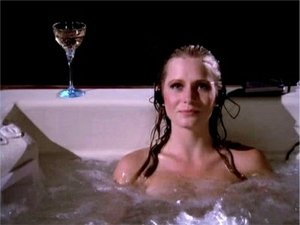 7x01 L.A. (1) (October 01, 1986)
---
Thomas arrives in Los Angeles to deliver lawsuit papers to a small film company on behalf of Robin Masters, and during the trip befriends a stand-up comedienne. But when he finds her murdered in his hotel room, he investigates to find who is behind the killing. When he goes to deliver the subpoena to the film company, he strikes up a relationship with the attractive young attorney, and the pair work together to find the murderers... Meanwhile back in Hawaii, one of the players on T.C.'s baseball team is mixed up with some small time car thieves, who witnesses his friends being shot dead after stealing a car...
---