Magnum, P.I.
Season 6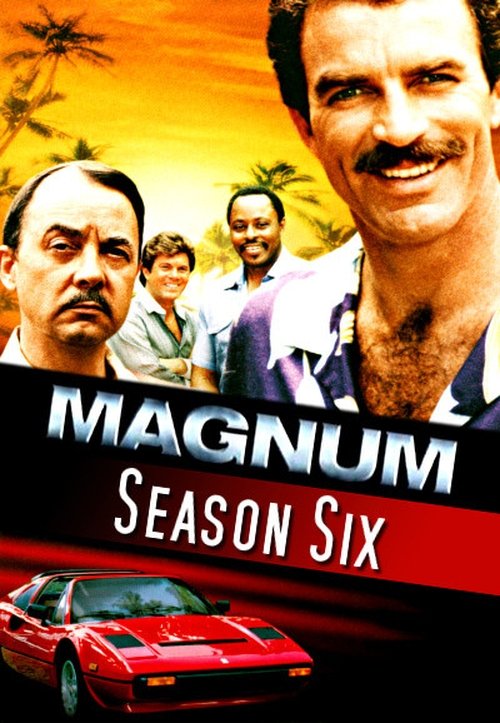 Magnum, P.I.
Season 6
First Air Date: September 26, 1985

| | | |
| --- | --- | --- |
| First Aired on | : | 1985 |
| Episodes | : | 21 episodes |
Episodes
6x21 Photo Play (April 10, 1986)
---
Photographer Sally Faraday, looking to hire Magnum, meets him in undesirable circumstances when she prangs the front of the Ferrari while being pursued in a car chase by two men, an incident which also leaves Agatha with a broken ankle. Sally wants Thomas' help when it seems that she is being followed since returning from France with some photographs for a new book, in which she seems to have caught something on film that someone has reason to not want to ever be published...
---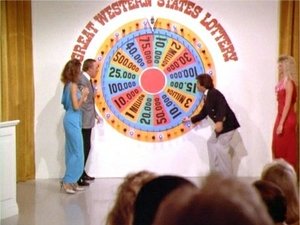 6x20 A Little Bit of Luck, A Little Bit of Grief (April 03, 1986)
---
T.C. and Magnum are fighting the demolition of T.C.'s club-house for underprivileged and troubled youths, which has been ordered to be destroyed by a greedy, obnoxious local land developer - even though he doesn't use the land. Their seemingly no-win struggle only results in a brush with the law. Meanwhile, unbeknown to them, Rick, on a trip away, wins the $1,000,000 jackpot in the Western States Lottery. Now a rich man, he meets a young woman who becomes his fiancée, but with his new wealth, he begins to neglect his responsibilities at the King Kamehameha Club, and gets mixed up with a couple of crooked poker players. Rick is so wrapped up in his whirl-wind new life that he risks loosing his job, and even more importantly, his friends, not to mention his newly acquired wealth...
---
6x19 Who is Don Luis Higgins, and Why is He Doing These Terrible Things to Me? (March 20, 1986)
---
Higgins is preparing for a prestigious chess tournament, and the arrival of an important visiting dignitary, the President of Costa Del Rosa, who will be attending it. There have been threats made on the President's life, and Magnum is asked to apprehend those responsible. But both Magnum and Higgins have even more to contend with when yet another of Higgins' illegitimate half-brothers, the flamboyant Don Luis Mongueo, the last of the royal line of Costa Del Rosa, makes an appearance on the scene. But with the plots to assassinate the President, Don Luis emerges as the prime suspect...
---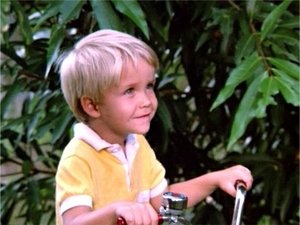 6x18 Find Me a Rainbow (March 13, 1986)
---
Lydia McCarthy, a wealthy young woman, hires Thomas to find her family's former chauffeur, claiming that he stole some jewelry from her; Thomas finds the man, who insists that Lydia is obsessed with him; as Thomas investigates further, the case leads him to a black market operation dealing in babies; much to Higgins's regret, a group of underprivileged boys on a camp program stay on the estate.
---
6x17 Way of the Stalking Horse (February 20, 1986)
---
Magnum is hired by meek insurance salesman Dan Wolf to locate his father, who he has not seen for thirty years. But unawares to Thomas, the client is actually an impostor hit-man who is using Thomas to help locate his victim, wealthy businessman Theo Wolf, whom he plans to kill to make a name for himself. In the hit, Magnum too is shot, bringing him close to death. Despite his wounds, Thomas becomes hell-bent on going after the hit-man to claim revenge for the dead man's widowed wife and son – and for himself...
---
6x16 This Island Isn't Big Enough (February 13, 1986)
---
When Rick's boat returns from a cruise deserted, Magnum searches for the answers to what has happened to his friend and the passengers on-board, who are all presumed dead. His hunt is somewhat hampered by the separate investigation of a law officer who models himself on John Wayne, but as they both try to get to the bottom of the strange disappearance of the boat's passengers, they stumble upon a plot involving mobsters and two million dollars in counterfeit money...
---
6x15 All Thieves on Deck (January 30, 1986)
---
Magnum is to spend a week aboard a luxury cruise ship guarding an Amakua, a valuable wooden Hawaiian statuette recently purchased by Robin Masters, to be displayed on the liner while en route to the Hilo Museum. But Thomas and Higgins find that Apollo has been shot and seriously wounded after thieves attempted to steal the artefact from the Estate. Expecting the would-be robbers to try again during the cruise, Thomas secures Rick and T.C.'s additional help in guarding the artefact, but they find themselves on-board with a ship load of suspects, all potential thieves of the Amakua...
---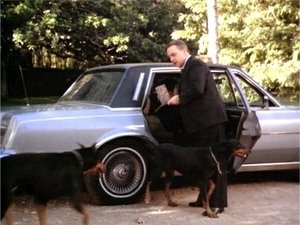 6x14 Mad Dogs and Englishmen (January 23, 1986)
---
Thomas is more than a little taken aback when Higgins suddenly leaves his position on the Estate, after seemingly being found out by Robin Masters for stealing large amounts of money and valuable art objects. As Higgins' replacement, a rather dizzy actress, arrives to take his place on the Estate, Thomas investigates the mystery surrounding his abrupt departure...
---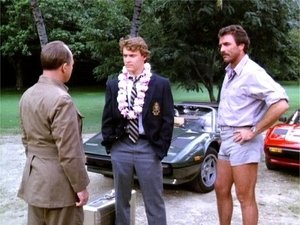 6x13 Summer School (January 09, 1986)
---
After being expelled from a number of expensive schools, R.J., Robin's rich, careless, teenage nephew, arrives at the estate to be reformed and educated by Higgins. R.J., however, has other ideas and decides to impersonate Thomas after being impressed by his adventures. Hired by a woman to find the only witness to her husband's murder, R.J. manages to get Thomas and everyone else involved in the case targeted for death by the men who killed the woman's husband.
---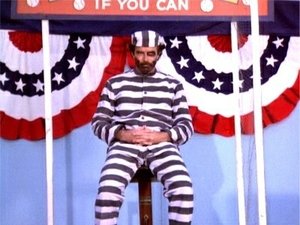 6x12 I Never Wanted to Go to France, Anyway (January 02, 1986)
---
An old comrade of Higgins' brings his travelling carnival to Hawaii. But when one of the performers is fatally stabbed, Higgins asks Thomas to investigate. Working undercover as a carnival 'roustabout', aided by Rick, Thomas learns that even before the killing, the carnival had been experiencing a string of 'accidents', and must pin-point exactly who is trying to force the show out of business...
---
6x11 Rapture (November 28, 1985)
---
As he and T.C. deep sea scuba-dive, Thomas sees a young boy who appears out of nowhere with no breathing apparatus and signals him to follow. Low on air, Thomas is unable to follow him, and later faces the skepticism of T.C., Higgins and Rick about his vision. An adamant Thomas, determined to prove that he's right, learns that his vision matches the description of a young boy, Keli'i Parker, killed five years earlier in an explosion at sea. The boy's mother has always blamed herself for his death, and as Thomas learns more about Keli'i, he begins to believe that his vision of the boy was destiny reaching out to lead him to the cause of the fatal accident.
---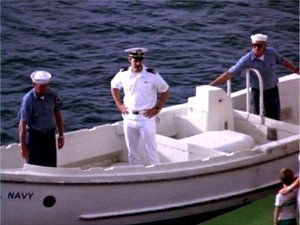 6x10 Blood and Honor (November 21, 1985)
---
Magnum is called back to Naval service by Admiral Hawkes, who has reason to suspect that there is a security leak at his Naval base that is leaking coded information, but can't ask any of his personnel to investigate for any one of them could be the ""mole"" behind the breach. He needs Magnum to root out the mole and plug the leak within three days, when he is due to receive some important submarine manuals written in code, which could be potentially very dangerous if they got into the wrong hands. Thomas' prime suspect is the fiancée of the Admiral's son, but when some stolen classified information is planted in his car, he himself accused of espionage...
---
6x09 The Treasure of Kalaniopu'u (November 14, 1985)
---
Magnum and a group of his treasure hunting friends are held at gun-point on a cliff-top with the one million dollar prize that was the hidden object of a treasure hunt competition, organised to help promote Robin Masters' new novel by using clues from it. Thomas recounts how they winded up in this predicament: he had been hired by the woman overseeing the treasure hunt to protect her throughout the contest, after it seems that someone is prepared to go to any extent, even to kill, to win the prize money...
---
6x08 Paniolo (November 07, 1985)
---
A supposed wealthy teenage ranch owner hires Magnum for $100,000 to stop a dangerous group of cattle rustlers on Hawaii's big island, that will soon force his ranch into bankruptcy if many more cattle are taken. But Magnum finds that his employer isn't quite all he makes out to be and will go to any extent to protect his cattle, and the neighbouring ranch owner implicated of being behind the cattle theft is a business partner of Robin Masters'...
---
6x07 Going Home (October 31, 1985)
---
After thirteen years away, Thomas returns to Tidewater to attend the funeral of his beloved grandfather, Everett, and reopens a long-running family feud when he suspects his stepfather of stealing and selling a missing family heirloom -- a letter from Abraham Lincoln.
---
6x06 Round and Around (October 24, 1985)
---
Ron Pennington, a friend of T.C.'s and Magnum's on their basketball team, is shot dead when interrupting an armed grocery store hold-up. T.C., waiting outside for his friend, gets a fleeting look at the robbers as they make their getaway. T.C. tries to mend the rift in Ron's family between Ron and his wayward teenage son that had emerged before Ron's death, as he and Thomas search for the robbers who they assume were responsible for their friend's murder...
---
6x05 The Hotel Dick (October 17, 1985)
---
Magnum has given up life at the estate to get a ""real"" job as the in-house detective at the large, plush Hawaiian Gardens Hotel, where he must keep trouble out, stop prostitutes who work from the hotel, and most importantly, put an end to the rash of burglaries that have been plaguing the hotel by catching the thief, dubbed ""the Catman of Kawaii"". But he does nothing but irritate his new, snobbish boss by helping a prostitute he's befriended while letting the cat burglar escape him, and must capture the elusive thief before the upcoming International convention of jewellery designers to be held at the hotel, where the burglar is sure to strike if not caught in time...
---
6x04 The Kona Winds (October 10, 1985)
---
Magnum is on the sea-front, watching the approaching storms brought on by the Kona Winds, when he sees a woman either slip or jump into the turbulent waters. After rescuing her, he takes her back to the estate, where she tells him that the previous night, she witnessed her husband - owner of a reel-estate empire - murder his business partner, and now fears that he'll kill her too. As Thomas investigates her husband, he begins to fall in love with the woman, but as he observes, the Kona Winds make people behave in uncharacteristic ways, and the whole situation spells big trouble and danger for him...
---
6x03 Old Acquaintance (October 03, 1985)
---
Thomas meets up with an old friend from high-school, Goldie Morris. He finds that she has lost her rather goofy looks from her younger days to become an attractive woman, but hasn't lost any of her extremist protestor ways – something that comes to the fore when she voices her disapproval when learning that he is delivering some important papers on behalf of Higgins to a visiting unpopular third-world President, known for living a luxurious life while letting many of his people starve. But Goldie has a job for Thomas, hiring him to find a trained dolphin that was recently kidnapped from a local sea life park. She admits that she was part of a liberation group that took the dolphin, planning set it free, but it becomes apparent that the two men that were in on the dolphin-napping plan to use the highly-trained creature in a far more sinister plot...
---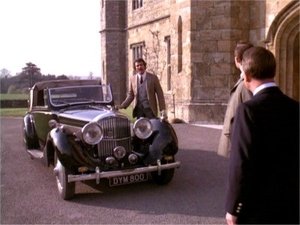 6x02 Deja Vu (2) (September 26, 1985)
---
Conclusion of this feature-length / two-part story. As Thomas and Penelope investigate the mystery surrounding Geoffrey's death, they become close to each other, and Thomas with this and with flashbacks to his haunting dream that seems to have predicted Geoffrey's death, he feels as though he's almost stepped into Geoffrey's life. The pair uncover that Geoffrey was once part of a powerful group of assassins, and seems to have been killed to stop him from having chance to expose the group. Meanwhile, Thomas learns that Higgins is reluctant to use the stay in England as an opportunity to visit his father, whom he has not seen in forty years after a falling out...
---
6x01 Deja Vu (1) (September 26, 1985)
---
Magnum and Higgins travel to London, England to oversee the establishment of Robin Master's new castle, Robin's Keep, in time for a large banquet. While Higgins is busy training Ian MacKerras for the running of the castle, Thomas takes the opportunity to visit Geoffrey St. Clare, an old friend from Vietnam, but upon arrival, Geoffrey's wife Penelope informs him that Geoffrey has been killed, after being run down in a hit-and-run incident with a black Jaguar. But there is mystery surrounding the death - Geoffrey was supposed to be in France, and the circumstances suggest that, far from being an accident, the death was deliberate murder.The events of Geoffrey's killing seem to be echoing a disturbing, bizarre dream that Magnum had on the journey to England...
---