DuckTales
Season 3
DuckTales
Season 3
First Air Date: April 04, 2020

| | | |
| --- | --- | --- |
| First Aired on | : | 2020 |
| Episodes | : | 22 episodes |
Episodes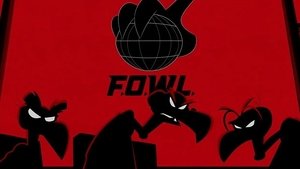 3x22 The Last Adventure! (March 15, 2021)
---
The future of adventuring hangs in the balance as the Duck family uncovers earth-shattering secrets in a final standoff with F.O.W.L.
---
3x21 The Life And Crimes of Scrooge McDuck! (March 08, 2021)
---
Scrooge's enemies reveal a secret history to prove that he is responsible for turning them evil, forcing Louie to defend his uncle against their prosecutor, Doofus Drake.
---
3x20 The Lost Cargo of Kit Cloudkicker! (March 01, 2021)
---
Della, Dewey and Huey recruit a showboating pilot to take them to an island full of monsters in search of a missing mystery, unaware that Don Karnage is hot on their tails.
---
3x19 Beaks in the Shell! (February 22, 2021)
---
Huey struggles to keep Fenton and Gandra's top-secret experiment (and their relationship) hidden from the world. But, Mark Beaks is desperate for one last gizmo to steal.
---
3x18 How Santa Stole Christmas! (November 30, 2020)
---
Scrooge teams up with his arch-rivals Santa Claus to save Christmas from Thief Steal, while Webby discovers the real story behind their infamous feud.
---
3x17 The Fight for Castle McDuck! (November 23, 2020)
---
A bitter feud between Scrooge and his sister, Matilda, spreads to the rest of the family as Phantom Blot attempts to steal a priceless artifact and destroy Castle McDuck once and for all.
---
3x16 The First Adventure! (November 16, 2020)
---
Scrooge is forced to babysit young Donald and Della as they go on their first adventure to find a powerful artifact, unaware that Bradford is taking on this mission personally.
---
3x15 New Gods on the Block! (November 09, 2020)
---
The kids try to prove themselves by auditioning to take Zeus' place amongst the Greek gods, while Storkules interferes with Donald and Daisy's date.
---
3x14 The Split Sword of Swanstantine! (November 02, 2020)
---
The kids pair off to find the missing pieces of a mystical sword hidden throughout a marketplace, unless F.O.W.L. gets to them first.
---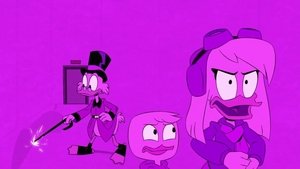 3x13 Escape from the ImpossiBin! (October 26, 2020)
---
With F.O.W.L. at their heels, Scrooge tests out the Money Bin's new security system on Louie and Della, while Beakley and Webby train the others for an enemy attack.
---
3x12 Let's Get Dangerous! (October 19, 2020)
---
Darkwing gains an unlikely sidekick as he uncovers a dark conspiracy tied to the Missing Mysteries and one of Scrooge's employees.
---
3x11 The Forbidden Fountain of Foreverglades! (October 12, 2020)
---
Scrooge and Goldie O'Gilt are turned into teenagers as they race Rockerduck to the Fountain of Youth, while the boys' sibling rivalry uncovers danger at a spring break hotel.
---
3x10 The Trickening! (October 05, 2020)
---
The kids forego their usual trick-or-treat path and instead take on the most haunted house in Duckburg, while Launchpad confronts ghosts from the past.
---
3x09 They Put a Moonlander on the Earth! (September 28, 2020)
---
Webby sets out to prove to a homesick Penumbra that Earth can be a lot of fun by riding Glomgold's newest gift to Duckburg, the suspicious Flintferris Glomwheel.
---
3x08 The Phantom and the Sorceress (September 21, 2020)
---
When a mysterious magic thief arrives in Duckburg, Lena must confront her past and team with her treacherous aunt, Magica.
---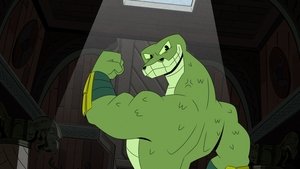 3x07 The Rumble for Ragnarok! (May 09, 2020)
---
Dewey must embrace his inner heel to beat beloved Viking wrestling champ Jormungandr in a battle royale for the fate of the Earth.
---
3x06 Astro B.O.Y.D.! (May 02, 2020)
---
Gyro, Fenton and Huey take a malfunctioning B.O.Y.D. back to the lab where he was created in Japan, but as Huey bonds with the robot boy, a secret from Gyro's past threatens to destroy the city and Gizmoduck.
---
3x05 Louie's Eleven! (April 25, 2020)
---
Louie plans a break-in at a high-class party hosted by Duckburg's most popular tastemaker, Emma Glamour, so the Three Caballeros can play as Donald tries to get past the party's no-nonsense planner, Daisy Duck.
---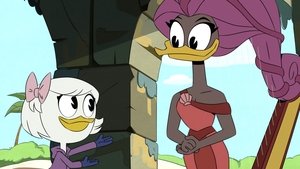 3x04 The Lost Harp of Mervana! (April 18, 2020)
---
The family joins a zen mermaid society to find a missing mystery, but Louie is convinced the seemingly innocent mermaids have a villainous agenda of their own.
---
3x03 Double-O-Duck in You Only Crash Twice! (April 11, 2020)
---
A spy video game turns dangerously real as Launchpad and Dewey must stop F.O.W.L. agent Steelbeak's plan to destroy Duckburg.
---
3x02 Quack Pack! (April 04, 2020)
---
The family is not quite themselves as they discover the planned family photoshoot might just be a part of a bigger "wish" gone wrong.
---
3x01 Challenge of the Senior Junior Woodchucks! (April 04, 2020)
---
Huey races against Violet in a challenge to be named Senior Junior Woodchuck, while Scrooge and the family search for a secret Woodchuck treasure.
---