Kung Fu: The Legend Continues
Season 3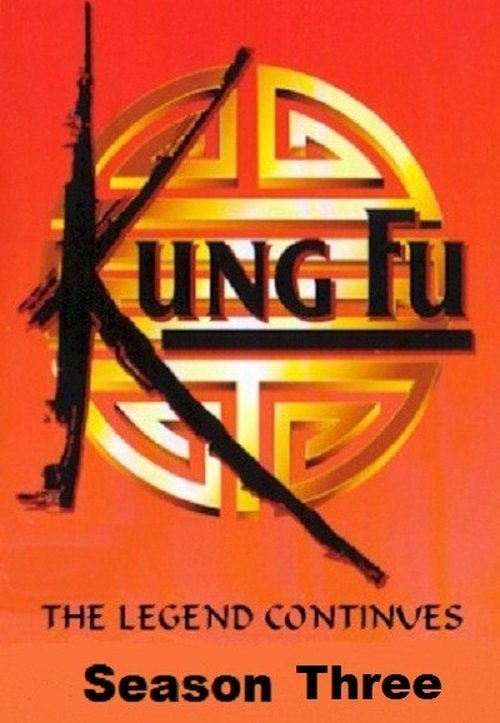 Kung Fu: The Legend Continues
Season 3
First Air Date: January 25, 1995

| | | |
| --- | --- | --- |
| First Aired on | : | 1995 |
| Episodes | : | 22 episodes |
Episodes
3x22 Destiny (November 29, 1995)
---
Peter decides to become a Shaolin priest, but a ""negative force"" lurks in the temple where he's studying under Caine.
---
3x21 Brotherhood of the Bell (November 22, 1995)
---
Caine is held captive in a castle where an ""evil beyond comprehension"" lurks. Its personification: his brother Damon.
---
3x20 Kung Fu Blues (November 15, 1995)
---
Caine's bluesman friend is singing the blues when his daughter, an up-and-coming singer, gets mixed up with a nasty producer.
---
3x19 Banker's Hours (November 08, 1995)
---
When some high-tech criminals decide to rob a bank, they take more than twenty people hostage. Unfortunately for them, one of the hostages happens to be Caine.
---
3x18 Flying Fists of Fury (November 01, 1995)
---
On the set of a martial arts movie, whose star resembles Peter as closely as any identical twin, something evil is sabotaging the film.
---
3x17 The Promise (October 25, 1995)
---
Caine comes to the aid of on old flame whose physician-husband is being ""run out"" of the town where they live.
---
3x16 Cruise Missiles (October 18, 1995)
---
Memebers of the 101st Precinct board a cruise ship for a wedding/ Also aboard: terrorists with a cruise missile.
---
3x15 Deadly Fashion (October 11, 1995)
---
Rivals of the Shaolin, a terrorist group known as the Scorpion Sect, have infiltrated a fashion show which is on tour. While Caine impersonates a fashionista named Gaston, Peter finds himself in a bodyguard role for the show's supermodel, Alana.
---
3x14 Demons (October 04, 1995)
---
Kermit's sister is being dogged by ""dark forces"" in her house, where a murder had been committed. Who's she gonna call? Caine.
---
3x13 Eye Witness (July 26, 1995)
---
Peter must protect a mob lawyer whose past includes a run-in with Caine that ended in tragedy.
---
3x12 The Sacred Chalice of I-Ching (July 05, 1995)
---
Someone's after a diary owned by Caine's father, which contains half a map leading to an ancient chalice with powers ""too great for mortal man.""
---
3x11 Goodbye Mr. Caine (May 24, 1995)
---
Peter and his father visit a local high school to help the students and teachers after a undercover cop is stabbed at a basketball game. Guest Stars-Scott Speedman.
---
3x10 Quake! (May 17, 1995)
---
An earthquake shakes up the city, and shakes loose a criminal that Peter and Jody just apprehended.
---
3x09 Citizen Caine (May 10, 1995)
---
Caine runs for City Council to stop a developer frm evicting tenants. Meanwhile, Peter takes the lieutenant's test: a passing grade would mean a transfer.
---
3x08 Target (May 03, 1995)
---
A South American witch doctor (a "brujo") from Peter's childhood, possesses him.
---
3x07 A Chinatown Murder Mystery: The Case of the Poison Hand (April 26, 1995)
---
Peter investigates a case where two physicians have died of unknown causes. A third physician says he is also dying and Caine agrees with that diagnosis. The third doctor tell Peter that he knows who has "murdered" him.
---
3x06 Gunfighters (March 01, 1995)
---
In this time-travel episode, Caine switches places with his grandfather, the Kwai Chang Caine from the Kung Fu series, endangering his very existence.
---
3x05 Manhunt (February 22, 1995)
---
When an Assistant District Attorney is murdered, the evidence points to Peter, as the likely suspect.
---
3x04 The Return of Sing Ling (February 15, 1995)
---
When a young Chinese emperor is targeted for murder, Peter and Caine end up protecting him during his return trip to China. They are pursued by a determined agent of the Chinese government.
---
3x03 May I Walk With You (February 06, 1995)
---
When Peter spends a day following Caine on his rounds, they end up dealing with a hostage crisis.
---
3x02 Plague (February 01, 1995)
---
When a deadly plague is released by a madman, can Caine come up with the antidote in time?
---
3x01 Rite of Passage (January 25, 1995)
---
Peter gets off on the wrong foot with his new captain. Meanwhile, Caine has travelled to Shambhala to battle an evil warrior who has ties to Peter's world.
---