Kung Fu: The Legend Continues
Season 1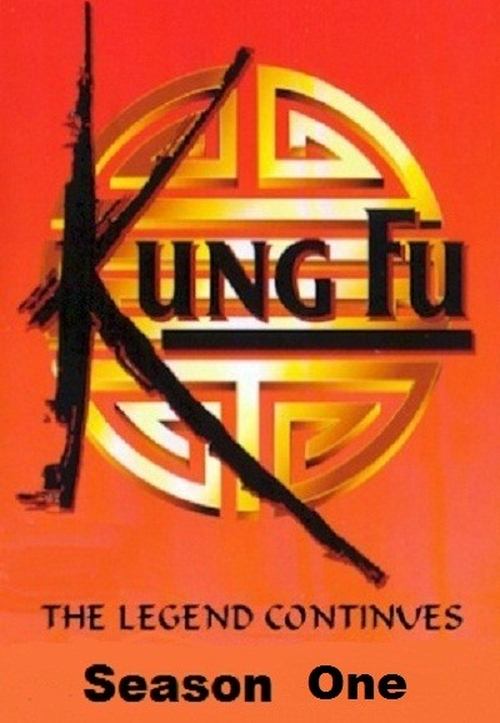 Kung Fu: The Legend Continues
Season 1
First Air Date: January 27, 1993

| | | |
| --- | --- | --- |
| First Aired on | : | 1993 |
| Episodes | : | 22 episodes |
Episodes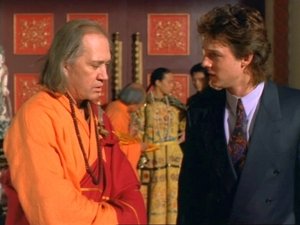 1x22 Redemption (2) (December 01, 1993)
---
Part two of a two-part episode. As Emporer-to-be Sing-Ling prepares to ascend the throne, Caine and Peter continue to battle assassins. Guest Stars-Ernie Reyes Jr.Bernadette Li.
---
1x21 Redemption (1) (November 24, 1993)
---
Part one of a two-part episode. Caine volunteers to protect the heir to the Chinese throne, who is in danger of being assassinated. Guest Stars-Ernie Reyes Jr.Bernadette Li.
---
1x20 I Never Promised You a Rose Garden (November 17, 1993)
---
When a student of Caine's disappears, Peter and his father try to find her and come upon a white slavery ring. Guest Stars-Deborah Drakeford.Dylan Neal.
---
1x19 Shaman (November 10, 1993)
---
Caine helps a Native American tribesman who is opposing the building of a casino on reservation land. Guest Stars-Billy Merosty.Lawrence Bayne.
---
1x18 Dragonswing (November 03, 1993)
---
Peter is asked to help Kyle, an old friend, whose girlfriend has been kidnapped. Peter and his father form a Dragon's Wing to help find her. Guest Stars-Patrick MacNee.Robert Vaughn.
---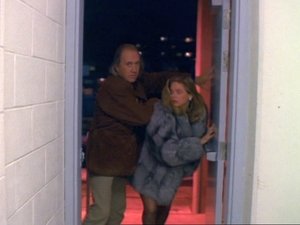 1x17 Reunion (October 27, 1993)
---
One of Caine's former students, Valerie, seeks his protection after she witnesses a murder. Guest Stars-Cali Timmins.
---
1x16 Straitjacket (May 26, 1993)
---
Caine goes undercover in a psychiatric hospital to protect a patient he believes is not crazy; but in real danger. Guest Stars-Catherine Disher.Sam Malkin.
---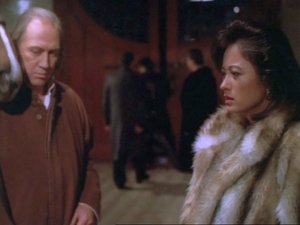 1x15 Illusion (May 19, 1993)
---
---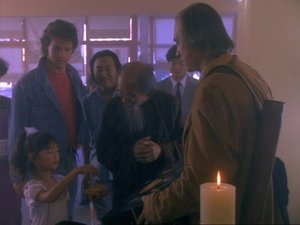 1x14 The Lacquered Box (May 12, 1993)
---
While sitting at the bedside of an injured Peter, Caine reflects upon his early days in Chinatown when he and Peter fought against corrupt cops and would-be crime boss Clarence Choi (who later reappeared in two episodes: ""Aspects of the Soul"" and ""Veil of Tears"").
---
1x13 Blind Eye (May 05, 1993)
---
When Peter's blind stepmother is attacked, it is up to Caine to help her use her other senses to identify her attacker. Guest Stars-Chris Wiggins.Eli Gabay.
---
1x12 Dragon' Eye (April 14, 1993)
---
Caine only has a few hours to find a rare herb that is needed to save the life of a little girl. Unfortunately, the woods, where the herb grows, have been taken over by a survivalist who has set boobytraps to keep people out. Guest Stars-Scott Hylands.Laura Press.Marianne Maroney.Suzanna Duncan.
---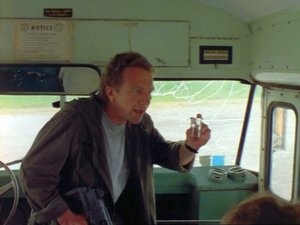 1x11 Secret Place (April 07, 1993)
---
Peter tries to free a busload of students and a teacher which is being held hostage by a disturbed man. Guest Stars-Craig Wasson.Richard Anderson
---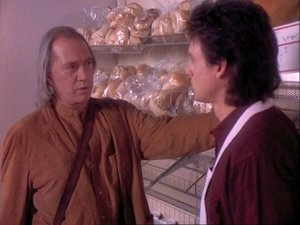 1x10 Rain's Only Friend (March 31, 1993)
---
Peter thinks about leaving the force, after he shoots an innocent bystander at the scene of a robbery. Guest Stars-Tom Mason.Marina Anderson.Victoria Snow.
---
1x09 Disciple (March 17, 1993)
---
One of Caine's students has become involved in a fight ring. When The Ancient is kidnapped, Caine is forced to fight. Guest Stars-Glen Plursmer, Stavroula Lagothettis, and Peter ""Sugarfoot"" Cunningham.
---
1x08 Challenge (March 10, 1993)
---
Tan, a chinatown crimelord and the renegade Shaolin monk who destroyed Caine's temple, is back in Chinatown and he challenges Caine to a showdown. Guest Stars-Ernst Abuda.Mark W Conklin.Von Flores.Bernadette Li.
---
1x07 Pai Gow (March 03, 1993)
---
Caine and Peter go undercover to investigate several murders that are linked to a high stakes Chinese dice game. Guest Stars-Betsy Soo,Fred Lee.
---
1x06 Force Of Habit (February 24, 1993)
---
Peter's new partner is physically abusing his wife,so Peter sends her to Caine for help. Guest Stars-Kim Coates,Jason McSkimmey,Calista Carradine,Kate Trotter(before joining the cast as Captain Simms)
---
1x05 Sacred Trust (February 17, 1993)
---
Peter must clear his fathers's name when Caine is wrongly charged with murder. The victim is the ancient's nephew. Guest Stars-Geza Kavoa,Joe Di Mombro,Von Flores.
---
1x04 Sunday at the Hotel with George (February 10, 1993)
---
Peter and Caine attend the wedding of Peter's sister,Carolyn,at the Sutton Place hotel. They stumble upon a robbery in progress. Guest stars-Bernard Behrens,Geordie Johnson,Marla Schaffel.
---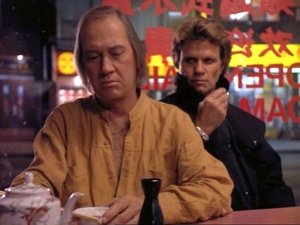 1x03 Shadow Assasin (February 03, 1993)
---
Caine helps author Elliott Cooper,who has been marked for death for writing a book about Shadow Assasins, men who can kill you with their thoughts. Guest Stars-Martin Kove, Lauren Piech, Gary Blumsack, Belinda Metz(not as jody powell).
---
1x02 Initiation (2) (January 27, 1993)
---
This is the second part of the series.Caine is reunited with his son,who he thought was dead. Guest Stars-Ernst Abuda,Lori Hallier,Bernadette Li,Mark W Conklin,Von Flores,Marla Schaffel.
---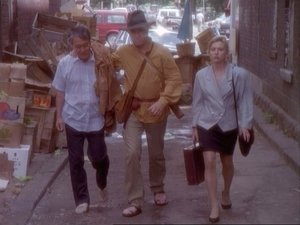 1x01 Initiation (1) (January 27, 1993)
---
This is the first part in a two part episode. Caine returns to Chinatown and encounters a protection racket. He also reunites with Lo Si (The Ancient).
---