Henry Danger
Season 5
Henry Danger
Season 5
First Air Date: November 03, 2018

| | | |
| --- | --- | --- |
| First Aired on | : | 2018 |
| Episodes | : | 39 episodes |
Episodes
5x39 The Fate of Danger: Part II (March 21, 2020)
---
Kid Danger and Captain Man battle Drex on top of a blimp to stop him from erasing Swellview's memory of Captain Man. But when the blimp aims straight for the Swellview Baby Hospital, one hero must stay behind to save the day.
---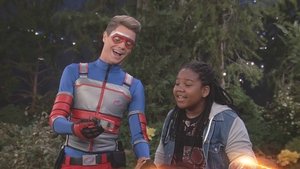 5x38 The Fate of Danger: Part 1 (March 14, 2020)
---
Kid Danger and his friends try to figure out how to get Captain Man back from the past, while Drex furthers his scheme to erase Swellview's memory of Captain Man forever.
---
5x37 Captain Drex (March 07, 2020)
---
Captain Man's old sidekick and nemesis, Drex, returns from the past with an army of cavemen to finish off Captain Man once and for all. Kid Danger may be the only one who can save Captain Man now.
---
5x36 The Beginning of the End (February 29, 2020)
---
Kid Danger reveals to Captain Man that he doesn't want to be stuck in Swellview and be his sidekick forever. To make matters worse, Kid Danger is recruited by another town to be their hero.
---
5x35 Remember the Crimes (February 22, 2020)
---
Henry tells Piper about all the adventures she missed while he was off fighting alongside Captain Man as Kid Danger. But then Piper, Ray, Jasper, Charlotte, and Schwoz join in and share a few memories of their own.
---
5x34 Game of Phones (February 15, 2020)
---
When a young girl chains herself outside of Junk-N-Stuff, Kid Danger and Captain Man are forced to help find her beloved phone. While on a stakeout, they unexpectedly run across some familiar faces with a devious plan they weren't prepared for.
---
5x33 Escape Room (February 08, 2020)
---
Kid Danger and Captain Man are tricked into entering an escape room by a factory owner with a "chip" on his shoulder. They are trapped inside with two new kids, Mika and Miles, who are oddly good at solving the puzzles they need to answer to get out.
---
5x32 Cave the Date (February 01, 2020)
---
Henry and the gang set up a secret underground restaurant in the Man Cave for Charlotte's private dinner with music superstar Jack Swagger. When word gets out that Jack Swagger is in town, some unwanted guests crash the party.
---
5x31 Rumblr (January 25, 2020)
---
Captain Man, sick of fighting the same old villains, is convinced to make a profile on a match making app for heroes and villains. Kid Danger agrees to do the same and two of them set up a double-fight to square off with some new villains.
---
5x30 Theranos Boot (January 18, 2020)
---
Henry and the other kids destroy Ray's prized movie prop, The Theranos Boot. To replace it, Henry and Jasper travel to an alternate universe Man Cave using Bill Evil's inter-dimensional transporter and steal their Theranos Boot before Ray finds out.
---
5x29 Mr. Nice Guy (January 11, 2020)
---
A vigilante in a smiley-face mask has been punishing Swellviewians for being rude in public. Kid Danger and Captain Man's investigation leads them to the TV set of Mr. Wallabee, a local TV celebrity who hosts a show for kids.
---
5x28 Holiday Punch (November 30, 2019)
---
A new species of moth is eating all the Christmas trees in Swellview, so Captain Man and Kid Danger head over to Neighborville to buy more. On the way back they're attacked by shady tree dealers and have to fight to save Christmas.
---
5x27 EnvyGram Wall (November 16, 2019)
---
Captain Man and Kid Danger are guarding Swellview's newest attraction, the EnvyGram Wall, when Captain Man destroys the wall while trying to eliminate a small bird. Kid Danger and Captain Man have to figure out a way to replace it.
---
5x26 Visible Brad (November 09, 2019)
---
Captain Man and Kid Danger are going to need a little bit of magic and some help from an old friend if they want to catch a thief.
---
5x25 Captain Mom (November 02, 2019)
---
Captain Man is being a baby about having a baby. Labor pains leave him helpless so Kid Danger and Piper step up to take on a couple of slick grease thieves.
---
5x24 Story Tank (October 12, 2019)
---
Big steaks are on the line when Henry claims he can't be scared. Schwoz uses a machine that allows Henry to virtually experience the spooky stories that everyone in the Man Cave tells him in an attempt to prove Henry wrong.
---
5x23 A Tale of Two Pipers (October 05, 2019)
---
Henry gets an unexpected visitor claiming to be from the future. When a boy-robot killing machine steps onto the scene, The Gang must find a way to save everyone from an apocalyptic future.
---
5x22 Sister Twister Part 2 (September 28, 2019)
---
When Ray's memories accidentally get erased, Schwoz devises a plan to send Henry deep inside Ray's brain to get them back.
---
5x21 Sister Twister Part 1 (September 21, 2019)
---
Packages are being stolen from Swellview porches. Henry and Ray setup a stakeout in an attempt to catch the thief red-handed.
---
5x20 Henry Danger: The Musical (July 27, 2019)
---
When Frankini uses a device to put a musical curse over Swellview, Kid Danger and Captain Man are forced to find a way to stop him. But when Captain Man cracks under the pressure, it's up to Kid Danger to remind him how to be a hero again.
---
5x19 Massage Chair (July 13, 2019)
---
When Captain Man shows up with a cool new massage chair, Henry, Charlotte, and Jasper compete in a series of physical and mental challenges to see who wins the chair.
---
5x18 Double-O Danger (June 29, 2019)
---
Kid Danger and Captain Man attempt to capture Mob Boss Rob Moss by infiltrating his daughter's the sweet sixteen birthday party.
---
5x17 Love Bytes (June 22, 2019)
---
Things get a little buggy when Schwoz installs a new operating system on the Man Cave Computer designed to detect and eliminate threats all over Swellview.
---
5x16 Holey Moley (June 15, 2019)
---
The gang thinks they have found the perfect tunnels to access all of Swellview, until they are confronted by the tunnels' original inhabitants.
---
5x15 I Dream of Danger (March 23, 2019)
---
When Charlotte has a dream where she nearly kisses Kid Danger, she actively tries to avoid Henry for fear of the dream coming true.
---
5x14 Charlotte Gets Ghosted (March 16, 2019)
---
Schwoz invents a vacuum to help Henry clean his house, but it accidentally sucks Charlotte inside; when Henry's family hears Charlotte and thinks the vacuum is haunted, Ray must distract them while Henry finds a way to get her out.
---
5x13 My Dinner with Bigfoot (March 09, 2019)
---
When the gang befriends Bigfoot in the woods, Kid Danger and Captain Man try to help get rid of a pesky hunter that's been trying to capture him.
---
5x12 Secret Room (March 02, 2019)
---
After Schwoz's family reunion causes chaos in the Man Cave, Captain Man reveals a "Superheroes Only" room in the Man Cave for peace and quiet. Jealous, Charlotte, Jasper and Schwoz make a cooler room to show them up. As the gang fights over who gets the better room, things get blown out of proportion.
---
5x11 The Whole Bilsky Family (February 23, 2019)
---
Henry's nerves are tested when Piper invites her new boyfriend and his family over for dinner.
---
5x10 Grand Theft Otto (February 16, 2019)
---
When Piper's school parrot, Otto, starts to repeat that Henry is Kid Danger, Henry and Jasper have to stall until Ray, Charlotte and Schwoz can find a way to fix things.
---
5x09 Knight & Danger (February 02, 2019)
---
When the Knight Squad's archenemy, Ryker, is unleashed on Swellview, Kid Danger and Captain Man take him down to Burger Castle only to be tricked into joining forces with the villain.
---
5x08 Broken Armed and Dangerous (January 26, 2019)
---
When Kid Danger publicly breaks his arm, Henry and the gang have to find a way to keep his secret safe.
---
5x07 Part 3: A New Hero (January 19, 2019)
---
Schwoz works to create an anti-virus to stop an evil plan; Kid Danger and Captain Man battle a villain; Kid Danger's heroism is put to the ultimate test as they fight to save the world.
---
5x06 Part 2: A New Darkness (January 12, 2019)
---
After a criminal steals Kid Danger's superpower and learns his secret identity, goons are sent to Henry's house to attack; while Henry and Ray fight to protect Henry's family, Jasper, Charlotte, and Schwoz work to get his power back.
---
5x05 Part 1: A New Evil (January 05, 2019)
---
Henry is trapped at home with his family while Captain Man heads out to save the founder of TwitFlash; Charlotte and Schwoz put together a mystery that could change the world forever.
---
5x04 The Great Cactus Con (November 17, 2018)
---
The Thumb Buddies return from space and are intent on getting revenge against Captain Man and Kid Danger.
---
5x03 Thumb War (November 17, 2018)
---
Captain Man and Kid Danger are upset when a new crime-fighting team emerges in town. However, they discover that the new-duo are their biggest fans. After an unfortunate incident, the Thumb Buddies seek revenge on our heroes.
---
5x02 Whistlin' Susie (November 10, 2018)
---
After accidentally activating an atomic bomb in the Man Cave, Ray and Henry decide to drive it out into the Swellview desert in order to save their city.
---
5x01 Henry's Birthday (November 03, 2018)
---
While trying to celebrate his birthday, Henry keeps getting interrupted by crimes going on in Swellview.
---