Rick and Morty
Season 2
Rick and Morty
Season 2
First Air Date: July 26, 2015

| | | |
| --- | --- | --- |
| First Aired on | : | 2015 |
| Episodes | : | 10 episodes |
After Rick and Morty decided to unfreeze time, they must deal with alien parasites, alternate Jerrys and a decaying, possibly non-existent dimension.
Want to see ?
Trailer: Simpsons Couch Gag | Rick and Morty | Adult Swim
Episodes
2x10 The Wedding Squanchers (October 04, 2015)
---
The whole family makes mistakes.
---
2x09 Look Who's Purging Now (September 27, 2015)
---
Morty makes a mistake and Jerry and Summer work on their father-daughter relationship.
---
2x08 Interdimensional Cable 2: Tempting Fate (September 20, 2015)
---
Jerry gets sick, and Rick sparks up the TV.
---
2x07 Big Trouble in Little Sanchez (September 13, 2015)
---
Rick joins in on hijinks while Beth and Jerry sort out relationship issues.
---
2x06 The Ricks Must Be Crazy (August 30, 2015)
---
Rick and Morty travel inside the car's battery, where Morty discovers Rick has created a universe containing sentient life solely to produce power for him. Meanwhile, Summer must deal with being locked in the car with Rick's overzealous security system.
---
2x05 Get Schwifty (August 23, 2015)
---
When a massive head descends into Earth's atmosphere, Rick and Morty must save the planet by coming up with a new hit song. Meanwhile, Jerry, Beth, and Summer become part of a new religion.
---
2x04 Total Rickall (August 16, 2015)
---
Trapped inside the house with an ever-increasing number of parasitic alien shape-shifters capable of altering memories, an uncertain Rick and the Smiths search for a way to determine which of them are real.
---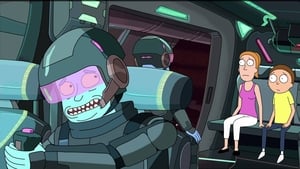 2x03 Auto Erotic Assimilation (August 09, 2015)
---
Rick gets emotionally invested when meeting an old friend, while Beth and Jerry have a falling out after making a discovery under the garage.
---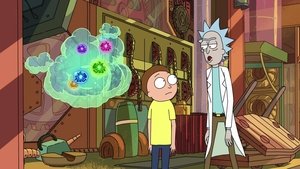 2x02 Mortynight Run (August 02, 2015)
---
Rick teaches Morty to drive while leaving Jerry at a popular day care made just for him. Morty's conscience has him hunt down an assassin rather than spending the day at an alien arcade.
---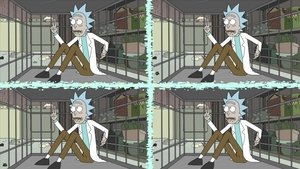 2x01 A Rickle in Time (July 26, 2015)
---
Rick, Morty, and Summer get into trouble when time is fractured by a feedback loop of uncertainty that split reality into more than one equally possible impossibilities. Meanwhile, Beth and Jerry go to extreme lengths to save a deer struck by their vehicle.
---