Star Wars Rebels
Season 3
Star Wars Rebels
Season 3
First Air Date: September 24, 2016

| | | |
| --- | --- | --- |
| First Aired on | : | 2016 |
| Episodes | : | 21 episodes |
Sometime after the events on Malachor, Ezra must struggle with his temptation towards the dark side. The Ghost crew helps build up the rebellioin on Atollon.
Episodes
3x21 Zero Hour (2) (March 25, 2017)
---
Trapped on Atollon with the rebel base under siege, Hera and Kanan fight to keep the squadron alive, as Ezra attempts to rally help from an unexpected source.
---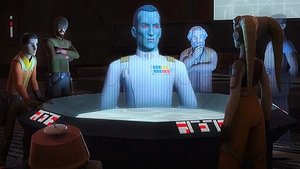 3x20 Zero Hour (1) (March 25, 2017)
---
In final preparations for their attack on Lothal, Phoenix Squadron's plans are disrupted when Grand Admiral Thrawn discovers their location.
---
3x19 Twin Suns (March 18, 2017)
---
Reacting to a vision of Maul, Ezra defies Hera and Kanan to travel to a remote planet in hopes of stopping the former Sith lord from carrying out his plans.
---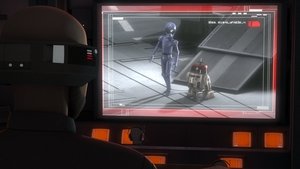 3x18 Double Agent Droid (March 11, 2017)
---
Chopper and AP-5 team up to infiltrate an Imperial station to steal needed codes, but an Imperial specialist turns the droids against the crew to cause chaos.
---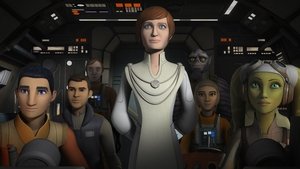 3x17 Secret Cargo (March 04, 2017)
---
The Ghost crew must escort Senator Mon Mothma, now wanted by the Empire, to a meeting that can change the galaxy.
---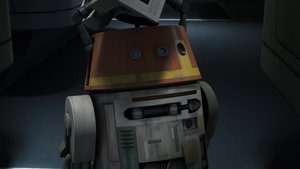 3x16 Through Imperial Eyes (February 25, 2017)
---
Fearing that the identity of a rebel spy will soon be discovered by the Empire, the Rebels launch a plan to rescue him before he is caught.
---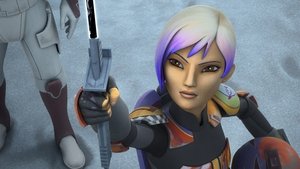 3x15 Legacy of Mandalore (February 18, 2017)
---
Hoping to get her family to help the rebels, Sabine returns home with Kanan and Ezra, and finds herself embroiled in her family's power struggle for Mandalore.
---
3x14 Trials of the Darksaber (January 21, 2017)
---
To help recruit her people to join the rebels, Sabine reluctantly agrees to learn to wield an ancient Mandalorian weapon but finds the challenge more difficult than expected.
---
3x13 Warhead (January 14, 2017)
---
Zeb and Chopper bring a damaged droid found in the Atollon wilderness back to base, only to discover that the droid is a new Imperial probe programmed to spy on and destroy rebels.
---
3x12 Ghosts of Geonosis (2) (January 07, 2017)
---
After finding a missing rebel team member, the Ghost crew discovers another surprise on Geonosis, and work to conceal it from Imperial Forces.
---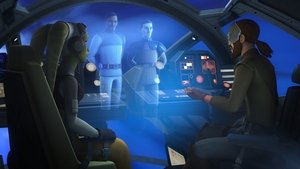 3x11 Ghosts of Geonosis (1) (January 07, 2017)
---
The crew returns to Geonosis in search of a missing rebel team sent to investigate suspicious activity there, and are surprised by what they find.
---
3x10 Visions and Voices (December 10, 2016)
---
Maul returns, looking to finally unlock the secrets that he and Ezra desire.
---
3x09 An Inside Man (December 03, 2016)
---
Seeking information on a new Imperial weapon, Ezra and Kanan infiltrate the Imperial factory on Lothal, but must trust an unlikely ally to escape a lockdown.
---
3x08 The Wynkahthu Job (November 26, 2016)
---
The rebels team with a pair of unscrupulous pirates to salvage a freighter full of weapons for the rebellion, but the mission ends up being far more dangerous than anticipated.
---
3x07 Iron Squadron (November 19, 2016)
---
Ezra and Sabine team up to tame a rogue, young hotshot pilot and his crew who recklessly risk their lives in a fight to defend their home world from Imperial occupation.
---
3x06 Imperial Supercommandos (November 05, 2016)
---
Having lost contact with the Protectors of Concord Dawn, Sabine, Ezra, and Fenn Rau investigate and find the base occupied by Imperial Mandalorians.
---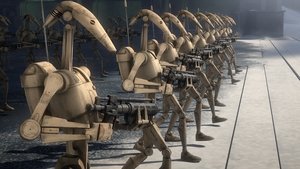 3x05 The Last Battle (October 22, 2016)
---
On a salvage mission led by Captain Rex, the Ghost crew is captured by a unit of old battle droids determined to fight one last battle to end the Clone Wars.
---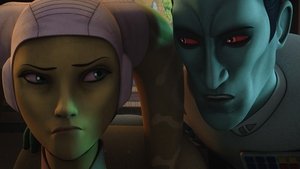 3x04 Hera's Heroes (October 15, 2016)
---
Hera's rebel supply mission to Ryloth becomes personal when she and the Ghost crew brave overwhelming Imperial forces to recover a memento from her ancestral home.
---
3x03 The Antilles Extraction (October 08, 2016)
---
With the rebellion in desperate need of pilots, Sabine goes undercover as an Imperial cadet to recruit defectors -- including the confident and gifted Wedge Antilles.
---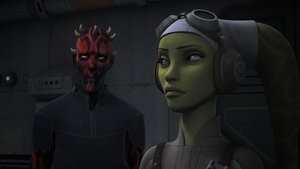 3x02 The Holocrons of Fate (October 01, 2016)
---
When Maul takes the crew of the Ghost hostage, Ezra and Kanan must pass a trial in order to recover an ancient Sith artifact to save them.
---
3x01 Steps Into Shadow (September 24, 2016)
---
Ezra, Sabine, Zeb, Chopper and Hera sets out to rescue Hondo Ohnaka, while Kanan finds an ancient force creature know as The Bendu.
---