Law & Order
Season 8
Law & Order
Season 8
First Air Date: September 24, 1997

| | | |
| --- | --- | --- |
| First Aired on | : | 1997 |
| Episodes | : | 24 episodes |
Episodes
8x24 Monster (May 20, 1998)
---
During the search for a pedophile who raped a 10-year-old, a snitch offers Briscoe a chance to avenge his daughter's death. Meanwhile, Van Buren learns that her job is in jeopardy; McCoy is ordered to appear before a disciplinary committee because of his conduct in a DUI case; and the increasingly political Schiff worries that the rape case may adversely impact his reelection bid.
---
8x23 Tabloid (May 13, 1998)
---
Tabloid journalism comes under scrutiny during the investigations into the deaths of a gossip columnist and a celebrity target he pursued.
---
8x22 Damaged (May 06, 1998)
---
The case of a teacher's shooting uncovers a vendetta involving the rape of a mentally challenged coed by three students, whose attorney claims they weren't aware of her condition.
---
8x21 Bad Girl (April 29, 1998)
---
Schiff's re-election may hinge on the stabbing death of a police officer; Briscoe's daughter is arrested for dealing drugs.
---
8x20 Burden (April 24, 1998)
---
After a 12-year-old quadriplegic dies at home in his bed, paramedics claim that he was suffocated and the suspects include the boy's parents and sister.
---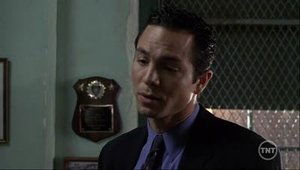 8x19 Disappeared (April 22, 1998)
---
A defendant refuses to allow his lawyer to raise the issue of insanity, this complicating matters for the brother who turned him in with hopes of securing medical treatment for him.
---
8x18 Stalker (April 15, 1998)
---
When a woman is found unconscious at the bottom of her apartment stairs, Briscoe and Curtis must figure out what happened -- before it's too late. In order to make his case, McCoy pits the two detectives against each other in the courtroom.
---
8x17 Carrier (April 01, 1998)
---
The death of a college student leads to a case involving an HIV-positive male who's seeking to infect as many young women as possible. McCoy, testing right-to-privacy ethics, wants to charge him with murder.
---
8x16 Divorce (March 04, 1998)
---
The stabbing death of a psychologist draws Detectives Briscoe and Curtis into a heated divorce case and pits McCoy and Ross against a manipulative attorney.
---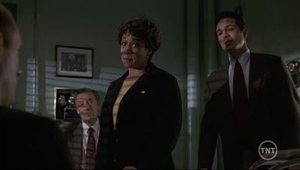 8x15 Faccia a Faccia (February 25, 1998)
---
Taking on an apparent mafia murder, Detectives Briscoe and Curtis are stymied by a dead witness and a seemingly incoherent mob boss.
---
8x14 Grief (February 04, 1998)
---
The cops, as they try to pin down the specifics of an assault on a man reluctant to talk about it, uncover the alleged rape of two women in custodial care. But as the prosecutors attempt to prepare their case, a reluctant witness changes their view of the cases.
---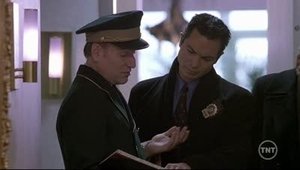 8x13 Castoff (January 28, 1998)
---
The street murder of a woman who worked with underprivileged kids takes a turn towards the bizarre when the detectives uncover she had a predilection for kinky sex, and that one of her current partners appears to be a serial killer, who offers an overexposure to television violence as his defense during his trial.
---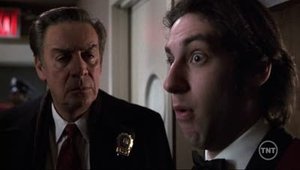 8x12 Expert (January 21, 1998)
---
The shooting of two people in a restaurant restroom takes some abrupt turns as they try to discover who exactly the intended victim was, and the prosecutors have to deal with a defendant claiming to have been in a dissociative state while committing the crime-- the same defense used years before by the defendant's father.
---
8x11 Under the Influence (January 07, 1998)
---
After Briscoe and Curtis finally determine who was driving the car that killed three people, the legal prosecution stands in danger of becoming a kangaroo court when McCoy's feelings over Kincaid mesh with the political agenda of an ambitious judge anxious to make an example of the defendant.
---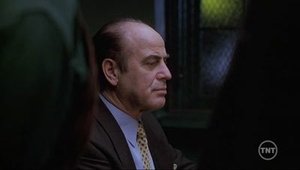 8x10 Ritual (December 17, 1997)
---
The investigation into the death of a man who initially appears to be the victim of a mugging victim reveals him to be a Middle Eastern physician who performs genital mutilations on young girls.
---
8x09 Burned (December 10, 1997)
---
A message overheard on an answering machine leads Briscoe and Curtis to a confessed murderer and the home of wealthy Carl Anderton, whose stubborn non-cooperation with the district attorney threatens to create a serious miscarriage of justice.
---
8x08 Shadow (November 26, 1997)
---
The murder of a bail bondsman looks fairly routine until the chance words of the chief suspect uncovers possible case-fixing between a shady lawyer and an unknown contact within the judicial system.
---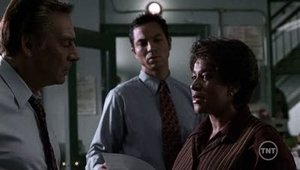 8x07 Blood (November 19, 1997)
---
The paternity of a black baby given up for adoption by a white mother might provide a clue to her murderer but it also unearths some long buried family secrets.
---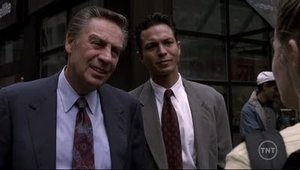 8x06 Baby, Its You (I) (November 12, 1997)
---
It's old home week for Briscoe when an apparent murder of a teenage model in New York develops ties to Baltimore and Detectives Munch and Falsone pay a visit to the Big Apple to observe the case. Meanwhile, McCoy finds himself battling the attorney of the victim's parents for access to his clients and the Baltimore DA for jurisdiction. This crossover continues on Homicide: Life on the Street S06E05 Baby, It's You (II).
---
8x05 Nullification (November 05, 1997)
---
After the cops trace an eagle tattoo on a man shot and killed while holding up an armored truck to a group of militia members, McCoy finds himself facing one of their number as the pro se counsel for his friends, arguing for the concept of "jury nullification", the right of a jury to protect a defendant from an unjust law by finding him not guilty despite the evidence.
---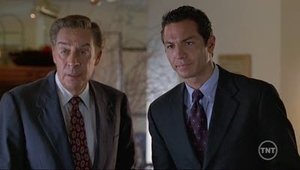 8x04 Harvest (October 29, 1997)
---
A discrepancy concerning the time of death of a drive-by shooting victim leads McCoy and Ross to initiate prosecutions against both the shooter and the doctor who harvested her organs as transplant donations.
---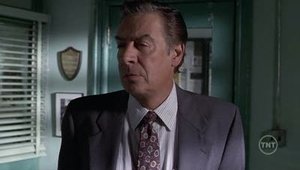 8x03 Navy Blues (October 15, 1997)
---
McCoy finds himself battling the Navy and the office of the Judge Advocate General as he tries to prosecute a female pilot accused of murdering her married lover after he tried to break off with her.
---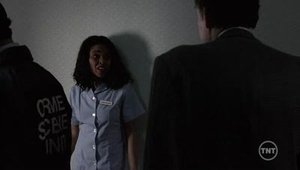 8x02 Denial (October 08, 1997)
---
Bloody sheets and an apparently stolen credit card lead Briscoe and Curtis to a pair of college age lovers who present McCoy and Ross with a united front of denial that one of them killed their newborn son and disposed of the body.
---
8x01 Thrill (September 24, 1997)
---
The cops break the seemingly random murder of a pizza delivery guy with a little ""undercover"" work in the park, but McCoy and Ross face a harder battle to get a conviction when the two defendants resolutely point the finger at each other, and the one item identifying the actual killer is the recording of a confession-made to a priest.
---