Brooklyn Nine-Nine
Season 6
Brooklyn Nine-Nine
Season 6
First Air Date: January 10, 2019

| | | |
| --- | --- | --- |
| First Aired on | : | 2019 |
| Episodes | : | 18 episodes |
Want to see ?
Trailer: The Brooklyn Nine-Nine All Action Trailer
Featurette: Season 6 First Look - Brooklyn Nine-Nine (Sneak Peek)
Episodes
6x18 Suicide Squad (2) (May 16, 2019)
---
Desperate circumstances call for desperate measures, as Jake, Holt, Amy, Terry, Rosa and Charles must ally themselves with old enemies.
---
6x17 Sicko (1) (May 16, 2019)
---
Jake and Charles investigate a dangerous serial killer. Holt continues to spar with his rival, Commissioner Kelly. Terry finds out about whether or not he has passed the lieutenant's exam.
---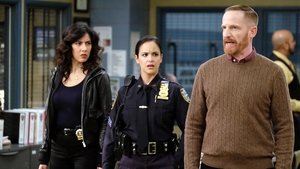 6x16 Cinco de Mayo (May 09, 2019)
---
In order to distract Terry from the stress of his upcoming lieutenant's exam, Jake, Holt and the squad decide to hold the annual Halloween Heist on a new date, Cinco de Mayo.
---
6x15 Return of the King (May 02, 2019)
---
When Gina returns to the Nine-Nine, Jake and Terry get drawn into her life. Holt learns that Charles's son, Nikolaj, may be a genius. Rosa copes with an injury.
---
6x14 Ticking Clocks (April 25, 2019)
---
Jake and the squad must track down a hacker who has infiltrated the Nine-Nine's servers; Rosa deals with relationship issues; Hitchcock and Scully attempt to cook the perfect lasagna.
---
6x13 The Bimbo (April 18, 2019)
---
Holt and Jake investigate a case at Kevin's university. Back at the precinct, Terry and Amy take the squad out for lunch.
---
6x12 Casecation (April 11, 2019)
---
Work is so busy for Jake and Amy that they end up celebrating their anniversary while standing guard over a comatose patient in the hospital.
---
6x11 The Therapist (March 21, 2019)
---
Charles brings Jake into a case when a therapist reports one of his patients missing.
---
6x10 Gintars (March 14, 2019)
---
A visitor from Latvia causes Charles and Jake to investigate Nikolaj's family. Holt and Amy bring in famed forensic scientist Dr. Yee to help close a case for Rosa.
---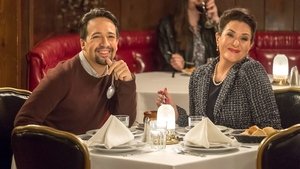 6x09 The Golden Child (March 07, 2019)
---
Jake helps Amy navigate the complicated relationship she has with her brother, David. Charles introduces some drama into an undercover mission involving Terry and Holt.
---
6x08 He Said, She Said (February 28, 2019)
---
Jake and Amy investigate a difficult "he said, she said" case. Holt becomes suspicious after learning his lifelong arch nemesis died in a prison transport accident.
---
6x07 The Honeypot (February 21, 2019)
---
Jake and Holt clash over the merits of a new hire in the 99th precinct. Terry, Amy, Rosa and Charles try to do something about the cluttered bullpen.
---
6x06 The Crime Scene (February 14, 2019)
---
Jake and Rosa must deal with a mother in mourning as they work and rework a crime scene in order to solve a difficult murder case with confusing evidence.
---
6x05 A Tale of Two Bandits (February 07, 2019)
---
Terry believes the Pontiac Bandit is stealing cars again, but Jake is convinced his friend wouldn't do that. The rest of the squad fight to keep Shaw's a police bar after some firemen stake their claim to it.
---
6x04 Four Movements (January 31, 2019)
---
Gina spends time with each member of the squad.
---
6x03 The Tattler (January 24, 2019)
---
Jake and Gina attend their 20th high school reunion. Back at the Nine-Nine, Charles helps Rosa with her love life.
---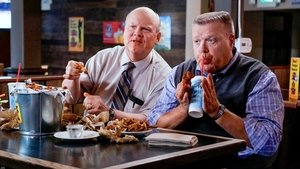 6x02 Hitchcock & Scully (January 17, 2019)
---
Jake and Charles investigate a case of Hitchcock and Scully's from the 1980s. Meanwhile, Amy's uniformed officers and Terry's detectives fight over limited resources.
---
6x01 Honeymoon (January 10, 2019)
---
Jake and Amy go on their honeymoon. Capt. Holt finds out whether he is the new commissioner of the NYPD.
---