Brooklyn Nine-Nine
Season 2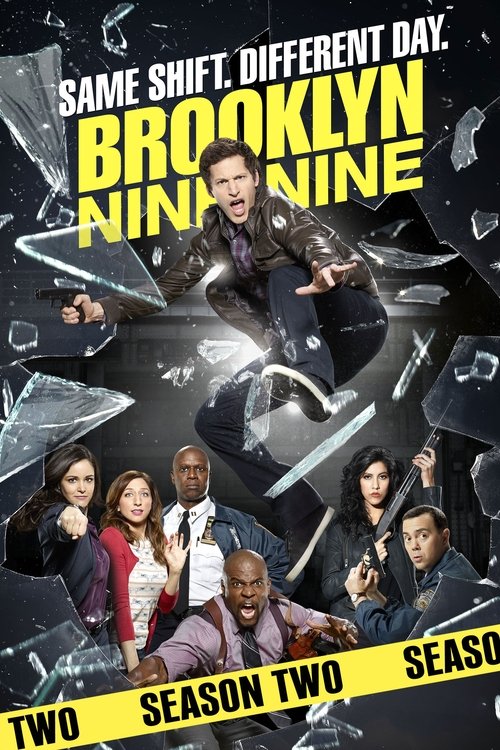 Brooklyn Nine-Nine
Season 2
First Air Date: September 28, 2014

| | | |
| --- | --- | --- |
| First Aired on | : | 2014 |
| Episodes | : | 23 episodes |
Episodes
2x23 Johnny and Dora (May 17, 2015)
---
Jake and Amy go undercover to catch Brooklyn's most notorious identity thief, and the case brings them closer together – very close. Meanwhile, the entire precinct is caught off-guard when one of their own says goodbye to the Nine-Nine.
---
2x22 The Chopper (May 10, 2015)
---
Holt is wary when Wuntch lets Jake work his dream case, worried that she is setting him up to fail. Back at the precinct, Amy, Rosa and Gina help Terry host a field trip for a local magnet school.
---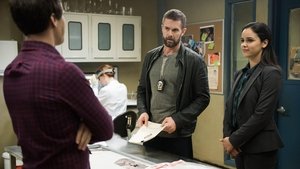 2x21 Det. Dave Majors (May 03, 2015)
---
Jake is excited to work a case with the best detective in the NYPD, Detective Majors, until Majors shares his intentions to ask Amy out on a date. Meanwhile, Charles and Gina try to convince Terry to stay at the Nine-Nine when he considers accepting an offer to work at a private security firm.
---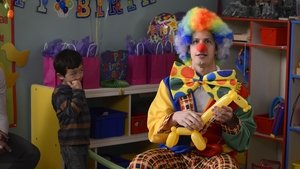 2x20 AC/DC (April 26, 2015)
---
After Jake injures himself on a case, Terry forces him take time off and rest -- something Jake doesn't know how to do. Across town, Holt and Rosa try to avoid intimate conversation during a double-date with their significant others.
---
2x19 Sabotage (March 15, 2015)
---
After a streak of really bad luck, Jake thinks he's being sabotaged by an enemy. Holt assigns Amy and Rosa to investigate the truth. Meanwhile, Holt hurts Gina's feelings by calling her dance troupe a "hobby," and Charles is stuck working a case with Scully and Hitchcock in Jake's absence.
---
2x18 Captain Peralta (March 08, 2015)
---
Jake's mainly absentee father, Roger, comes to town to spend some time with his son. Jake can't wait to see him, but Charles is skeptical of Roger's intentions. Meanwhile, Holt tasks Amy, Terry, Gina and Rosa with an impossible brain teaser in exchange for Beyoncé tickets.
---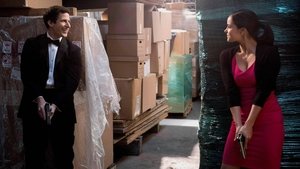 2x17 Boyle-Linetti Wedding (March 01, 2015)
---
It's the day of Gina and Charles' parents' wedding, and the whole squad is given a job to fulfill for the ceremony. However, Jake and Amy get sidetracked chasing a criminal, and Terry struggles to officiate the wedding.
---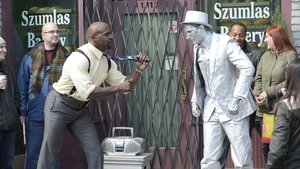 2x16 The Wednesday Incident (February 15, 2015)
---
When Jake notices that Holt has been acting moody, he teams up with Holt's husband to figure out what happened. Meanwhile, at the precinct, Charles tries to get a confession out of a geriatric suspect who pretends to be senile and adorable whenever Amy and Rosa are around.
---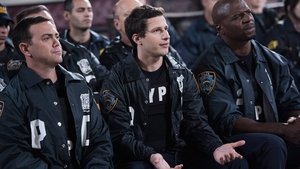 2x15 Windbreaker City (February 08, 2015)
---
Jake is heartbroken over Sophia but his spirits are lifted when the squad is invited to a Homeland Security terrorist training simulation. That is, until the agent in charge assigns them the lame role of playing hostages. Meanwhile, Gina administers a psychological exam to Holt, and Amy and Rosa compete for a day off from work.
---
2x14 Defense Rests (January 25, 2015)
---
When Sophia's job gets in the way of her relationship with Jake, Jake tries to smooth things over with her boss. Meanwhile, Wuntch needs Holt's help for a job recommendation.
---
2x13 Payback (January 11, 2015)
---
The squad decides it's high time Jake paid them back all the money he has owed them from over the years. Meanwhile, Amy and Holt team up to re-open the Brooklyn Broiler case.
---
2x12 Beach House (January 04, 2015)
---
The team is excited to spend the weekend at Charles' beach house for a detectives-only-getaway, until Jake ruins the fun by inviting Captain Holt. Meanwhile, Charles helps Rosa send romantic texts to her new boyfriend, and Gina tries to get Amy drunk, simply for her own enjoyment.
---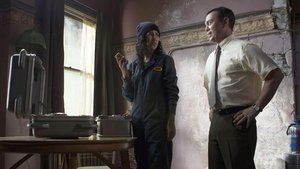 2x11 Stakeout (December 14, 2014)
---
Jake and Charles' bro-mance starts to crack when they volunteer for an eight-day stakeout in very close quarters. Meanwhile, Captain Holt's nephew, Marcus, comes to Brooklyn and captures Rosa's attention.
---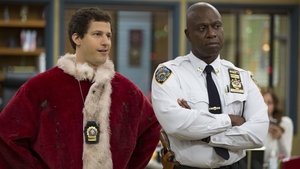 2x10 The Pontiac Bandit Returns (December 07, 2014)
---
"The Pontiac Bandit," aka Doug Judy, is back in custody, after jamming up Jake and Rosa in his previous encounter with them. Meanwhile, Gina and Boyle are nervous that their parents might be getting too close, and Santiago makes Holt a Christmas gift against his wishes.
---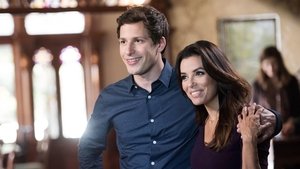 2x09 The Road Trip (November 30, 2014)
---
In an attempt to add a touch of romance to their work trip, Jake invites his girlfriend, Sophia, as well as Amy's boyfriend, Teddy, to join them at a B&B. Meanwhile, Rosa adamantly refuses to admit to Terry and Gina that she is sick, and Charles is eager to help Holt with his anniversary breakfast.
---
2x08 USPIS (November 23, 2014)
---
While attempting to catch a drug dealer, Jake and Charles reluctantly join forces with the nerdy lead investigator at the U.S. Postal Service, Jack Danger. Meanwhile, the rest of the team helps Amy quit smoking
---
2x07 Lockdown (November 16, 2014)
---
The precinct goes into lockdown mode on Thanksgiving night, and Jake, who was left in charge, is confident in his ability to keep spirits high and avoid chaos. Amy is less confident, as things spiral out of control.
---
2x06 Jake and Sophia (November 09, 2014)
---
Jake hits it off with Sophia, a woman whom he meets at a bar, only to find out she is the defense attorney for a perp he is trying to put in jail. Meanwhile, Gina and Charles work to put their relationship behind them.
---
2x05 The Mole (November 02, 2014)
---
There's a mole in the precinct and Holt and Jake need to find out who it is before Deputy Chief Madeline Wuntch gets wind of it. Meanwhile, Terry and Rosa visit a "silent" disco to uncover new leads for their new drug task force.
---
2x04 Halloween II (October 19, 2014)
---
The Peralta/Holt annual Halloween bet continues when Jake challenges the Captain that he can steal his watch before midnight. Meanwhile, Gina is upset that her dance team, Floorgasm, kicks her off the squad and Terry confronts her about her bad attitude.
---
2x03 The Jimmy Jab Games (October 12, 2014)
---
The squad has time to kill when the arrival of the Serbian President's motorcade to Brooklyn has been delayed. So, Jake launches "The Jimmy Jab Games," an annual series of competitions in the precinct. Meanwhile, Terry and Holt take on a new drug task force approved by Holt's nemesis, Deputy Chief Madeline Wuntch.
---
2x02 Chocolate Milk (October 05, 2014)
---
Holt is taken by surprise when his longtime nemesis, Deputy Chief Madeline Wuntch arrives for an inspection of his precinct. Meanwhile, Jake and Terry test the boundaries of "work friends" vs. "friend friends" as they investigate a stabbing at a hipster chocolate milk bar.
---
2x01 Undercover (September 28, 2014)
---
Jake's undercover FBI operation ends in a successful sting, until he learns one mobster has gotten away. As Jake enlists Charles' help to track him down, Holt tests the squad's patience with practice drills.
---