Xena: Warrior Princess
Season 5
Xena: Warrior Princess
Season 5
First Air Date: September 27, 1999

| | | |
| --- | --- | --- |
| First Aired on | : | 1999 |
| Episodes | : | 22 episodes |
Episodes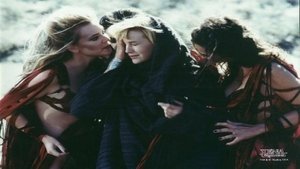 5x22 Motherhood (May 22, 2000)
---
Xena faces the gods of Olympus in a battle to the death when she acquires some new powers. Meanwhile, Gabrielle and Eve, are fighting battles of their own.
---
5x21 Eve (May 15, 2000)
---
Xena, Gabrielle, Joxer and Virgil try to track down Livia/Eve and have no trouble when they find ravaged villages. After finding her, Xena faces Livia/Eve in battle once again.
---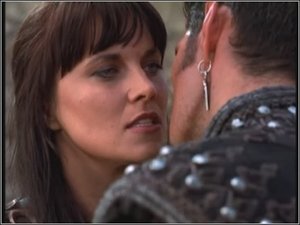 5x20 Livia (May 08, 2000)
---
Twenty-five years have passed when Xena and Gabrielle finally awake from their icy sleep, and they set out to find Xena's daughter, Eve, only to discover the world is not the same and neither is Eve. She's now known as Livia, the Bitch of Rome, a bloodthirsty warrior with Ares as her mentor and lover.
---
5x19 Looking Death in the Eye (May 01, 2000)
---
In the future, an old Joxer obtains a scroll that tells how Xena and Gabrielle tricked the Fates into setting in motion the twilight of the gods and how Gabrielle and Xena were presumed dead for 25 years and baby Eve went missing.
---
5x18 Antony & Cleopatra (April 24, 2000)
---
When Cleopatra is murdered, Xena poses as the Egyptian queen in order to find out the identity of the killer, while romancing Marc Antony.
---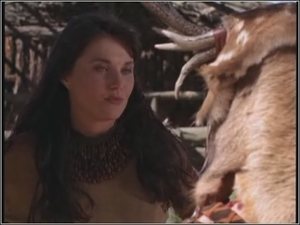 5x17 Kindred Spirits (April 17, 2000)
---
At the Amazon village, Gabrielle is torn between staying as Queen of the Amazons, and sharing adventures with Xena and baby Eve.
---
5x16 Lifeblood (March 13, 2000)
---
Xena and Gabrielle travel to the Amazon village to make baby Eve an Amazon princess and find that they must stop a war instead.
---
5x15 Married with Fishsticks (February 28, 2000)
---
When Gabrielle hits her head and falls into the ocean, she gets amnesia and a merman tries to convince her that she's his wife and mother to his fishy offspring.
---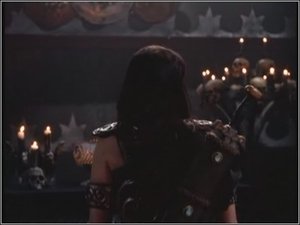 5x14 Amphipolis Under Siege (February 21, 2000)
---
On a visit home to see her mother, Xena, Gabrielle and baby Eve are trapped in Amphipolis when Athena and her army surround the village and plan to kill Xena's child.
---
5x13 Eternal Bonds (February 14, 2000)
---
After the birth of baby Eve, Xena and Gabrielle must protect the infant from the Olympian gods who want to destroy her, while Xena tries to rid herself of a doting Ares and Gabrielle tries to retrieve the antidote for the poison that is slowly killing Joxer.
---
5x12 God Fearing Child (February 07, 2000)
---
Xena and Gabrielle team up with Hercules, when Zeus declares that Xena's unborn child must die so that the prophecy will not be fulfilled. Meanwhile, Xena decides to travel to the underworld to retrieve Hade's helmet of invisiblity to allow her and her baby to hide, and runs into her son, Solan who has chosen to live in Tarturus.
---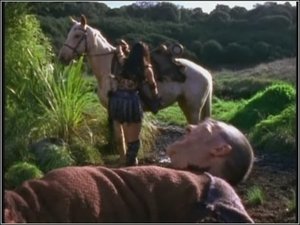 5x11 Punch Lines (January 24, 2000)
---
Suffering from writers's block, Gabrielle tells Aphrodite about her day in which a depressed god shrunk her and Argo and how she attempted to correct the situation before a very moody Xena catches on. Meanwhile, Xena tries to control her hormone-induced temper but to no avail.
---
5x10 Lyre, Lyre, Hearts on Fire (January 17, 2000)
---
Xena holds a battle of the bands contest in a quest for peace between Amazons and a lovesick-for-Gabrielle Draco, in the musical capital of Greec. Meanwhile Joxer runs into his other brother, the flamboyant Jace and Xena tries to evade her mother's attempts at matchmaking.
---
5x09 Seeds of Faith (January 10, 2000)
---
When Eli preaches of the death of the Olympian gods, Xena and Gabrielle attempt to protect him from Ares but to no avail, while guidance is dished out by the angel Callisto and the secret of Xena's child's conception is revealed.
---
5x08 Little Problems (November 22, 1999)
---
Thanks to Aphrodite, Xena is trapped in the body of a little girl and must help the child deal with the grief over her mother's death, while Gabrielle and Aphrodite separate the two before sunset as well as keep Xena's body safe from the bad guys.
---
5x07 Back in the Bottle (November 15, 1999)
---
After a vision Xena, Gabrielle, and Joxer return to Chin, where they are reunited with Kao Syn. Where they must defeat the warlord Khan, who has joined forces with the evil spirits of Pao Tsu and Ming Ten, aka The Green Dragon, and knows the recipe of the deadly black powder.
---
5x06 Purity (November 08, 1999)
---
Xena, Gabrielle and Joxer journey to Chin, when Lao Mao's daughter summons Xena to help protect her mother's book of wisdom from falling into the hands of her evil sister.
---
5x05 Them Bones, Them Bones (November 01, 1999)
---
Xena and Gabrielle cross over to the spirit realm to stop Alti from draining Xena's baby's lifeforce, so she can enter the physical world in the child's body.
---
5x04 Animal Attraction (October 18, 1999)
---
While getting a little rest and relaxation in Spamona, Gabrielle tries to train her new horse, Amarice makes a love connection with Joxer's friend, Arman, Joxer pines for Gabrielle, and Xena helps an old frien with a warlord problem, while exhibiting signs of pregnancy.
---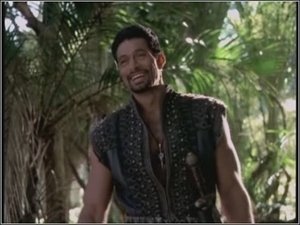 5x03 Succession (October 11, 1999)
---
Ares decides to pit Mavican, Xena, and Gabrielle in a fight to the death in an unkown arena. One catch, Xena and Gabrielle share one body and Mavican is determined to fill-out her destiny of the one who kills Xena.
---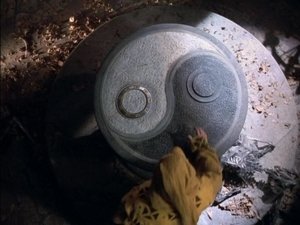 5x02 Chakram (October 04, 1999)
---
After Eli resurrects Xena and Gabrielle, Xena loses her memory of all the violence in her life, and in order to recover her self, she and her friends must join her broken chakram with it's counterpart, but Ares wants them both and will stop at nothing to get them.
---
5x01 Fallen Angel (September 27, 1999)
---
While Joxer, Amarice and Eli try to recover Xena and Gabrielle's bodies, a war over their souls is waged with Heaven's angels and Hell's demons, which includes Callisto in their ranks.
---