Xena: Warrior Princess
Season 4
Xena: Warrior Princess
Season 4
First Air Date: September 28, 1998

| | | |
| --- | --- | --- |
| First Aired on | : | 1998 |
| Episodes | : | 22 episodes |
Episodes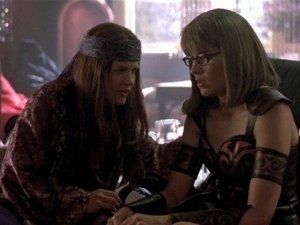 4x22 Deja Vu All Over Again (May 17, 1999)
---
A present-day woman believes she's the reincarnation of Xena, the warrior princess, while her disbelieving boyfriend thinks she's crazy, and seeks help from a past life expert, with some familiar faces along the way.
---
4x21 The Ides of March (May 10, 1999)
---
Callisto returns from Hell with a double mission: corrupt Xena and make Julius Caesar emperor, but plans change when Caesar's allies turn on him and when Roman soldiers capture and crucify Xena and Gabrielle.
---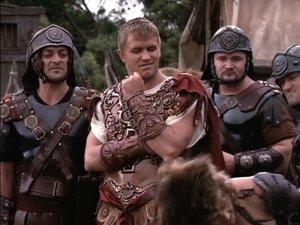 4x20 Endgame (May 03, 1999)
---
Gabrielle becomes Queen of the Amazons after Ephiny dies at the hand of Brutus, and Xena must fave Caesar and Pompey and their armies while keeping an eye on a rebellious Amazon.
---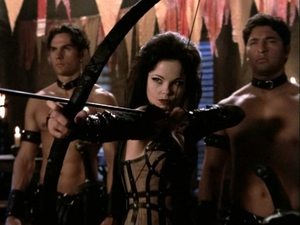 4x19 Takes One to Know One (April 26, 1999)
---
Family and friends gather for Gabrielle's surprise birthday party only to become suspects in a murder investigation instead when a bounty hunter looking to take Xena in, is murdered. Now Discord, the newly appointed goddess of retribution, has given Xena until sunrise to find the killer or everyone she loves will be taken to the underworld.
---
4x18 The Convert (April 19, 1999)
---
Najara returns claiming a newfound mantra for nonviolence, while Xena becomes suspicious of her new outlook. Meanwhile, Joxer wrestles with the guilt of his first kill, and stuggles with admitting his guilt to the son of the man he killed.
---
4x17 The Play's the Thing (March 01, 1999)
---
The Queen of Cons, Zera, convinces Gabrielle to base a play on her adventures with Xena, with the hidden motive of running off with the production's investment money.
---
4x16 The Way (February 22, 1999)
---
Xena seeks the help of the god Krishna, to rescue Gabrielle and Eli from the clutches of Indrajit, the King of the Demons.
---
4x15 Between the Lines (February 15, 1999)
---
An Indiana ritual sends Xena's soul into the karmic future for an encounter with the reincarnation of the evil shamoness Alti.
---
4x14 Devi (February 08, 1999)
---
While travelling in India, Xena and Gabrielle meet Eli, a magician, and Gabrielle suddenly acquires the power to heal and is deemed a Devi, a healing deity but Xena is suspicious of the power's source.
---
4x13 Paradise Found (February 01, 1999)
---
In India, Xena and Gabrielle wake up in a seeming land of paradise where a mystical man named Aidan, teaches Gabrielle the art of meditation, but Xena discovers he's just feeding off Gabrielle's goodness and must let go of all the good in her, in order to save Gabrielle.
---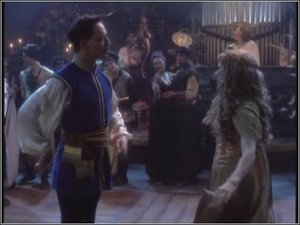 4x12 If the Shoe Fits... (January 25, 1999)
---
While journeying to reunite little princess Alecia with her father and the stepmother she dislikes, Xena, Gabrielle, Joxer and Aphrodite take turns regaling the child with fairy tales with familiar faces.
---
4x11 Daughter of Pomira (January 18, 1999)
---
Xena and Gabrielle set out to recover a young girl who was kidnapped six years ago by the Horde, but they don't count on the fact that the child has been raised as one of the Horde and doesn't want to leave the only family she knows.
---
4x10 The Key to the Kingdom (January 11, 1999)
---
Joxer, Meg and Autolycus team up to steal the infamous ""key"" that's prophecized to lead to the crown of Athena, the joke's on Autolycus when he learns the key is really a baby and Meg wants to be his mother.
---
4x09 Past Imperfect (January 04, 1999)
---
Xena and Gabrielle work to save a village that is being destroyed in exactly the same manner in which she destroyed another village in a battle with the Centaurs years before.
---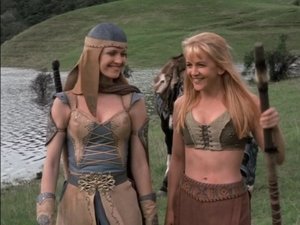 4x08 Crusader (November 16, 1998)
---
Xena meets a woman who preaches ""the way of the light"", but her practices leave something to be desired, when Xena learns of Najara's reform or die policy for prisoners.
---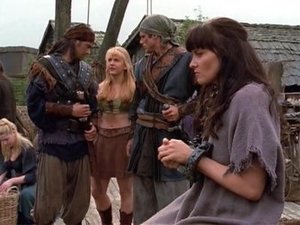 4x07 Locked Up and Tied Down (November 09, 1998)
---
When Xena allows herself to be tried and convicted of the murder of an innocent woman, who she left to die in the past, Gabrielle struggles to uncover the truth and free Xena from Shark Island Prison.
---
4x06 A Tale of Two Muses (November 02, 1998)
---
Xena and Gabrielle help their friend Tara, to change an oppressed town where dancing is outlawed, and they include Autolycus in their plans to cut footloose and fancy free.
---
4x05 A Good Day (October 26, 1998)
---
Teaming with Greek Soldiers, Xena plots against Caesar and Pompey, whose war between one another has spilled over from Rome to Greece, and Xena plans to send them both back to where they came from.
---
4x04 In Sickness and In Hell (October 24, 1998)
---
Xena and Gabrielle, plagued by a myriad of ailments, try to help Joxer defend a Scythian army, while trying not to kill one another.
---
4x03 A Family Affair (October 17, 1998)
---
When Xena and Joxer travel to Potidaea, they find Hope posing as Gabrielle and they must stop her and her monstrous offspring from destroying the world, and along the way Xena recovers the real Gabrielle.
---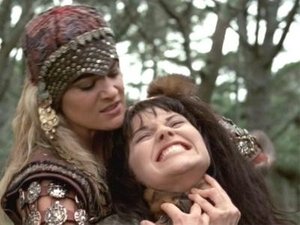 4x02 Adventures in the Sin Trade (2) (October 05, 1998)
---
At the Amazon Place of Rest, Xena must battle the evil shamoness Alti and free the spirits of the dead Amazons from her past, before she can continue on to find Gabrielle.
---
4x01 Adventures in the Sin Trade (1) (September 28, 1998)
---
After Gabrielle sacrificed herself to stop Hope, a grief-stricken Xena must travel to the Amazon Land of the Dead to find Gabrielle, and Xena revisits her past with the shamoness Alti, along the way.
---