The Simpsons
Season 7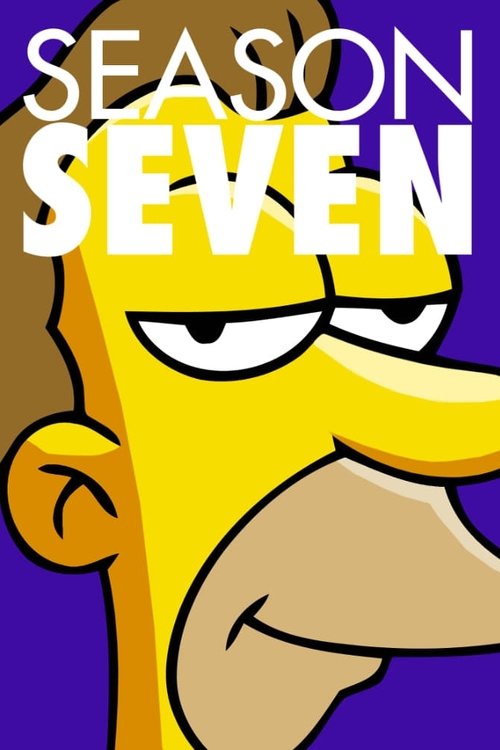 The Simpsons
Season 7
First Air Date: September 16, 1995

| | | |
| --- | --- | --- |
| First Aired on | : | 1995 |
| Episodes | : | 25 episodes |
The Simpsons' seventh season originally aired on the Fox network between September 17, 1995 and May 19, 1996. The show runners for the seventh production season were Bill Oakley and Josh Weinstein who would executive produce 21 episodes this season. David Mirkin executive produced the remaining four, including two hold overs that were produced for the previous season. The season was nominated for two Primetime Emmy Awards, including Outstanding Animated Program and won an Annie Award for Best Animated Television Program. The DVD box set was released in Region 1 December 13, 2005, Region 2 January 30, 2006 and Region 4 on March 22, 2006. The set was released in two different forms: a Marge-shaped box and also a standard rectangular-shaped box in which the theme is a movie premiere.
Episodes
7x25 Summer of 4 Ft. 2 (May 19, 1996)
---
On a family vacation, Lisa tries on a new identity to fit in with the other kids at the beach. Jealous, Bart reveals her true nerdiness to the group.
---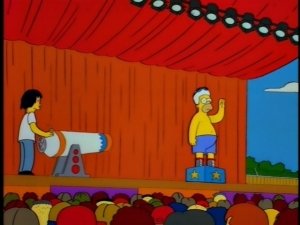 7x24 Homerpalooza (May 19, 1996)
---
To show his kids how hip he is, Homer takes Bart and Lisa to a music festival, where he earns himself a place in the sideshow by catching a cannonball with his belly.
---
7x23 Much Apu About Nothing (May 05, 1996)
---
When Mayor Quimby uses immigrants as a political scapegoat, the Simpsons discover that Apu is an illegal immigrant.
---
7x22 Raging Abe Simpson and His Grumbling Grandson in "The Curse of the Flying Hellfish" (April 28, 1996)
---
When a fellow veteran dies, Grandpa Simpson and Mr. Burns fight for buried WWII treasure as the only surviving members of their battalion.
---
7x21 22 Short Films About Springfield (April 14, 1996)
---
Bart and Milhouse wonder if anything interesting happens to the citizens of Springfield, which leads to a series of interconnected vignettes.
---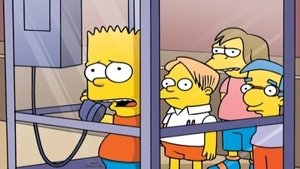 7x20 Bart on the Road (March 31, 1996)
---
Bart creates a fake driver's license for himself and uses it to go on a spring break road trip with Milhouse, Nelson, and Martin. Meanwhile, Homer and Lisa bond after spending some quality time together at work.
---
7x19 A Fish Called Selma (March 24, 1996)
---
Washed up and plagued by scandal, Troy McClure sees a marriage to Selma as his ticket back to success.
---
7x18 The Day the Violence Died (March 17, 1996)
---
Bart meets the original animator who created Itchy, penniless some 70 years after the studio stole his idea. When Bart helps him sue for restitution, he unwittingly bankrupts Itchy & Scratchy.
---
7x17 Homer the Smithers (February 25, 1996)
---
Forced to take a vacation, Smithers needs to find a temporary replacement who won't outshine him. Homer seems the perfect choice until a sudden outburst forces Mr. Burns to assert his independence.
---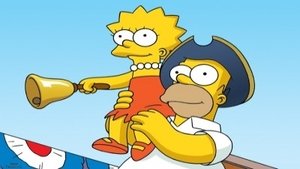 7x16 Lisa the Iconoclast (February 18, 1996)
---
While researching into Jebediah Springfield's past for an essay, Lisa discovers that the town founder wasn't the hero that everyone thinks he was.
---
7x15 Bart the Fink (February 11, 1996)
---
In a scheme to get Krusty's autograph, Bart sends him a check. When Krusty's offshore holding corporation endorses the check, his illegal tax shelter is exposed. In despair after the government auctions off his possessions, Krusty fakes his own death.
---
7x14 Scenes from the Class Struggle in Springfield (February 04, 1996)
---
A chance encounter with a former classmate yields an invitation to the Springfield Country Club, where Marge tries to parlay a bargain basement Chanel suit into elevated social status for her family.
---
7x13 Two Bad Neighbors (January 14, 1996)
---
Homer resents being upstaged when former president George Bush moves into the neighborhood. After Bush spanks Bart, an all-out prank war ensues.
---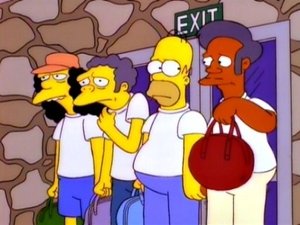 7x12 Team Homer (January 07, 1996)
---
Homer catches Mr. Burns in an ether-induced haze and asks for $500 for his bowling team. When Burns' head clears, he demands to join the team. Meanwhile, Bart's inflammatory T-shirt provokes Principal Skinner to require school uniforms.
---
7x11 Marge Be Not Proud (December 17, 1995)
---
Nabbed for shoplifting, Bart manages to keep it a secret from the family... until it's time to have the family Christmas photo taken at the Try-N-Save.
---
7x10 The Simpsons 138th Episode Spectacular (December 03, 1995)
---
Troy McClure hosts a behind-the-scenes look at the show, including clips of the series' beginnings as filler on "The Tracy Ullman Show," Simpsons trivia questions, and unaired scenes from popular episodes.
---
7x09 Sideshow Bob's Last Gleaming (November 26, 1995)
---
After Sideshow Bob escapes from prison, the Springfield Air Show is the setting for his ill-fated vendetta against television and Krusty the Clown.
---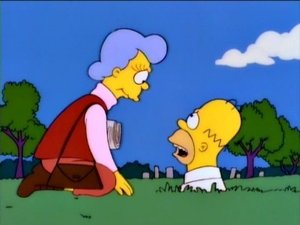 7x08 Mother Simpson (November 19, 1995)
---
Homer discovers that his mother is still alive, a former radical who is a fugitive from the law. When her old nemesis Burns spots her and tips off the FBI, she is forced to return to the underground.
---
7x07 King-Size Homer (November 05, 1995)
---
Homer tries to gain sixty pounds so he can stay home on disability. When he nearly causes a catastrophe at the plant, Homer reconsiders his plan.
---
7x06 Treehouse of Horror VI (October 29, 1995)
---
In "Attack of the 50 Foot Eyesores," strange atmospheric conditions bring giant advertising statues to life. In "Nightmare on Evergreen Terrace," Groundskeeper Willie is killed in a freak accident and seeks revenge in the childrens' dreams. In the final segment, Homer steps through a secret portal and becomes three-dimensional.
---
7x05 Lisa the Vegetarian (October 15, 1995)
---
After visiting a local petting zoo, Lisa becomes a vegetarian and faces ridicule from family and friends. When she lashes out and ruins Homer's barbecue, she learns a lesson in tolerance.
---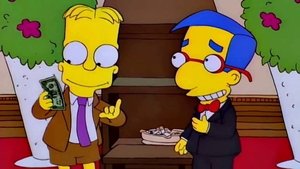 7x04 Bart Sells His Soul (October 08, 1995)
---
Bart sells his soul to Milhouse for five dollars, but soon regrets his decision. Meanwhile, Moe turns the Tavern into a family-friendly restaurant.
---
7x03 Home Sweet Homediddly-Dum-Doodily (October 01, 1995)
---
When Homer and Marge are found to be unfit parents, the kids are placed with the Flanders family. Reluctant participants in the Flanderses' wholesome family activities, Bart and Lisa become the targets of an emergency baptism.
---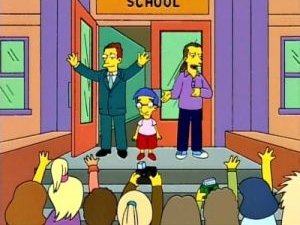 7x02 Radioactive Man (September 24, 1995)
---
Bart longs to play "Fallout Boy" in the new Radioactive Man movie, but the Van Houtens thrust Milhouse into the spotlight. Meanwhile, the town of Springfield sees an opportunity for profit.
---
7x01 Who Shot Mr. Burns? - Part II (September 17, 1995)
---
With Mr. Burns shot, Chief Wiggum investigates the crime, and nearly everyone in town has a motive. At the end, it all comes down to the Simpson DNA.
---