The Simpsons
Season 3
The Simpsons
Season 3
First Air Date: September 19, 1991

| | | |
| --- | --- | --- |
| First Aired on | : | 1991 |
| Episodes | : | 24 episodes |
The Simpsons' third season originally aired on the Fox network between September 19, 1991 and May 7, 1992. The showrunners for the third production season were Al Jean and Mike Reiss who executive produced 22 episodes for the season, while two other episodes were produced by James L. Brooks, Matt Groening, and Sam Simon. An additional episode, "Brother, Can You Spare Two Dimes?", aired on August 27, 1992 after the official end of the third season and is included on the Season 3 DVD set. Season three won six Primetime Emmy Awards for "Outstanding Voice-Over Performance" and also received a nomination for "Outstanding Animated Program" for the episode "Radio Bart". The complete season was released on DVD in Region 1 on August 26, 2003, Region 2 on October 6, 2003, and in Region 4 on October 22, 2003.
Episodes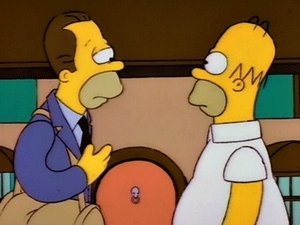 3x24 Brother, Can You Spare Two Dimes? (August 27, 1992)
---
Homer's half-brother Herb Powell returns, his finances in ruin from his last encounter with Homer. With a little help from the family, he invents a product that's sure to turn his life around.
---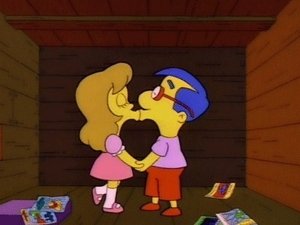 3x23 Bart's Friend Falls in Love (May 07, 1992)
---
Everything's coming up Milhouse when Bart's best friend falls in love with the new girl at school. Jealous, Bart snitches to Milhouse's father and the lovebirds are separated.
---
3x22 The Otto Show (April 23, 1992)
---
Otto loses his job driving the school bus and the Simpsons take him in. When he must get a driver's license, he finds common ground with Patty and Selma.
---
3x21 Black Widower (April 09, 1992)
---
When Selma agrees to marry her prison pen pal, Sideshow Bob, only Bart remains suspicious of his motives.
---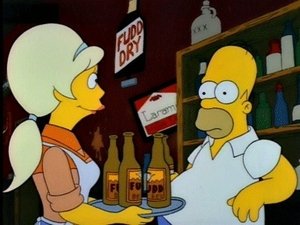 3x20 Colonel Homer (March 26, 1992)
---
Homer becomes the manager of a beautiful country music singer, whose attentions drive a wedge between Marge and Homer.
---
3x19 Dog of Death (March 12, 1992)
---
When Santa's Little Helper needs a life-saving operation, the family tightens their belts to save up the money. Sensing their resentment, the dog runs away from home, only to be adopted by Mr. Burns.
---
3x18 Separate Vocations (February 27, 1992)
---
After a career aptitude test pegs Lisa as a homemaker and Bart as a police officer, she becomes a rebel and he becomes a hall monitor. When Lisa's subversive behavior goes too far, Bart steps in.
---
3x17 Homer at the Bat (February 20, 1992)
---
With a million dollars on the line, Mr. Burns hires ringers for the upcoming baseball game against the Shelbyville Nuclear Power Plant. But as misfortunes fell the pros, with bases loaded and the score tied in the ninth inning, Homer is sent to bat.
---
3x16 Bart the Lover (February 13, 1992)
---
Bart discovers his teacher's personal ad and invents a fictional suitor to string her along. When Mrs. Krabappel falls madly in love with "Woodrow," Bart's conscience starts to bother him.
---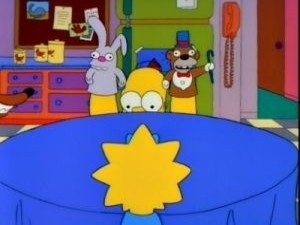 3x15 Homer Alone (February 06, 1992)
---
Marge has a nervous breakdown and goes on a vacation alone, leaving Bart and Lisa with Patty and Selma, and Maggie with Homer.
---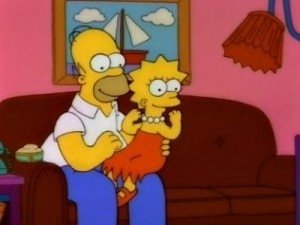 3x14 Lisa the Greek (January 23, 1992)
---
Sundays become "Daddy-Daughter Days" when Homer discovers Lisa's uncanny ability to pick winning football teams.
---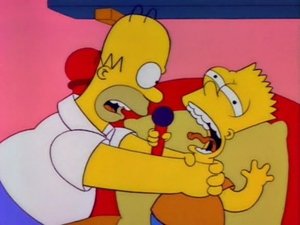 3x13 Radio Bart (January 09, 1992)
---
Bart plays practical jokes with a radio microphone, and his hoax tests the limits of the town's kindness.
---
3x12 I Married Marge (December 26, 1991)
---
Homer and Marge recount their early years, when the couple faced a shotgun wedding and Homer's poor career prospects.
---
3x11 Burns Verkaufen der Kraftwerk (December 05, 1991)
---
Mr. Burns sells the Springfield Nuclear Power Plant to wealthy German investors who are shocked at the conditions. When the ceiling caves in, the Germans are desperate to sell the plant... back to Mr. Burns.
---
3x10 Flaming Moe's (November 21, 1991)
---
Moe steals the drink recipe Homer invented, and the rechristened "Flaming Moe" turns his tavern into a hotspot. When a national franchise wants to buy the recipe, Homer wants revenge.
---
3x09 Saturdays of Thunder (November 14, 1991)
---
Homer tries to bond with Bart by building a soapbox racer. On race day, Bart must decide between driving Martin's aerodynamic racer and disappointing Homer, or driving his own racer and losing to Nelson.
---
3x08 Lisa's Pony (November 07, 1991)
---
Overcompensating for his neglect, Homer buys Lisa a pony; the high cost of maintaining the animal forces him to work the graveyard shift at the Kwik-E-Mart.
---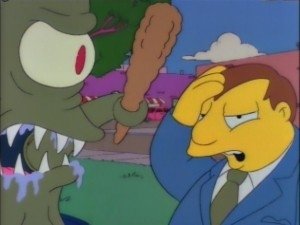 3x07 Treehouse of Horror II (October 31, 1991)
---
In the first story, the family buys a cursed monkey paw in Morocco, and their three wishes turn out badly. In a Twilight Zone parody, Bart is the fearsome "monster" who can read the townspeople's thoughts. In the final story, Mr. Burns steals Homer's brain for a giant robot he's building.
---
3x06 Like Father, Like Clown (October 24, 1991)
---
"Like Father, Like Clown" is the sixth episode of The Simpsons' third season. It originally aired on the Fox network in the United States on October 24, 1991. In the episode, after recalling a traumatic memory, Krusty the Clown reveals to the Simpson family that he is of Jewish heritage, and that his father, Rabbi Hyman Krustofski, disowned him for pursuing a career in comedy. Krusty is emotionally upset and Bart and Lisa decide to try to reunite Krusty with his long-estranged father.
---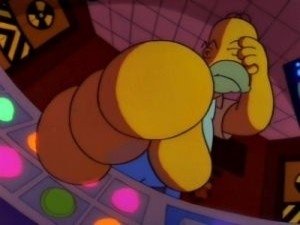 3x05 Homer Defined (October 17, 1991)
---
Homer averts a meltdown through sheer dumb luck. When he's invited to the Shelbyville Nuclear Power Plant to give a pep talk, he faces another potential meltdown and again "pulls a Homer."
---
3x04 Bart the Murderer (October 10, 1991)
---
Bart becomes an errand boy for the Springfield Mafia. When Principal Skinner disappears, Fat Tony points the finger at Bart.
---
3x03 When Flanders Failed (October 03, 1991)
---
When Ned Flanders opens a store for left-handed people, Homer wants him to fail... until he sees the downtrodden Flanders family living in their car.
---
3x02 Mr. Lisa Goes to Washington (September 26, 1991)
---
Lisa's patriotic essay wins the family a trip to Washington, D.C. -- but the corruption she sees there inspires her to write a new and very different essay.
---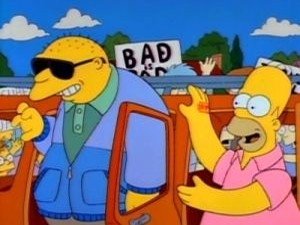 3x01 Stark Raving Dad (September 19, 1991)
---
Mistakenly committed to a mental hospital, Homer meets a tall, stocky white man who claims to be Michael Jackson.
---