The Simpsons
Season 25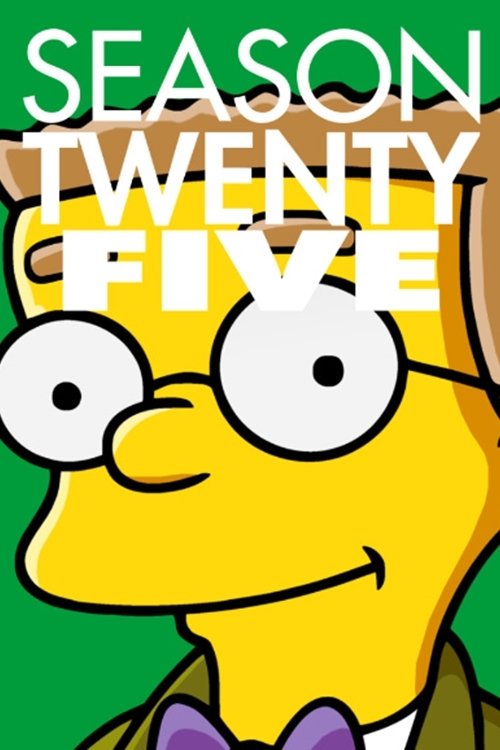 The Simpsons
Season 25
First Air Date: September 28, 2013

| | | |
| --- | --- | --- |
| First Aired on | : | 2013 |
| Episodes | : | 22 episodes |
The Simpsons' twenty-fifth season began airing on Fox on September 29, 2013. In this season, Homer sells his Mapple stock to buy a bowling ball, Marge blames herself and KISS for Bart's rebellious streak, Lisa becomes a cheerleader for Springfield's football team, and Homer delivers a baby. Guest stars for this season will include Christiane Amanpour, Will Arnett, Stan Lee, Rachel Maddow, Elisabeth Moss, Joe Namath, Gordon Ramsay, Aaron Sorkin, Eva Longoria, Daniel Radcliffe, Kristen Wiig, Billy West, Katey Sagal, John DiMaggio, Phil LaMarr, Zach Galifianakis, Harlan Ellison, Anderson Cooper, Maurice LaMarche, and Judd Apatow. This is Al Jean's 13th consecutive season as showrunner and 15th overall. Matt Groening, James L. Brooks, Matt Selman, and John Frink serve as executive producers.
Episodes
25x22 Yellow Badge of Cowardge (May 18, 2014)
---
Bart feels guilty after he wins the annual "last day of school" race around Springfield Elementary School, with help from Nelson, who beats up the frontrunner, Milhouse. Meanwhile, Homer tries to bring back 4th of July fireworks after they are canceled due to budget cuts.
---
25x21 Pay Pal (May 11, 2014)
---
Marge swears off befriending any more couples when Homer offends their charming new British neighbors, but when Lisa declares that she, too, doesn't need friends, Marge reconsiders.
---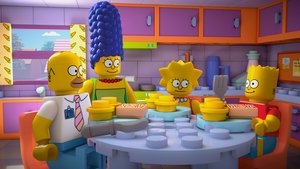 25x20 Brick Like Me (May 04, 2014)
---
Homer wakes up in a Springfield where everyone and everything is made out of Legos, and he must figure his way out before he gets stuck in the plastic world forever.
---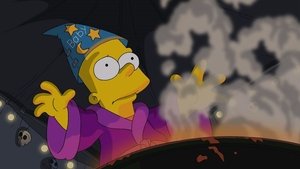 25x19 What to Expect When Bart's Expecting (April 27, 2014)
---
When Bart's voodoo doll spell accidentally makes his teacher pregnant, he becomes a savior to couples hoping to conceive.
---
25x18 Days of Future Future (April 13, 2014)
---
Set in the future, Homer has a new clone for every time he dies. Lisa is married to a zombie version of Milhouse, while Bart deals with custody issues with his ex-wife, Jenda. Each defines what love means to them.
---
25x17 Luca$ (April 06, 2014)
---
Lisa dates a competitive eater; Bart benefits from helping convict Snake Jailbird escape from a jam.
---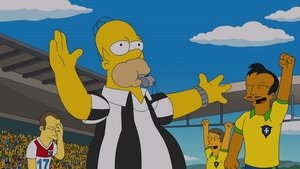 25x16 You Don't Have to Live Like a Referee (March 30, 2014)
---
Homer is recruited as a World Cup referee after Lisa extols his integrity on the youth soccer field in a Springfield Elementary speech contest. But when the Simpsons travel to Brazil (again), Homer finds his honesty tested by one of South America's slickest gangsters in the soccer match-bribing business.
---
25x15 The War of Art (March 23, 2014)
---
After Lisa's new pet guinea pig destroys the Simpsons' living room art, Marge finds a beautiful painting at the Van Houten's yard sale, which Homer snaps up for 20 bucks
---
25x14 The Winter of His Content (March 16, 2014)
---
When Retirement Castle is closed, Marge asks Grampa and two other octogenarians to move in; Nelson befriends Bart after Bart defends him.
---
25x13 The Man Who Grew Too Much (March 09, 2014)
---
During a research trip, Lisa learns that Sideshow Bob is the chief scientist at a big chemical engineering company; Marge tries to teach a teen church group about healthy sexual practices.
---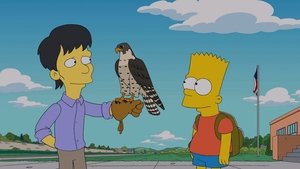 25x12 Diggs (March 09, 2014)
---
A recent transfer student named Diggs (Daniel Radcliffe) rescues Bart from a confrontation with bullies.
---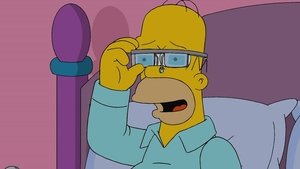 25x11 Specs in the City (January 26, 2014)
---
When Marge tries Homer's new high-tech glasses on, he learns she's seeing a marriage counselor; Bart refuses to buy Nelson a Valentine's Day card.
---
25x10 Married to the Blob (January 12, 2014)
---
When Comic Book Guy meets a woman writing an autobiographical manga, he seeks Homer's advice on dating.
---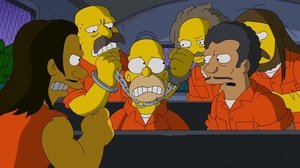 25x09 Steal This Episode (January 05, 2014)
---
Homer becomes annoyed with movie theaters, so Bart teaches him how to download movies illegally. Homer is delighted with his discovery of free movies until he's caught for piracy. Deputy Director Gratman, the FBI's anti-piracy boss, is tasked with hunting down Homer, who stands accused of illegally downloading a film.
---
25x08 White Christmas Blues (December 15, 2013)
---
Springfield is inundated with holiday revelers after the nuclear power plant springs a radiation leak, causing snow to fall all over town. When the tourists drive up Christmas shopping prices, Marge opens up the Simpsons' house to boarders.
---
25x07 Yellow Subterfuge (December 08, 2013)
---
Principal Skinner promises the students that the best-behaved among them can take a ride in a submarine. When Skinner gives all the kids a clean slate, Bart believes even his own past indiscretions will be forgotten if he doesn't get into any more trouble. Meanwhile Lisa tries to help a cash-poor Krusty to turn things around by suggesting he sell the foreign rights to his shows.
---
25x06 The Kid Is All Right (November 24, 2013)
---
Lisa discovers her new best friend is a Republican who is opposing her in the class election.
---
25x05 Labor Pains (November 17, 2013)
---
When Homer helps a woman give birth in an elevator, he forms an emotional attachment to the baby; cheerleaders for the local professional football team recruit Lisa.
---
25x04 YOLO (November 10, 2013)
---
Marge encourages Homer to cross an item off an old to-do list by inviting an old pen pal to visit; Lisa institutes an honor code at school.
---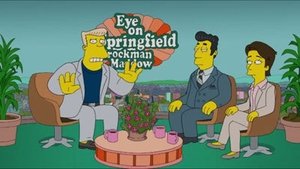 25x03 Four Regrettings and a Funeral (November 03, 2013)
---
Kent Brockman has decided that local news has been a real mistake and a terrible career move for him.
---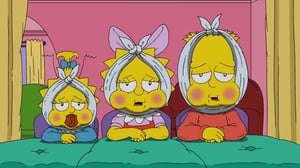 25x02 Treehouse of Horror XXIV (October 06, 2013)
---
---
25x01 Homerland (September 29, 2013)
---
A parody of "Homeland". Homer starts to act strangely polite after returning from a nuclear power plant convention, prompting a suspicious Lisa to ask an intense FBI agent named Annie (Kristen Wiig) to help her solve this mystery.
---