The Thick of It
Season 3
The Thick of It
Season 3
First Air Date: October 24, 2009

| | | |
| --- | --- | --- |
| First Aired on | : | 2009 |
| Episodes | : | 8 episodes |
Episodes
3x08 Episode 8 (December 12, 2009)
---
As the election looms and the Opposition eye the prize, the word around the Westminster Village is that Malcolm Tucker is running out of both options and friends. He may have bitten off more than he can chew with Steve Fleming, but when an offer of help appears from an unlikely direction, Malcolm starts to set his finest trap yet.
---
3x07 Episode 7 (December 05, 2009)
---
Nicola Murray and her team are desperate to find a major sports personality to be the face of DoSAC's new Healthy Choices campaign. Malcolm's away on holiday and doesn't want to be disturbed, so they take advice from Steve Fleming, who's back on the scene as the PM's new fixer. Is Steve really as nice as he seems? Everyone knows Malcolm never takes holidays, so what's he up to now?
---
3x06 Episode 6 (November 28, 2009)
---
With the Prime Minister away at a summit in Spain, Malcolm Tucker is left at home to mind the shop. Just as Nicola Murray is about to launch her Fourth Sector Initiative to the media, the media decide that what they really want is someone to launch another leadership contest. Does Nicola have what it takes and, if she does, can Malcolm take it away from her before she does any damage?
---
3x05 Episode 5 (November 21, 2009)
---
After weeks of trading bitter blows in the press, DoSAC minister Nicola Murray MP and her shadow Peter Mannion MP are invited onto BBC Radio 5Live for a debate on Richard Bacon's late-night phone-in programme. Director of communications Malcolm Tucker and opposition PR guru Stewart Pearson decide to listen in the comfort of their respective offices, but when some breaking news threatens to make things difficult for the politicians, the programme quickly turns into a phone-in like no other. Malcolm and Stewart are left no choice but to start getting their people over to the studios.
---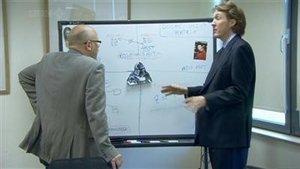 3x04 Episode 4 (November 14, 2009)
---
The civil servants at DoSAC are preparing for a visit from the DoSAC shadow minister Peter Mannion. For Mannion and his team, this informal pre-election briefing is a good opportunity to measure up for new curtains. For Terri Coverley, this principally means putting on a bit more make-up. For Nicola Murray, it is simply another distraction on a day when nothing seems to be going right. All she really wants to do is get Glenn and Olly to kick-start the Fourth Sector Pathfinder Initiative. And then she gets a call.
---
3x03 Episode 3 (November 07, 2009)
---
Nicola Murray is stuck in an Eastbourne hotel bedroom with nothing but a laptop, a printer and a tiny kettle while she and Olly try to finish her speech for the annual party conference. It's not going well. But Glenn has brought in his secret weapon - Julie Price, tragic widow, people's champion and regional photo opportunity. Is this the breakthrough they need, or the start of a tug-of-Julie with Malcolm Tucker?
---
3x02 Episode 2 (October 31, 2009)
---
Nicola Murray MP has only been secretary of state for just over a week, but already there is press speculation on how long she will last. And now someone at the Department of Social Affairs and Citizenship has completely wiped the immigration records of 170,672 people. Who's going to get the blame, who will have to break the news to Malcolm and how will Nicola get through lunch with the staff of the Guardian without revealing the scale of the latest disaster?
---
3x01 Episode 1 (October 24, 2009)
---
Reshuffle day at Number 10. When the job at the Department of Social Affairs and Citizenship is turned down by everybody else, there is no option but to promote unknown quantity Nicola Murry to the Cabinet. The downside is she is very keen, has a husband who works for a company that has government contracts, has an 11-year-old about to go to a private school and is about to face the media at a crucial by-election poster launch. Something will have to be done.
---