Top Gear
Series 4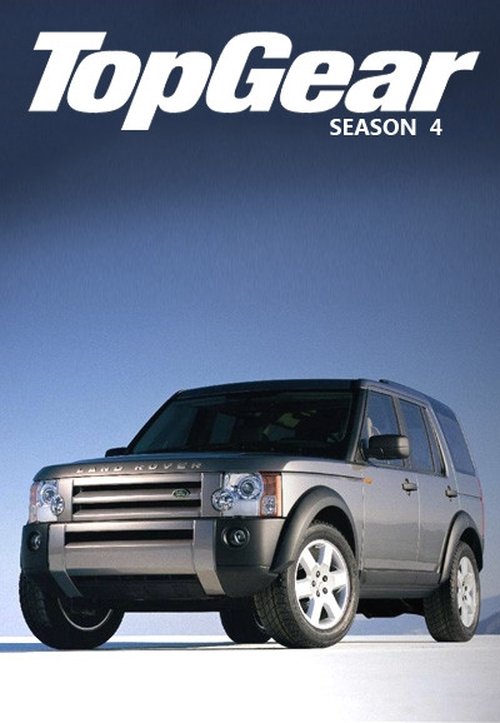 Top Gear
Series 4
First Air Date: May 10, 2004

| | | |
| --- | --- | --- |
| First Aired on | : | 2004 |
| Episodes | : | 10 episodes |
The fourth series of Top Gear began on 9 May 2004, and concluded on 1 August 2004. The series contained 10 episodes. The series was subsequently followed by one "Best Of Top Gear" special, charting the best moments from the series, and "Stars In Fast Cars", a Sport Relief charity special, which later spawned its own series.
Episodes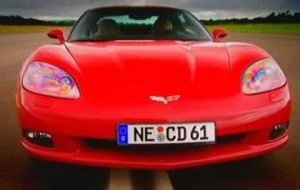 4x10 The Olympic Long Jump Challenge (August 02, 2004)
---
REVIEWS: Peugeot 407 • Volvo V50 • BMW X3 • Chevrolet Corvette C6 CHALLENGE: Hammond drives the Peugeot 407 as a pace car • Car Olympics: long jump Jeremy tests the new BMW X3 and discovers its limitations as an off-road and on-road vehicle. James tries the new Volvo V50 and wonders if it's as good as its rivals, while Richard having clearly drawn the short straw, drives the new Corvette.
---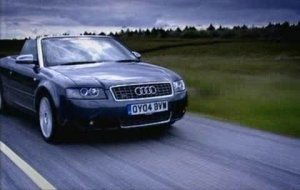 4x09 Best Convertible (July 26, 2004)
---
REVIEWS: Fiat Barchetta • Mercedes-Benz SL600 • Mazda MX-5 • Toyota MR2 • Jaguar X-Type Estate CHALLENGE: May and Hammond search for the best convertible for a town with the least owned • Can you parachute into a moving car? James finds out if it is possible to parachute into a moving car. Jeremy drives the new Jaguar X Type estate and on the Isle of Lewis and Harris - the place in the U.K. with the lowest number of cabriolet owners per-head - Richard and James test a range of cabriolets: the Mini Cabrio, Vauxhall Tigra, Mercedes SLK and the Audi S4. Some "simple, softop sports cars" are also driven by Richard: the Mercedes SL600, Mazda MX5 and the Fiat Barchetta.
---
4x08 Ford GT, Toyota Prius, Maserati Quattroporte (July 19, 2004)
---
REVIEWS: Ford GT • Toyota Prius • Maserati Quattroporte CHALLENGE: Diesel versus Petrol hot hatch race • Blowing over cars using Boeing 747 jetblast James drives the Maserati Quattroporte in Sicily, whilst Jeremy empties the fuel tank of the new Ford GT40 on the track... in Woking. Richard marks the passing of the only decent engine Rover ever built - the Rover V8, with a race at Snetterton in a V8-powered Rover SD1.A Skoda Fabia VRS with a diesel engine, races a petrol-powered Mini Cooper S around the track; there's a exclusive look at the new Mercedes CLS and a Boeing 747 is used to see how far its engines can blow a Mondeo and a Citroën 2CV. Science in action...Martin Clunes is the Star in a Reasonably Priced Car.
---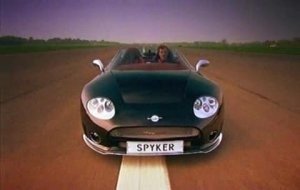 4x07 Mercedes CL 65 AMG, Spyker C8 Spyder (July 12, 2004)
---
REVIEWS: Spyker C8 Spyder • • Renault Scenic • Ford C-MAX CHALLENGE: Hammond and May road test mini MPVs as minicabers James and Richard took to the streets of south London to give two tall hatchbacks a good thrashing by using them as taxis. Jeremy drove a new Mercedes with 'more power than God' and the Spyker C8, a car from of all places, Holland. Lionel Richie is the Star in a reasonably Priced Car.
---
4x06 Renault Clio 182, Jaguar XJS, Nissan Cube (June 14, 2004)
---
REVIEWS: Renault Clio RenaultSport • Jaguar XJS • Cadillac CTS • Nissan Cube CHALLENGE: Can you run a car on poo? Hammond investigates James drives the Jaguar XJS, Richard drives the Cadillac CTS and finds out if methane is a future replacement for petrol. Jeremy drives the Nissan Cube and the Renault Clio. Terry Wogan is the Star in a Reasonably Priced Car.
---
4x05 Hammond Gets Struck by Lightning (June 07, 2004)
---
REVIEWS: MG ZT 260 • BMW 645Ci • Jaguar XK-R • Porsche 911 Carrera 2 • Vauxhall Astra • Mazda 3 • Volkswagen Golf CHALLENGE: Shoot Out: Performance sport coupes on the Pendine Sands • Volkswagen Golf gets electrocuted (with Hammond in it) The boys then take three power machines to Pendine Sands in South Wales: the BMW 645i, the Porsche 911 Carrera 2 and the Jaguar XKR. Also featured, the Vauxhall Astra, the Mazda 3, the Volkswagen Golf and the MG ZT260 are tested and there was an attempt to electrocute Richard. Johnny Vaughan is the (utterly faded) Star in a Reasonably Priced Car.
---
4x04 Car Darts (May 31, 2004)
---
REVIEWS: Porsche Carrera GT • Audi A8 TDi V8 • Ford SportKa CHALLENGE: May and Hammond play 'car darts' • V8 Diesel Audi A8 endurance challenge • Ford SportKa vs. racing pigeons race • Evo vs. STi battle revised In this episode, there's a race between some homing pigeons and a Ford Ka driven by, James. James used satellite navigation and ended up getting lost. Jeremy attempted to drive a diesel-powered Audi A8 Quattro with a V8 engine 800 miles on one tank of fuel. James and Richard played darts with cars and one more caravan was removed from the roads. Also in this episode, the boys pit a Subaru Impreza STi RS against a Mitsubishi Lancer Evo VIII. Ronnie O'Sullivan is the Star in a Reasonably Priced Car.
---
4x03 Porsche 911 GT3 RS, Ferrari 360 Challenge Stradale, 1968 Dodge Charger 440 R/T (May 24, 2004)
---
REVIEWS: Porsche 911 GT3 RS • Ferrari 360 Challenge Stradale • 1968 Dodge Charger 440 R/T CHALLENGE: £100 car challenge Jeremy, James and Richard are challenged to buy a working car for a maximum price of £100. An Audi, a Volvo and a Rover(!) are bought and put though a series of challenges.Richard drives 'the car the bad guy always drove' - the Dodge Charger and the Porsche GT3 RS and the Ferrari 360 CS square up to each other on the track.Jordan is the Star in a Reasonably Priced Car.
---
4x02 Mercedes-Benz SLR McLaren, Alfa Romeo 166, Cadillac Escalade (May 17, 2004)
---
REVIEWS: Mercedes-Benz SLR McLaren • Alfa Romeo 166 • Cadillac Escalade • Ford FAB-1 CHALLENGE: A nun in a monster truck In this episode Richard Hammond was hypnotised by Paul McKenna and convinced that he couldn't remember how to drive. The American 'bling' machine, the Cadillac Escalade, is driven by Richard who probably wished he couldn't drive after five minutes behind the wheel. A nun, Sister Wendy Beckett, drives a monster truck. James drove an enormous pink Ford from 'Thunderbirds' and two Alfa Romeos are featured: the 166 and the 147 GTA. There's also a look at the glorious McLaren Mercedes SLR.Paul McKenna is the Star in a Reasonably Priced Car.
---
4x01 Rover CityRover (May 10, 2004)
---
REVIEWS: Lotus Exige • Rover CityRover • Aston Martin DB9 CHALLENGE: Epic Race: Aston Martin DB9 vs. TGV and Eurostar french fast trains - London to Monte Carlo • Apache Gunship Helicopter vs. Lotus Exige can it missile lock? In an attempt to prove that trains are useless, the team race from the exclusive surroundings of the Top Gear studio in Surrey, to the downbeat Café de Paris, Place du Casino in Monte Carlo. Richard and James take trains (including the high-speed TGV) whilst Jeremy drives an Aston Martin DB9.The show also introduces the Indian-made City Rover. However, Rover wouldn't let anyone on Top Gear drive one, so an ingenious plan was hatched to test the car using covert tactics. An Apache helicopter gunship tries to get missile lock on a Lotus Exige driven by Jeremy - obviously!Fay Ripley is the Star in a Reasonably Priced Car.
---