Top Gear
Series 11
Top Gear
Series 11
First Air Date: June 23, 2008

| | | |
| --- | --- | --- |
| First Aired on | : | 2008 |
| Episodes | : | 6 episodes |
The 11th series of Top Gear was broadcast between 22 June 2008 and 27 July 2008, in show's usual time slot of 8pm on Sunday on BBC Two. The series consists of six episodes. This series included a revised title sequence, following the same visual style as with the sequence used for Series 8 through 10, but incorporating footage from the two prior series. A new character was introduced in the first episode of the series. Also for the first five episodes of this series, the "Star in a Reasonably Priced Car" becomes "Stars in a Reasonably Priced Car", featuring two celebrity guests every week, each one setting an individual laptime. In May 2008, after series producer Andy Wilman held a brainstorming session with the presenters and other production staff, various facts about the upcoming series were released. Wilman confirmed that series 11 would see the presenters, Clarkson, Hammond and May, gain more control over the flow of the show's popular news segment. The series included running jokes appearing in each episode: Clarkson showing an image he claims to have found on "the Internet" which is censored for the television broadcast; and, in the news section, May appearing to feign enthusiasm whilst presenting a brief news item about the Dacia Sandero with no further discussion before they move on to the next item.
Episodes
11x06 Sumo (July 28, 2008)
---
It's an epic age-old rivalry: Britain versus Germany - but this time it's serious. Germany's equivalent of Top Gear - D Motor - is up against dear old Blighty's magnificent original in a series of challenges. Richard drives a new Mazda concept car and James chauffeurs two sumo wrestlers in a rather odd Japanese car.
---
11x05 Fox Hunting (July 21, 2008)
---
A new Ford Mondeo or a used luxury car of yesteryear? Jeremy and James demonstrate which is the wisest choice. Jeremy drives the Nissan GT-R - again, around Japan's Fuji circuit. Stig drives the GT-R around the Top Gear track. Richard indulges in a spot of fox hunting - Top Gear style. Peter Jones and Theo Paphitis are the Star(s) in a Reasonably Priced Car.
---
11x04 Bullet Train (July 14, 2008)
---
In Japan, Jeremy is driving the Nissan GT R, while James and Richard travel on Japan's famous Shinkansen, or Bullet train. On the Top Gear track, the Alfa Romeo 8C is driven by Jeremy and the Stig. Fiona Bruce and Kate Silverton are the Star(s)in a Reasonably Priced Car.
---
11x03 Proper Petrolhead (July 07, 2008)
---
Are you a 'proper petrolhead'? The gospel according to Clarkson says you are not if you haven't owned an Alfa Romeo. So this week the lads are each given £1,000 to buy an Alfa Romeo, which will then be put through a series of challenges. The Bentley Brooklands gets the Clarkson treatment on the track and James Corden and Rob Brydon are the Stars in a Reasonably Priced Car.
---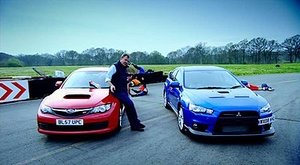 11x02 Cool Wall (June 30, 2008)
---
Jeremy falls in love with the Mercedes CLK Black. Richard races the Audi RS6 Avant against skiers in the Alps and Top Gear Stuntman attempts to recreate a famous stunt from a James Bond film in a MG Maestro. On the track, the Mitsubishi Evo X and Subaru Impreza STi go head-to-head. Rising from the ashes like a phoenix, the Cool Wall returns. Rupert Penry-Jones and Peter Firth are the Stars in a Reasonably Priced Car.
---
11x01 Police Cars (June 23, 2008)
---
The boys are each given £1,000 to buy a police car which will then be used in a dramatic chase. And they most likely will get dented. Jeremy starts the Ferrari 430 Scuderia. James introduces a new member to the Top Gear team. Justin Lee Collins and Alan Carr are the Star(s) in a Reasonably Priced Car.
---