Brotherly Love
Season 2
Brotherly Love
Season 2
First Air Date: September 15, 1996

| | | |
| --- | --- | --- |
| First Aired on | : | 1996 |
| Episodes | : | 24 episodes |
Episodes
2x24 Girl Crazy (May 18, 1997)
---
Julia returns hoping to strike up a relationship with Matt again, but his friends aren't part of her plans. Meanwhile, Andy ""sells his childhood"" at a garage sale.
---
2x23 Mother's Day (May 11, 1997)
---
Mother's Day brings a surprise visit from Joe's hippie mom, who's pregnant and married to an ""aura-photographer"".
---
2x22 We All Scream (2) (May 04, 1997)
---
Matt and Joe nearly come to fisticuffs over Kristin, who's unable to handle the truth when she hears it; and Lou receives an e-mail message from an admirer.
---
2x21 I Scream, You Scream (1) (April 27, 1997)
---
Joe moves in for the kill after Matt claims he's ""just friends"" with Kristin; an ice-cream vendor is a real treat for Andy and for Claire.
---
2x20 Easy Come, Easy Go (April 20, 1997)
---
Andy becomes Joe's good luck charm on a trip to Atlantic City -- for a while. Meanwhile, bad luck crashes the scene when Matt throws his first big party.
---
2x19 Pizza Girl (March 30, 1997)
---
Romance is in the air at the pizza parlor as Matt's co-worker falls for Joe and Andy falls for a young girl who doesn't think his jokes are funny.
---
2x18 Art Attack (February 23, 1997)
---
Lou has some modern art she wants to take to the museum. So Joe helps her carry her work. A woman sees the artwork & thinks Joe did it. So he impresses her by doing some last minute art with help from Andy. Then Joe confesses that the artwork's Lou & not his & that all of these masterpieces were nothing at all. Also, Matt takes up playing the guitar & wants to write a song. Matt tries to find inspiration by his surroundings. When their garbageman Leo pays a visit, Andy tells him he's got a pigeon on his car. Then Matt comes up with a very bad song.
---
2x17 Stealing Beauty (February 16, 1997)
---
Kristin gets Matt a job at a music store, but his future there looks bleak when the manager collars a shoplifter.
---
2x16 The Comet (February 09, 1997)
---
Matt hopes to reinvent himself for a newcomer visiting her grandfather in the neighborhood; Andy fears getting hit by a comet.
---
2x15 Paging Nell (February 02, 1997)
---
Joe is reunited with old friend Nell Bascombe, who needs a new kidney.
---
2x14 Skin Deep (January 19, 1997)
---
Matt's new girlfriend wants him to get a tattoo.
---
2x13 Party Girl (January 12, 1997)
---
Even Joe agrees with Claire that the new girl in Matt's life seems to be out of his league, frequenting after-hour rave parties -- and drinking.
---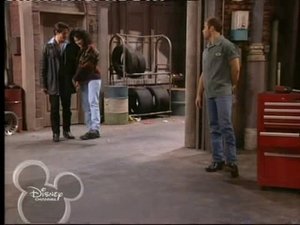 2x12 Power of Love (December 08, 1996)
---
Lloyd quits the garage to fulfill his dreams after he sees a self-help video.
---
2x11 The Driving Lesson (December 08, 1996)
---
A merciless driver's-ed teacher may have Matt's future in mind when he passes out grades, but Joe has only revenge in mind when he rallies Matt, Lloyd and Lou in a pay-back prank on the man.
---
2x10 The Great Indoors (November 24, 1996)
---
Andy's excited about wearing his wilderness badge from the Young Pioneers, but his enthusiasm is dampened when a storm cancels his planned camping trip -- which winds up being staged in the garage.
---
2x09 Downtown Girl (November 17, 1996)
---
Joe regrets the path his life has taken after running into a once-unpopular classmate who's now headed for rock stardom.
---
2x08 Kernel of Truth (November 10, 1996)
---
Andy figures he won't get into any more trouble in school if Joe dates his teacher, Claire meets a potential date at the supermarket; and psychology student Matt fears he may have obsessive-compulsive disorder.
---
2x07 Motherly Love (November 03, 1996)
---
Lloyd's RV-driving mom visits as Joe is pushing to enter Andy in a pine-box derby -- to prevent a smarmy business rival's son from beating Matt's previous winning record.
---
2x06 Big Mike (October 20, 1996)
---
The boys' lovable grandpa Big Mike rolls into town in a big rig and for a time endears himself to Joe---with some promises he can't keep.
---
2x05 Viva la fraternite (October 13, 1996)
---
Both Joey and Matt ask Andy's new baby sitter for a date.
---
2x04 Other People (October 06, 1996)
---
Joe and Lou agree to be ""just friends"" and date others, but Joe fumes when Lou's ""other person"" is someone he doesn't know -- and then he unwittingly asks out Lou's best friend. Puppeteer Marc Weiner appears as himself.
---
2x03 Claire's First Date (September 29, 1996)
---
Claire has butterflies as she prepares for a first date. So do Matt and Andy, who fear that a newcomer will replace their dad.
---
2x02 Joe at 21 (September 22, 1996)
---
Perched at a bar on his 21st birthday, Joe reminisces about his dad and about turning 16, while at home Claire and the gang plan what they hope will be a nifty surprise party -- but Joe ruins the surprise by coming home drunk.
---
2x01 Lord of the Guys (September 15, 1996)
---
The boys fend for themselves when Claire goes to a spa for the weekend.
---