Dog with a Blog
Season 2
Dog with a Blog
Season 2
First Air Date: September 20, 2013

| | | |
| --- | --- | --- |
| First Aired on | : | 2013 |
| Episodes | : | 24 episodes |
Episodes
2x24 The Kids Find Out Stan Blogs (September 12, 2014)
---
Stan's blog is accidentally submitted as Bennett's latest book and the kids must work together to protect Stan's secret.
---
2x23 Karl Finds Out Stan's Secret (August 22, 2014)
---
Karl, the James-Jennings' family neighbor, reveals to the kids that he knows Stan's secret.
---
2x22 Stan Gets Schooled (August 15, 2014)
---
Stan uses a computerized robot to go to school with Avery and Tyler where he feels pressured into deciding if he should join Avery or Tyler's social circle.
---
2x21 The Mutt and the Mogul (August 01, 2014)
---
Wealthy business tycoon Tom Fairbanks wants to buy Stan from the James-Jennings family to use him as a spokes-dog for his animal rescue campaign. Fearful that Bennett and Ellen might say yes, Avery, Tyler and Chloe hire actors to play their parents and turn down the offer before they are approached.
---
2x20 Pod People from Pasadena (July 25, 2014)
---
Avery learns she's been selected to create a float for her town's parade and is excited to spend some quality time with her father to build it. Meanwhile, Chloe watches a sci-fi movie that leads her to believe her family is being taken over by aliens and that the parede float they are costructing is really a spaceship
---
2x19 Stuck in the Mini with You (July 18, 2014)
---
Avery and Ellen go on a mother/daughter trip and leaves Bennett in charge of getting Chloe ready for her dance recital.
---
2x18 Will Sing for Food Truck (June 20, 2014)
---
Tyler makes a commercial for his boss' food truck business.
---
2x17 How I Met Your Brother and Sister (June 13, 2014)
---
Avery, Tyler and Chloe try to plan something special for their parents' upcoming anniversary.
---
2x16 Love, Loss and a Beanbag Toss (May 16, 2014)
---
Avery doesn't understand why Wes is keeping his distance, but ultimately learns he is nervous to tell her that he is moving away.
---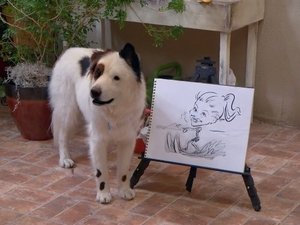 2x15 Who's Training Who? (April 11, 2014)
---
When Stan acts up, Ellen hires strict animal instructor Cherri Pickford to help train him. When Stan does not comply, Ellen goes against the kids' wishes and demands he stay outside.
---
2x14 The Green-Eyed Monster (April 04, 2014)
---
Stan unintentionally gets Avery and Wes to break up and try to get them back together.
---
2x13 Avery-body Dance Now (March 21, 2014)
---
Avery is excited to attend the school dance with Wes and secretly seeks dance lessons from her neighbor, Karl. However, things do not turn out as planned when Wes becomes suspicious of Avery spending so much time with Karl.
---
2x12 I Want My Nikki Back, Nikki Back, Nikki Back (March 07, 2014)
---
When Tyler decides to try and get Nikki back as his girlfriend, Avery is hesitant to help him for fear of being caught between her friend and brother, but ultimately intervenes.
---
2x11 Stan Runs Away (February 28, 2014)
---
The constant fighting between the kids leads Stan to run away
---
2x10 Love Ty-Angle (February 21, 2014)
---
After Tyler's friendship with Nikki begins to interfere with his relationship with his girlfriend Emily, he has to make an tough choice between the two.
---
2x09 Avery B. Jealous (January 24, 2014)
---
After Avery blows her chance with Wes, she finds out he asks Lindsay on a date instead. Avery and Lindsay get in a big fight and decide to compete for Wes. Wes finds out about Avery's feelings and how she has a crush on him.
---
2x08 Lost in Stanslation (January 10, 2014)
---
When Avery agrees to tutor Wes in Spanish so she can hang out with him, she needs to learn Spanish herself, first. So she enlists Nikki to tell her what to say through an earpiece that she'll be wearing, but when Nikki and Tyler start arguing, Avery's still repeating everything they say.
---
2x07 Twas the Flight Before Christmas (December 06, 2013)
---
When Ellen's self-obsessed sister comes over, due to a flight delay to Hawaii, Avery tries to help her mom to get through the visit. Meanwhile Stan, Tyler, and Chloe attempt to hide a stray dog named Sparky in the house for Christmas.
---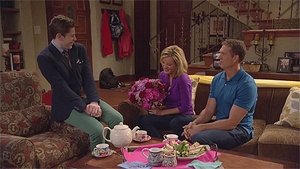 2x06 Don't Karl Us, We'll Karl You (November 22, 2013)
---
After Tyler, Avery, and Chloe have to hang out with their annoying neighbor, Karl, they quickly come up with a plan to keep him away.
---
2x05 Tyler Gets a Grillfriend (November 01, 2013)
---
Tyler works with Emily in the food truck and they hit it off.
---
2x04 Stan Makes His Mark (October 11, 2013)
---
Stan makes a video about being the world's first talking dog to leave as his legacy, but the parents grow suspicious of what's on the tape, so the kids must record over it. Meanwhile, Ellen decides to take a job with Stan's veterinarian, but soon learns she may not be well suited for it.
---
2x03 Howloween (October 04, 2013)
---
Avery refuses to help the family with their annual haunted house.
---
2x02 Good Girl Gone Bad (September 27, 2013)
---
Avery arrives at school and learns that she's been left out of "ditch day."
---
2x01 Too Short (September 20, 2013)
---
On the first day of school, Avery feels insecure when noticing her classmates' growth spurts over the summer; Tyler reveals a new haircut.
---