Finding Your Roots
Season 3
Finding Your Roots
Season 3
First Air Date: January 05, 2016

| | | |
| --- | --- | --- |
| First Aired on | : | 2016 |
| Episodes | : | 10 episodes |
Dr. Gates explores the genealogy of celebrities using the records left behind and DNA technology.
Episodes
3x10 Maps of Stars (March 08, 2016)
---
Learn how Dustin Hoffman and Mia Farrow, who last shared the screen together in 1969, also share a history of tragic deaths in their families that played major roles in shaping future generations.
---
3x09 The Long Way Home (March 01, 2016)
---
Discover how actress Julianna Margulies, author Azar Nafisi and chef Lidia Bastianich are bound together by their ancestors' singular and deeply human desire to preserve their most cherished traditions.
---
3x08 The Pioneers (February 23, 2016)
---
Discover how Neil Patrick Harris, Gloria Steinem and Sandra Cisneros are connected to pioneers who broke new ground and paved the way for their modern day descendants to continue shaping our culture.
---
3x07 Family Reunions (February 16, 2016)
---
Uncover family mysteries about two legends of hip hop, Sean Combs and LL Cool J, through the use of DNA technology, which reveals information that shakes their very foundations.
---
3x06 War Stories (February 09, 2016)
---
Patricia Arquette, Senator John McCain, and Julianne Moore explore their genealogical heritage with Henry Louis Gates, Jr.
---
3x05 Visionaries (February 02, 2016)
---
Discover how the ancestors of business mogul Richard Branson and architects Maya Lin and Frank Gehry took audacious risks to create opportunities, and how their luck, ingenuity and chutzpah was passed on to these three visionaries.
---
3x04 Tragedy + Time = Comedy (January 26, 2016)
---
Uncover a history of tragedies and triumphs in the families of three of America's funniest men–Jimmy Kimmel, Norman Lear and Bill Hader—as they learn how comedy truly has its place in all aspects of life.
---
3x03 In Search Of Freedom (January 19, 2016)
---
Learn how the ancestors of Maya Rudolph, Shonda Rhimes and Keenen Ivory Wayans struggled for freedom, and how each of these cultural trailblazers gain a new understanding of how they fit into this proud trajectory.
---
3x02 The Irish Factor (January 12, 2016)
---
Explore the shared Irish ancestry of three powerful social commentators of our times, Bill Maher, Soledad O'Brien, and Bill O'Reilly.
---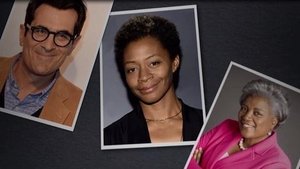 3x01 The Stories We Tell (January 05, 2016)
---
Discover the unsolved mysteries behind the family stories of political organizer Donna Brazile, actor Ty Burrell and artist Kara Walker as they learn how the legacy of slavery has shaped their identities.
---