Last of the Summer Wine
Season 3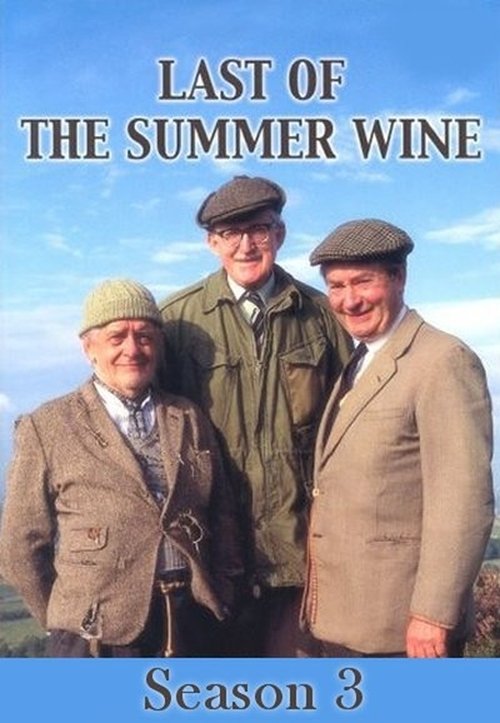 Last of the Summer Wine
Season 3
First Air Date: October 27, 1976

| | | |
| --- | --- | --- |
| First Aired on | : | 1976 |
| Episodes | : | 7 episodes |
Last of the Summer Wine's third series originally aired on BBC1 between 27 October 1976 and 8 December 1976. All episodes from this series were written by Roy Clarke and produced by Sydney Lotterby. Five episodes were directed by Sydney Lotterby but two, the two parter, "The Great Boarding House Bathroom Caper" and "Cheering Up Gordon", were directed by Ray Butt. Although none of the episodes from series 3 made it into the top ten programmes of the week on their initial screening, a repeat showing of the final episode, "Isometrics and After," attracted 15 million viewers during a repeat screening in spring 1977. Also notable was the inclusion for the first time of a two-part episode consisting of "The Great Boarding House Bathroom Caper" and "Cheering Up Gordon," both featuring guest appearances by Philip Jackson as Compo's nephew, Gordon. Blake Butler reprises his role from the first series as the librarian, Mr. Wainwright, before departing the show again at the end of the year. The most notable change this season, however, was the addition of Brian Wilde as the new third-man of the trio, Foggy Dewhurst, an ex-military sign painter. Wilde would play this role twice: between 1976 and 1985 and then again from 1990 until 1997, when he was forced to leave due to health problems.
Episodes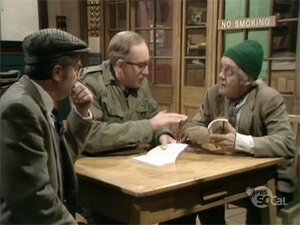 3x07 Isometrics And After (December 08, 1976)
---
Foggy decides Compo and Clegg are not as fit as they should be. The path back to physical fitness is isometrics-or is it? Maybe... not.
---
3x06 Going To Gordon's Wedding (December 01, 1976)
---
It's Gordon's wedding day and, as always, problems are near. this time they appear with a face and a name: Big Malcolm. As always it's up to the trio to see that the wedding ends properly, but not without some incidents in between.
---
3x05 The Kink In Foggy's Niblick (November 24, 1976)
---
When Foggy discovers his old golf clubs in the attic of his home, he takes Compo, Clegg and Sid for a little practice of "the noble sport".
---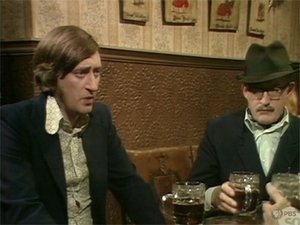 3x04 Cheering Up Gordon (November 17, 1976)
---
When the trio notices Compo's nephew Gordon is depressed, they come up with various ways of cheering him up.
---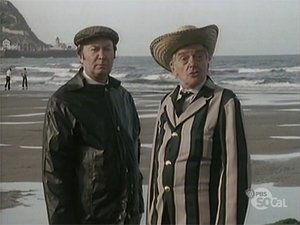 3x03 The Great Boarding House Bathroom Caper (November 10, 1976)
---
The trio takes takes a little holiday in Scarborough, but what's the deal with Compo's cardboard box?
---
3x02 Mending Stuart's Leg (November 06, 1976)
---
Mr Wainwright is back in town, and quickly throws the trio out of the library. The trio goes back to the cafe, where Ivy is having the usual battle of wits with Sid. There they meet with Stuart, and old man who's having a strange click in his leg. Later the trio helps Sid to mend a whole in the roof of the cafe with the usual disastrous results. Meanwhile Wainwright dates the new female librarian.
---
3x01 The Man From Oswestry (October 27, 1976)
---
Compo is bored. Since Cyril Blamire left for Oswestry, to live with a woman, things have been a bit too calm for him in town. But soon, Clegg brings the solution to all their boredom. A letter from Blamire asking them to welcome home an old fried of his, called Foggy Dewhurst, and help him cope with the sudden changes in his life, after he was more or less forced to retire. Compo and Clegg meet with the new "third man", the war hero Foggy Dewhurst, who because of his peculiar life and his endless wartime stories soon makes his presence noted around town. His military posture, and his "murderous" impulses only get him in a fight with Big Malcolm, and his military precision doesn't seem to be a great help, when the trio tries to carry Foggy's heavy wartime luggage up a hill.
---