Last of the Summer Wine
Season 28
Last of the Summer Wine
Season 28
First Air Date: July 15, 2007

| | | |
| --- | --- | --- |
| First Aired on | : | 2007 |
| Episodes | : | 10 episodes |
Episodes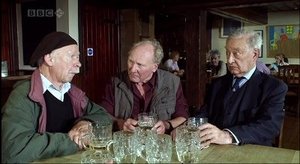 28x10 Sinclair And The Wormley Witches (September 23, 2007)
---
While standing on a hillside admiring the view, Alvin, Truly, and Entwistle get stoned by a stranger. Smiler does some witchcraft. Pearl & Nelly track Howard.
---
28x09 In Which Howard Remembers Where He Left His Bicycle Pump (September 16, 2007)
---
Pearl, Miss Davenport, Nora Batty, Nelly, Ivy, and Glenda have entered a baking contest. Howard runs into an old flame while out with Truly, so he takes it upon himself to help the two get back together.
---
28x08 Must Be Good Dancer (September 09, 2007)
---
Tom decides that Smiler should answer an ad looking for a dance partner so Truly and gang decide to turn him into "Fred Astaire"; Barry has Glenda help him find the mysterious squeak in his car.
---
28x07 The Crowcroft Challenge (September 02, 2007)
---
Alvin and Truly tie one on in a bar and Alvin volunteers to complete the Crowcroft Challenge - a task that has never been completed. Howard volunteers when he realizes that he might be able to get together with Marina during the Challenge.
---
28x06 Elegy for Small Creature and Clandestine Trackbike (August 26, 2007)
---
Howard has purchased a track bike and is desperate to hide it from Pearl.
---
28x05 Will The Nearest Alien Please Come In (August 19, 2007)
---
Science-fiction addict Kevin believes aliens from outer space may have landed. Truly, Clegg and Alvin help to convince him he is right.
---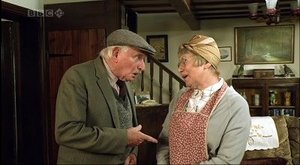 28x04 In Which Howard gets Double Booked (August 12, 2007)
---
Howard decides it's time to take Pearl out for a dinner to the "Fox and Duck" - so Pearl invites Nelly to come with, and Truly invites Marina to go with, now if only Howard knew about it.
---
28x03 Variations on a Theme of Road Rage (August 05, 2007)
---
Howard feels he has out grown the bicycle so he purchases a car from a woman who says it reminds her too much of her late-husband.
---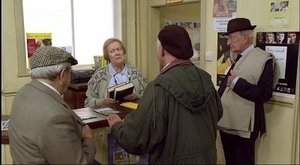 28x02 What Happened to the Horse? (July 29, 2007)
---
What starts out as a good joke on Howard gets a life of its own when Truly invents a ghost story that involves a local wooden area.
---
28x01 The Second Stag Night of Doggy Wilkinson (July 15, 2007)
---
An old friend, Doggy, is almost 80 and getting married again - so The Boys take him out for his bachelors party complete with arranged special lady ... But what starts out as a boring dry affair soon gets pronounced as "better than my first stag" by the groom.
---