Jessie
Season 2
Jessie
Season 2
First Air Date: October 05, 2012

| | | |
| --- | --- | --- |
| First Aired on | : | 2012 |
| Episodes | : | 26 episodes |
Episodes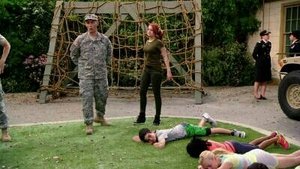 2x26 GI Jessie (September 13, 2013)
---
When Jessie's dad invites her out to the military camp to visit, Jessie and the kids embark on what should be a pleasant vacation, however when they arrive Jessie is shocked by some news her dad reveals. Not only that Jessie also meets her long time rival Darla again whose younger brother Caleb takes a shine to Emma. Emma and Caleb try to make their relationship work while Jessie and Darla do everything they can to try and break them apart.
---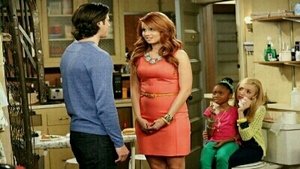 2x25 Break-Up and Shape-Up (August 23, 2013)
---
Tony and Jessie attempt to make each other jealous by asking their exes on a double-date, causing the duo to break their dating relationships, which also saddens Emma & Zuri in the process. Meanwhile, Luke & Ravi attempt to sabotage each others' plans on how to relieve Bertram's stress level. Unfortunately, this leads Bertram into thinking that the Ross brothers don't actually care about him. Also, he's hypnotized into thinking that he's a stray tomcat.
---
2x24 Diary of a Mad Newswoman (August 09, 2013)
---
Jessie post a secret and Zuri reads it and thinks that Jessie is an alien, but Zuri tries to make Jessie to think that she's and alien too.
---
2x23 The Jessie-nator: Grudgement Day (July 26, 2013)
---
Future Jessie appears from a time machine to warn present Jessie that Ravi will cause a threat to her future life.
---
2x22 Throw Mamma from the Terrace (July 12, 2013)
---
Jessie invites Bertram's mom out for his birthday. However, Bertram doesn't like his mom that much because she always steals the spotlight. Now, Jessie needs to bring the two together. Meanwhile, Ravi and Luke work on a science project together.
---
2x21 Panic Attack Room (July 05, 2013)
---
Luke, Ravi, Zuri, and Stewart get locked in the penthouse panic room.
---
2x20 Quitting Cold Koala (July 05, 2013)
---
At a slumber party, Luke calls Jessie to pick him up because he misses Kenny, With Jessie's guidance Luke decides that it's time to give up Kenny his stuffed koala, so he tries to spend one night without Kenny and gives him to Jessie to take care of. He was probably able to make it but when Jessie tried to give it back to Luke she ended up dropping him into traffic therefore cutting his arm and head off off but Stewart thinks he can fix Kenny by performing emergency surgery.
---
2x19 Punch Dumped Love (June 28, 2013)
---
Emma sneaks out to the school dance to warn Luke that his new crush is going to dump him. Luke gets relationship advice from Adam Sandler. Zuri and Ravi set traps for a burglar.
---
2x18 Somebunny's in Trouble (June 21, 2013)
---
Jessie loses a pet bunny. Emma gets Luke to help her learn more about sports to impress a guy at school.
---
2x17 We Don't Need No Stinkin' Badges (June 07, 2013)
---
Jessie offers to help Zuri earn scout badges during a camping trip to Central Park. Luke convinces Ravi that lying is a super power.
---
2x16 All The Knight Moves (May 03, 2013)
---
After Jessie and Ravi discover that Zuri is a chess prodigy, Jessie enters Zuri into a chess competition where she can win two tickets for a trip to Paris. Meanwhile, while watching a show about unsolved crimes, Luke and Emma start to believe that Bertram is the "Scuba Bandit" and try to prove this – however, Bertram finds out and forces them to be his crime assistants.In the end, Zuri throws the match so that her opponent can go home to Paris to see his family and make amends, and Luke and Emma discover that Bertram isn't really the Scuba Bandit – he was just pretending to get back at them for believing that he was, but when they're watching the show again, they start to believe that Jessie is the Sweetheart Thief as the episode ends.
---
2x15 Kids Don't Wanna Be Shunned (April 26, 2013)
---
Emma gets upset when her friends gravitate to the new girl in school; Ravi helps Luke with a project about India.
---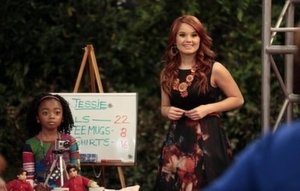 2x14 Why Do Foils Fall in Love? (April 19, 2013)
---
When Tony forgets their first anniversary, Jessie composes an angry ballad that goes viral. Luke tries to help build Ravi's self-esteem.
---
2x13 To Be Me or Not to Be Me (April 05, 2013)
---
Jessie and the Ross kids meet Tony's family.
---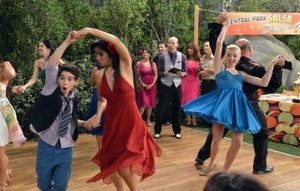 2x12 Toy Con (March 08, 2013)
---
Zuri must get back a cherished toy that Jessie passed on to her after she trades it to a toy collector. Luke and Emma prepare Bertram for a Salsa dancing contest to win his crush's heart.
---
2x11 Pain in the Rear Window (March 01, 2013)
---
Luke breaks his leg in a dancing accident at the school carnival. Since he is wheelchair-ridden, he stays on the terrace of the penthouse and notices a suspicious figure dressed in black at the carnival. He enlists Emma's help to find out who the shadowy figure is, and it is revealed to be Bertram.
---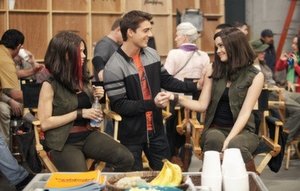 2x10 Jessie's Big Break (February 15, 2013)
---
Jessie gets her big break as a stunt double to popular Australian actress Shaylee Michaels and the two become fast friends. But chaos ensues when the movie's director and Shaylee's boyfriend, MCD , asks Jessie out on a date. Meanwhile, Emma helps sneak Zuri's pet zebra into the penthouse.
---
2x09 Teacher's Pest (February 01, 2013)
---
Zuri is having problems with a teacher at school, so Jessie volunteers in her classroom so she can assess the situation.
---
2x08 Say Yes to the Messy Dress (January 18, 2013)
---
Jessie offers to introduce the kids to NBA All-Star Chris Bosh, who's in town to play one of Luke's favorite local basketball teams at the park.
---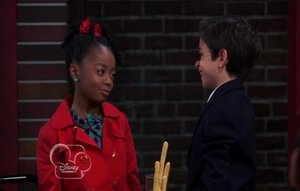 2x07 The Trouble with Tessie (January 11, 2013)
---
Jessie and the Ross kids meet Tony's family.
---
2x06 Nanny in Miami (II) (December 07, 2012)
---
It's a big night for Jessie and the kids when Emma manages to steal Austin Moon's shoe during his performance at Times Square on New Year's Eve and Bertram manages to lose Zuri in the massive crowd. Jessie seizes the opportunity to show Austin and Ally some of the songs she has written. The Austin & Jessie & Ally All Star New Year crossover starts on Austin & Ally S02E06 Big Dreams & Big Apples (I).
---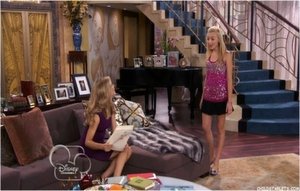 2x05 Trashin' Fashion (November 30, 2012)
---
Christina is having a fashion show and is worried that the owner of a fashion blog, Tippi Trashbot, will give her show a bad review.
---
2x04 101 Lizards (November 09, 2012)
---
Ravi is having trouble finding a home for all 12 of Mr. Kipling's baby lizards.
---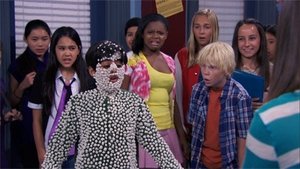 2x03 Make New Friends But Hide the Old (November 02, 2012)
---
It's the first day of the new school year. Luke brings Kenny the Koala to school, but it falls out of his backpack. Ravi tries to cover for Luke and says that it's his, causing him to be made fun of. Meanwhile, it's Emma's first day of high school and she meets an interesting new friend, Rosie.
---
2x02 Green-Eyed Monsters (October 26, 2012)
---
Jessie joins a comedy improv class and Tony goes to embarrassing lengths to prove his love for Jessie. Meanwhile, Ravi recruits Zuri to help him babysit Mrs. Kipling's baby lizards.
---
2x01 The Whining (October 05, 2012)
---
The Ross kids become concerned that history is repeating itself after a scary old doorman tells them a building legend about a nanny who did "something terrible" to the kids in her care on Halloween. Meanwhile, Jessie and Tony work together to crash an exclusive Halloween party so Jessie can give her short story to a famous magazine editor.
---