Frasier
Season 2
Frasier
Season 2
First Air Date: September 20, 1994

| | | |
| --- | --- | --- |
| First Aired on | : | 1994 |
| Episodes | : | 24 episodes |
The second season of Frasier originally aired from September 20, 1994 to May 23, 1995 on NBC.
Episodes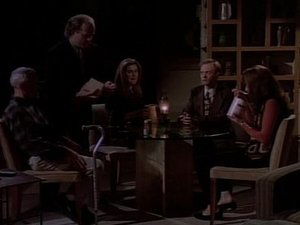 2x24 Dark Victory (May 23, 1995)
---
Martin's birthday finds everyone in a bad mood. Daphne and Martin are arguing, Niles loses a patient because of Frasier, etc. A citywide power outage does nothing to soothe jangled nerves. Frasier uses his professional training to help bring everyone together.
---
2x23 The Innkeepers (May 16, 1995)
---
Frasier and Niles open their own restaurant, "Les Frères Heureux" (The Happy Brothers). When Opening Night arrives, everything that can go wrong does.
---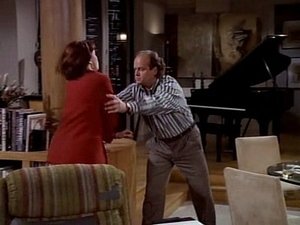 2x22 Agents in America, Part III (May 09, 1995)
---
On Bebe's advice, Frasier stages a "sick-out" to finagle a pay raise. After the station paints over his parking space, cleans out his cubicle and auditions replacements, Frasier demands that Bebe negotiate. Of course with Bebe, negotiations are never simple.
---
2x21 An Affair to Forget (May 02, 1995)
---
Niles takes up a sword to fence for Maris' honor after a caller to Frasier's show gives Frasier the idea that Maris is having an affair with her fencing instructor.
---
2x20 Breaking the Ice (April 18, 1995)
---
Frasier realizes that his father has never told Frasier he loves him, so Frasier tags along with Niles and Martin on an ice-fishing trip to try to get closer to his father.
---
2x19 Someone to Watch over Me (March 28, 1995)
---
Frasier becomes convinced a crazy fan is stalking him and hires a female bodyguard to protect him at the Sea Bee broadcasting awards.
---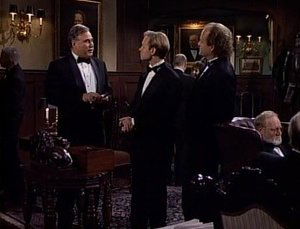 2x18 The Club (March 21, 1995)
---
Niles and Frasier sabotage each other's chances for acceptance into Seattle's prestigious Empire Club.
---
2x17 Daphne's Room (February 28, 1995)
---
Daphne decides to move out of the Crane residence after Frasier continually invades the privacy of her room.
---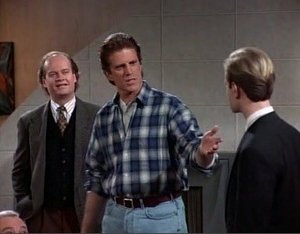 2x16 The Show Where Sam Shows Up (February 21, 1995)
---
Frasier receives a surprise visit from his Boston buddy Sam Malone, who just left his girlfriend standing at the altar.
---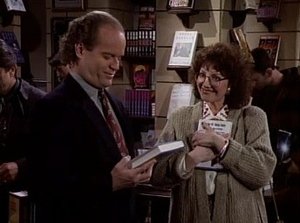 2x15 You Scratch My Book... (February 14, 1995)
---
Frasier agrees to write an introduction to a new book by a pop psychologist. After reading the book, Frasier realizes he can't endorse it, but he's so attracted to Dr. Honey he can't find a way to turn her down.
---
2x14 Fool Me Once, Shame On You... (February 07, 1995)
---
A conniving man steals Frasier's briefcase, then goes around Seattle impersonating Frasier.
---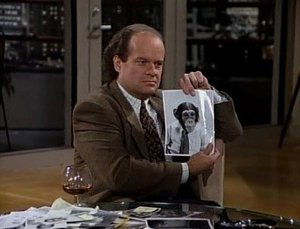 2x13 Retirement Is Murder (January 10, 1995)
---
Martin tries to solve a case he's been unable to close for years: the "Weeping Lotus" murder, involving a prostitute, a cop and a monkey.
---
2x12 Roz in the Doghouse (January 03, 1995)
---
Roz accepts an offer from Bulldog to produce his sports show, ignoring Frasier's protests that Bulldog's only trying to seduce Roz.
---
2x11 Seat of Power (December 13, 1994)
---
Frasier calls in a plumber who just happens to be Danny Kriezel, the bully who terrorized Niles back in high school.
---
2x10 Burying a Grudge (November 29, 1994)
---
While visiting Maris at the hospital (she's having a face-lift), Frasier finds Martin's old partner Artie. He convinces Martin, who hasn't spoken with Artie in years, to patch up their differences.
---
2x09 Adventures in Paradise (2) (November 22, 1994)
---
Frasier makes a fool of himself in Bora Bora, obsessed with one-upping Lilith.
---
2x08 Adventures in Paradise (1) (November 15, 1994)
---
Frasier takes a date to Bora Bora...and runs into an unexpected person.
---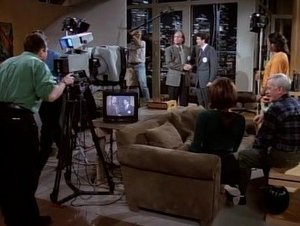 2x07 The Candidate (November 08, 1994)
---
Frasier agrees to make a television commercial for his candidate of choice in a local election, only to learn some very distressing information moments before they film.
---
2x06 The Botched Language of the Cranes (November 01, 1994)
---
Frasier's advice to a caller prompts criticism after he offends all of Seattle. To get back in their good graces, Frasier agrees to emcee a charity benefit, which in true Crane style only leads to further calamity.
---
2x05 Duke's We Hardly Knew Ye' (October 18, 1994)
---
Niles and Frasier can't bring themselves to tell Martin that they're investors in the group tearing down his favorite bar.
---
2x04 Flour Child (October 11, 1994)
---
With Niles unsure he's ready for the responsibilities of fatherhood, he takes to carrying a ten-pound sack of flour around Seattle to simulate a child.
---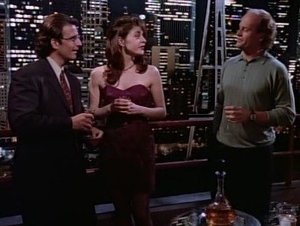 2x03 The Matchmaker (October 04, 1994)
---
Frasier sets up a date for Daphne with the new station manager, Tom, unaware that Tom is gay and believes he's actually dating Frasier.
---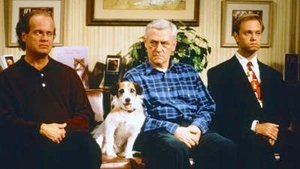 2x02 The Unkindest Cut of All (September 27, 1994)
---
After Eddie impregnates a neighbor's dog, it's decided it's time for Eddie to get neutered. As Niles and Frasier try to catch Eddie, he flees out the door and into Seattle.
---
2x01 Slow Tango in South Seattle (September 20, 1994)
---
Frasier discovers that an old acquaintance from Boston has written a steamy romance novel that includes an incident from Frasier's life, an affair with his piano teacher when he was only 17. Fearing the exposure could embarrass his teacher, Frasier pays her a visit and finds she's not quite what he expected.
---