Frasier
Season 11
Frasier
Season 11
First Air Date: September 23, 2003

| | | |
| --- | --- | --- |
| First Aired on | : | 2003 |
| Episodes | : | 24 episodes |
The 11th and final season of the American situation comedy television series Frasier originally aired from September 23, 2003 to May 13, 2004 on NBC. On May 13, 2004 a special episode, "Analyzing the Laughter" was shown.
Episodes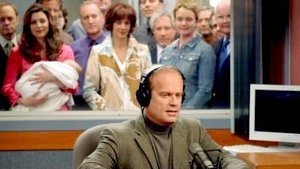 11x24 Goodnight, Seattle (2) (May 13, 2004)
---
Daphne gives birth to a healthy son, David. Frasier marries Martin and Ronee in the vet's office before Daphne and the baby leave for the hospital. Frasier grows very lonely with Martin out of the apartment and Daphne and Niles busy with their son. He decides to take the San Francisco job. Roz is named Kenny's replacement as station manager, and gives Noel a kiss during her celebration! Frasier tells his family and Roz about his upcoming move, following a misunderstanding that leads them to believe he is dying. He promises to visit frequently. Frasier makes a speech to the group, and again on his final show at KACL, about the importance of taking chances. His seatmate on the plane thanks him for the stimulating conversation as their plane finally lands...in Chicago.
---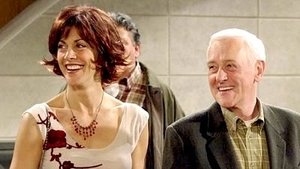 11x23 Goodnight, Seattle (1) (May 13, 2004)
---
During an especially bumpy flight, Frasier tells a fellow passenger about his eventful past few weeks, which are recounted in a long flashback. Bebe tells Frasier that he has been offered the chance to replace a recently deceased San Francisco radio host. Frasier declines because he is happy with his life in Seattle. She believes he is just playing hardball, and later approaches him again with an offer of a higher salary and the bonus of a regular morning television gig. Frasier accidentally misses part of his show after engaging in a "matinee" with Charlotte. Kenny fills in for him, and enjoys being on the air so much that he decides to quit his job and go back to being a disc jockey.
---
11x22 Crock Tales (May 04, 2004)
---
As Frasier prepares for a dinner party, he considers throwing away an old broken crock pot. However, the crock pot stirs many memories of past experiences with his friends and family. Among the times he recalls are getting accidentally super-glued to a blind date after Martin tried to repair the pot; a birthday party for Roz that found Niles and Daphne feeling especially amorous.
---
11x21 Detour (April 27, 2004)
---
Frasier offers Charlotte a ride to the train station, as she is headed to Portland to give a speech at a businesswomen's convention. She seems evasive when he tries to make future plans, so he insists that she explain what is wrong. She tells him that she is moving back to Chicago in three weeks, and doesn't think they should keep seeing each other because it will just make saying goodbye more painful. Charlotte ends up missing her train as they talk.
---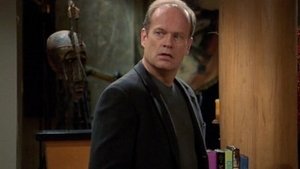 11x20 And Frasier Makes Three (April 20, 2004)
---
In attempt to woo Charlotte away from her current boyfriend, Frank, Frasier begins spending a great deal of time with the two of them. However, all of Frasier's efforts to impress Charlotte end up leading him to bond with Frank.
---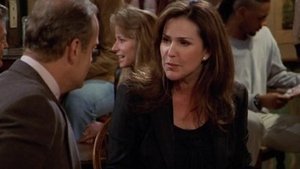 11x19 Miss Right Now (April 06, 2004)
---
Martin worries about a visit from Ronee's mother. She dislikes him because she once saw Martin innocently comforting the teenage Ronee and assumed he was trying to "take her virtue." Meanwhile, Frasier continues to find himself consumed by thoughts of Charlotte. Roz recommends that he get over it by going to a bar and picking up someone. Frasier quickly makes a connection with a woman named Kim, and they go back to his apartment.
---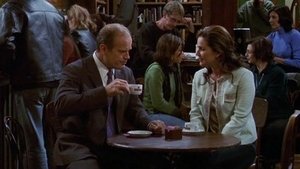 11x18 Match Game (March 30, 2004)
---
Frasier hires a professional matchmaker, but winds up going on a series of increasingly disasterous dates. Meanwhile, Niles and Daphne take things a bit too far while trying to get the most out of Daphne's pregnancy.
---
11x17 Coots and Ladders (March 16, 2004)
---
A panicked Frasier calls Niles over to the apartment and says that he has committed a crime. He explains the series of events that led up to this. When Frasier was overcome by a coughing fit, Roz took over the show and advised a caller to seek counseling to deal with kleptomania, which she described as being the result of someone needing the thrill of stealing to deal with the emptiness in his or her life. Frasier congratulated her on knowing what to say, but Roz said that it was easy because he is so predictable.
---
11x16 Boo! (March 02, 2004)
---
Frasier treats a woman who has a phobia about clowns. He plans to don a clown costume and full make-up as part of her treatment. Martin sneaks into Frasier's office and scares him by coming up behind him with one of Frasier's masks over his face. Frasier does not find this amusing, so Martin repeatedly teases him about being a "fuddy-duddy." Frasier decides to retaliate for the prank. He tells Martin that he is leaving the apartment, then puts on the clown costume and rings the doorbell. When Martin comes out to answer it, Frasier jumps out, wielding a cleaver. Martin collapses and suffers a mild heart attack. Frasier feels incredibly guilty about his actions, and is humiliated in the waiting room when the nurse reads off an account of what happened. Martin recovers quickly and returns home, but doesn't want to tell Ronee about his health crisis.
---
11x15 Caught in the Act (February 24, 2004)
---
Roz is disappointed when she is unable to get Alice tickets to a concert by children's performer Nanny G. After his family reveals that he used to be married to her, Frasier agrees to help Roz secure tickets. He accompanies Roz and Alice to a bookstore appearance, and continually drops hints to Nanny G about the fact that he is single.
---
11x14 Freudian Sleep (February 03, 2004)
---
Frasier grows depressed because no one is calling into his show. He mistakenly believes that Martin is inviting him along on his weekend in the mountains with Ronee, failing to realize that Martin was actually talking to Eddie. Niles and Daphne also come along after Niles overhears a sarcastic remark by Ronee and mistinterprets it as an invitation. Frasier is plagued by anxieties and cannot sleep during the trip. He first dreams that he has killed Niles and married Daphne. Niles mocks him for having such a simple dream, which he says is clearly a sign that he envies his brother's life. Frasier also has a nightmare about his problems with the show. Niles dreams about being a bad father, while Daphne suffers a nightmare in which she continually gains weight and Niles fools around with other women. Martin also has an unusual dream in which he chides his family members for letting their worries overcome them, before bursting into a song and dance number about his positive attitude. Unlike the other Cranes, Martin sleeps soundly.
---
11x13 The Ann Who Came To Dinner (January 13, 2004)
---
Frasier discovers that his home insurance policy has been cancelled because Martin forgot to mail the payment several months earlier. After learning that it would cost a fortune to renew with that company, Frasier tries to get a better deal by making nice with Roz's insurance agent friend Ann, with whom Frasier had a disastrous date several months earlier.
---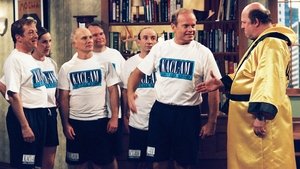 11x12 Frasier-Lite (January 06, 2004)
---
KACL employees face off against another station in a weight-loss competition, with the winning team to receive a trip to Las Vegas. Tensions rise among the staffers, who become extremely cranky due to hunger as the contest proceeds. Noel starves himself and repeatedly faints after Roz suggests that he might get lucky with her in Vegas if they win the trip. Frasier refuses to get into the competitive spirit until he discovers that their opponent's general manager is a man who bullied him in high school (stealing his chess set). Meanwhile, Niles and Martin try to nurse an injured pigeon back to health; and Niles repeatedly suffers injuries of his own because the pregnant Daphne rolls over onto him in her sleep.
---
11x11 High Holidays (December 09, 2003)
---
Frasier is shocked when Frederick comes to visit sporting his new "goth" look. Meanwhile, realising that he never rebelled in his adolescance, Niles decides to try marijuana...with unexpected results.
---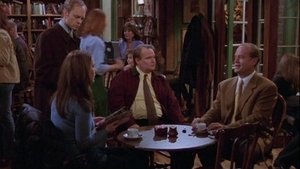 11x10 Seabee Jeebies (December 02, 2003)
---
Niles gains notoriety throughout Seattle because of his involvement in Maris's murder case. He and Daphne mingle with the city's social elite (including Bill Gates), and he is able to finagle reservations at booked restaurants. Frasier grows very jealous, but hopes that his two Sea Bee nominations (which break the record for most nominations in a career) will help him return to the spotlight. Kenny arranges for an interview, and Frasier invites the reporter to the ceremony. However, everything quickly begins to go wrong. Frasier loses his date because the event has to be scheduled for the morning due to Kenny's gaffe. He then loses both of the awards, and the attention of the reporter, who is much more interested in Niles. Roz, on the other hand, experiences the thrill of a lifetime when her judgmental sister--who has a seemingly perfect life--finally gets knocked off her pedestal.
---
11x09 Guns N' Neuroses (November 18, 2003)
---
Lilith comes to town for a one-day conference. She and Frasier try to get together, but keep having to cancel. Lilith discusses her romantic problems with a colleague at Cafe Nervosa before having to return to the conference. The woman then meets Frasier and arranges a blind date between an unwitting Frasier and Lilith. Frasier and Lilith plan to meet for drinks at her hotel before their date(s). When it takes longer than expected, Frasier calls the woman who arranged the date and says that he has to cancel. Lilith tries to save face by cancelling the date herself. She and Frasier each believe they have been stood up, but are hesitant to admit it to each other. They have a wonderful evening together, and even help the couple in the next room deal with relationship problems. Frasier winds up falling asleep and staying overnight. Meanwhile, a frantic Niles, Martin and Daphne try to undo the damage after Martin's gun accidentally discharges in Frasier's apartment.
---
11x08 Murder Most Maris (2) (November 11, 2003)
---
Niles is questioned by the police because he loaned Maris the murder weapon--an antique crossbow--for use in a play. Maris insists that she acted in self-defense. She continually calls Niles from jail, leaving Daphne extremely angry. The media scrutiny surrounding the Cranes intensifies after Frasier--the self-appointed family spokesman--accidentally says that Niles and Maris will be "executed" rather than "exonerated." Niles and Daphne have to come stay with Frasier, and Daphne makes Niles sleep on the couch. Frasier worries that Niles is reacting too calmly, as he believes that the anxiety will build up and eventually lead to a breakdown. Overcome with stress and sleep deprivation, Niles winds up stripping off all his clothes in Cafe Nervosa. Roz and Frasier manage to handle the situation. Niles finally begins to display some anger about his predicament, and asks Maris to back off and stop calling him so often.
---
11x07 Maris Returns (1) (November 04, 2003)
---
Niles receives a phone call from a panicked Maris, who asks to meet him for lunch. She asks for advice on how to handle her violent, philandering lover. Niles recommends that she leave him immediately. Frasier and Martin warn Niles not to tell Daphne about the lunch, as she is experiencing severe mood swings due to her pregnancy. Niles wants to tell Daphne anyway, but changes his mind after she freaks out about a phone call from Maris. Niles ends up having to pile lie upon lie to keep the news from Daphne, and even has to throw her a baby shower at the last minute after she suspects that is the reason for his odd behavior and nervousness. Maris's lover, Esteban, shows up at the shower in search of Niles. He mistakenly punches out Frasier as he tries to retaliate for Niles' advice. Daphne is furious to learn that Niles lied to her, and storms out. She later returns, and Niles promises that Maris will never come between them again. Just then, a radio report announces that Maris has been arrested for Esteban's murder. Meanwhile, Frasier reconsiders his decision to return to private practice after his first two days are marred by a series of disastrous (and short) sessions.
---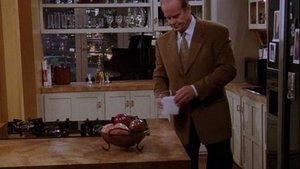 11x06 I'm Listening (October 28, 2003)
---
Frasier overhears Ronee making a date with another man. He tells Martin, who is furious at him for eavesdropping. Ronee later breaks the news to Martin herself, explaining that she didn't think they had an exclusive relationship. He covers by claiming to be dating a woman named Sheila. Frasier gets stuck in the kitchen and overhears the conversation, and Martin accuses him of being a chronic eavesdropper. Martin runs into Ronee and her date at Cafe Nervosa, and tries to make her jealous by having Roz pose as the fictional Sheila. Frasier urges Martin to tell Ronee how he feels about her. Ronee comes over to talk to Martin, and Frasier leaves to give them some privacy. However, Roz inadvertently drives Ronee away, and Frasier somehow finds himself listening to another private conversation as Ronee and Martin sort things out in her car.
---
11x05 The Placeholder (October 14, 2003)
---
Roz tries to convince Frasier to go out with her friend Ann. She feels that Frasier is too particular about who he dates, and adds that there is nothing wrong with continuing to date around until the right person comes along. Frasier is reluctant, but soon grows tired of tagging along with Niles and Daphne and Martin and Ronee or hanging around the apartment alone. He agrees to a date with Ann, which proves to be a disaster. In the middle of the evening, he runs into Kenny, who is trying to persuade his beautiful and interesting cousin, Liz, to take a job in Seattle. Liz is leaving town the next day, so Frasier tries to ditch Ann so that he can spend time with her. Meanwhile, Niles and Daphne suspect that their maid is stealing from them.
---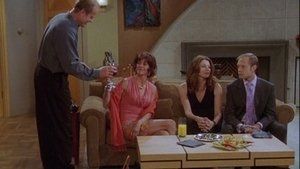 11x04 The Babysitter (October 07, 2003)
---
Frasier and Niles go to a furniture store to pick out a couch for Frasier's new office. Niles cannot stop rambling; Frasier believes he is suffering from anxiety because of his impending fatherhood. Frasier, meanwhile, is experiencing doubts about his return to private practice, as he believes he has grown rusty. Frasier spots Ronee Lawrence, the boys' old babysitter. He invites her to come over to the apartment and catch up, as he hopes this will lead to romantic involvement for the pair. However, Martin also finds Ronee attractive, and decides to make his own move on her. When Ronee is called away to work, both men follow her to the club where she performs. Frasier is devastated to find that Ronee likes Martin, and falls into a depression. Frasier and Niles accidentally learn that Martin has been taking Viagra. Martin returns for his pills, but the brothers cannot put them back in time to hide their discovery. Martin is embarrassed, and explains that he could not perform with Ronee because he keeps picturing her as a teenager. Within the span of a few minutes, Frasier is able to diagnose and solve all three of the men's neuroses. He gloats about this and declares himself fit to return to private practice.
---
11x03 The Doctor Is Out (September 30, 2003)
---
Frasier and Niles suspect that Roz's new boyfriend, Barry, is gay. They see Barry on the street and believe that he has gone into a gay bar. Frasier, worried that Barry is leading Roz on, goes inside to confront him. Niles discovers that Barry actually went into an apartment building next door to the bar. He goes into the bar to tell Frasier, and a misunderstanding causes the patrons to believe the Crane brothers are actually lovers. A caller then "outs" Frasier on his show the next day. Martin feels very uncomfortable about the public thinking his son is gay. Alistair Burke, the head of the Seattle opera guild, befriends Frasier and begins spending a lot of time with him. The rest of the family realizes that Alistair thinks of Frasier as his boyfriend, but Frasier insists that this is not true. Frasier, Niles and Daphne attend a party, where Frasier discovers that everyone in attendance thinks that he and Alistair are a couple. Frasier is finally forced to come clean with Alistair about his sexuality after learning that Alistair expects to take their relationship to the next level very soon.
---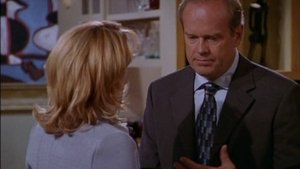 11x02 A Man, a Plan and a Gal: Julia (September 23, 2003)
---
Niles accuses Frasier of sabotaging his relationships whenever things start to get serious. Frasier vows to "commit to commitment," and tries to win Julia back. She accepts his apology and sleeps with him, and the pair seems to be getting along well. However, Julia proceeds to offend the entire Crane family during a dinner that Niles and Daphne had scheduled to announce her pregnancy. She even inadvertently spills the beans about the pregnancy (she overheard Niles and Daphne discussing it) before the couple can make the announcement. Frasier tries to excuse her behavior because of his new dedication to commitment, but ultimately dumps her.
---
11x01 No Sex, Please, We're Skittish (September 23, 2003)
---
When Roz regrets her behaviour toward Frasier, and dislikes her new job, she wishes to patch things up and return to KACL. However, Frasier, whose relationship with Julia is beginning to blossom, fears that there's a lot more going on. Meanwhile, Daphne and Niles decide to start trying to conceive.
---