Frasier
Season 1
Frasier
Season 1
First Air Date: September 16, 1993

| | | |
| --- | --- | --- |
| First Aired on | : | 1993 |
| Episodes | : | 24 episodes |
The first season of Frasier originally aired from September 16, 1993 to May 19, 1994 on NBC.
Episodes
1x24 My Coffee with Niles (May 19, 1994)
---
Frasier and Niles meet at Cafe Nervosa to discuss the one-year anniversary of Frasier's move to Seattle.
---
1x23 Frasier Crane's Day Off (May 12, 1994)
---
Frasier comes down with the flu, so food critic Gil Chesterton fills in for him. When paranoid Frasier believes both Gil and subsequent fill-in host Niles are after his job, he's more determined than ever to get back on the air.
---
1x22 Author, Author (May 05, 1994)
---
Sibling rivalry flares when Frasier and Niles decide to collaborate on a self-help book.
---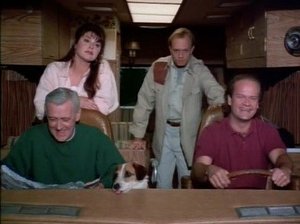 1x21 Travels with Martin (April 14, 1994)
---
The Cranes and Daphne set off on a road trip in a Winnebago to Mount Rushmore. Trouble ensues when Martin takes them into Canada, where Daphne, due to legal particulars, isn't allowed.
---
1x20 Fortysomething (March 31, 1994)
---
Frasier fears being a "mid-life crisis cliche" after he flirts with an attractive 22-year-old store clerk.
---
1x19 Give Him the Chair! (March 17, 1994)
---
Frasier gets himself into trouble when he throws out Martin's old chair, rationalizing that he would actually be helping his father. Frasier searches all over Seattle, and ultimately to a high school production of "Ten Little Indians" to retrieve the chair.
---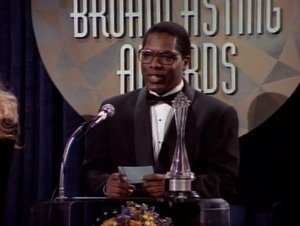 1x18 And the Whimper is... (February 17, 1994)
---
At his carnivorous agent's urgings, Frasier campaigns hard to win a Seabee, Seattle radio's biggest award, only to regret his actions when he learns that Seattle's most eminent talk show host is retiring at the end of the year.
---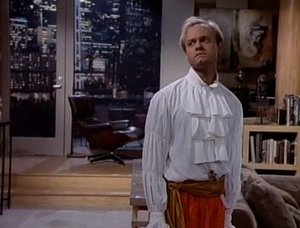 1x17 A Midwinter Night's Dream (February 10, 1994)
---
Niles tries to patch up another disagreement with Maris with a romantic dinner, which Daphne offers to prepare. Frasier comes charging to the rescue as he realizes that Daphne and Niles are all alone on a dark and stormy night.
---
1x16 The Show Where Lilith Comes Back (February 03, 1994)
---
Frasier's ex-wife Lilith comes to Seattle, ostensibly to attend a convention, but as Frasier soon discovers, Lilith has ulterior motives.
---
1x15 You Can't Tell a Crook by His Cover (January 27, 1994)
---
Frasier and Niles try to protect Daphne's honor when she goes on a date with an ex-con.
---
1x14 Can't Buy Me Love (January 20, 1994)
---
Martin convinces Frasier to participate in a charity bachelor auction.
---
1x13 Guess Who's Coming To Breakfast? (January 06, 1994)
---
Frasier makes a fool of himself yet again, when he talks at length on the radio about Martin's romantic rendezvous.
---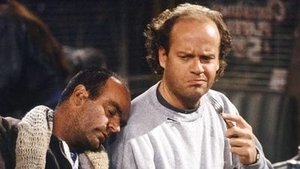 1x12 Miracle on Third or Fourth Street (December 16, 1993)
---
Frasier volunteers to work on Christmas Day when he learns that Frederick will not be visiting him for the holidays. The callers are as depressed as Frasier, who decides to cheer himself up by eating dinner at a local diner where the patrons assume he's homeless.
---
1x11 Death Becomes Him (December 02, 1993)
---
Frasier becomes aware of his own mortality when a man his age suddenly drops dead. Frasier attends the man's Shiva to determine how he could have died so young.
---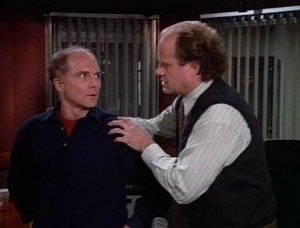 1x10 Oops (November 18, 1993)
---
Bulldog panics and quits the station after he overhears Frasier discussing a rumor that Bulldog will be fired. Frasier does all he can to help restore Bulldog's job.
---
1x09 Selling Out (November 11, 1993)
---
Frasier's agent cons him into endorsing a product he doesn't support...and which makes Frasier look a little nutty.
---
1x08 Beloved Infidel (November 04, 1993)
---
Niles and Frasier begin to suspect their father of cheating on their mother years earlier after they discover him in an apparent clandestine rendezvous with an old friend.
---
1x07 Call Me Irresponsible (October 28, 1993)
---
Frasier deals with an ethical dilemma when he begins dating a woman after he advises her boyfriend to break up with her. When the boyfriend expresses a renewed interest in Catherine, Frasier does everything he can to prevent their re-acquaintance.
---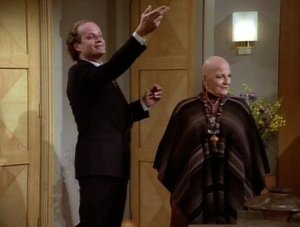 1x06 The Crucible (October 21, 1993)
---
Frasier throws a dinner party to showcase his newest possession (a painting) and is horrified when the forgetful artist declares it a forgery.
---
1x05 Here's Looking at You (October 14, 1993)
---
Martin meets a woman via telescope after discovering the fun of spying into other people's apartments. Frasier eagerly tries to set Martin up with Irene, but is perplexed when Martin rebuffs her.
---
1x04 I Hate Frasier Crane (October 07, 1993)
---
After a newspaper critic prints an unflattering column about his radio show, Frasier starts a feud which culminates in a physical challenge.
---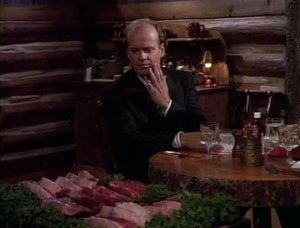 1x03 Dinner at Eight (September 30, 1993)
---
Frasier and Niles's plan to "improve" their father's tastes by taking him to a fancy restaurant rebounds on them when he takes them to his favorite place, a rustic steakhouse.
---
1x02 Space Quest (September 23, 1993)
---
Still adjusting to his new home life with Martin, Daphne, and Eddie, Frasier spends a day searching for a quiet place to read his book alone.
---
1x01 The Good Son (September 16, 1993)
---
Six months after moving back to Seattle to start his career as a radio psychiatrist, Frasier is forced to take in his father Martin, a disabled former police officer, and his dog Eddie, and to hire Daphne Moon, a housekeeper and physical therapist.
---